Do you have a property for sale in Royal Park Residence Boyana? Sell it with us!
Royal Park Residence Boyana
Elite gated complex with a large park area
Total 2 properties: 0 sold, 0 reserved, 2 available. Prices and availability...
Building
completed
Date of completion: 15.06.2018
THE LISTING IS NOT VALID
This property is in
Royal Park Residence Boyana complex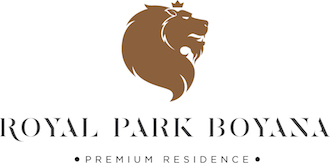 BULGARIAN PROPERTIES offers you a new luxury complex Royal Park Residence Boyana in the capital of Sofia. It is situated on a natural hill in the most beautiful part of the prestigious district of Boyana. The complex is sunlit and offers wonderful views towards Sofia and the Vitosha Mountain. The project is the work of one of the most talented and famous Bulgarian architects Boby Bogdanov from company Amphion.
The one of a kind gated residential park complex extends over 15 000 square meters. It is distinguished for its minimized built up area (under 20%), native forest and a completely underground service infrastructure. The inspiring architectural project relies on combining natural materials with landscape diversity on a private park area of 12 000 square meters, that creates not only an emotional sense of harmony and security, but also unique living conditions in a natural environment. The traffic and parking of vehicles is organized entirely by means of an underground infrastructure, according to the desire to protect the park areas.
The Royal Park Residence embodies the quality life achieved through compliance with the highest international standards in the areas of comfort, security, energy efficiency and harmony of the family environment. Combining the tranquility of a mountain villa in an urban environment and life in a sunny park with fresh air, the complex offers its owners home coziness away from the stressful everyday life in the big city.
• Project of architect Boby Bogdanov - Amphion
• Located on a beautiful sunlit flat hill
• Beautiful views towards Sofia and Vitosha Mountain
• Fenced area of 15 000 sq.m. with built up area under 20%
• 7 boutique buildings oriented to the south and east
• Only 42 apartments and 7 penthouses with 360-degree panoramas
• Luxury materials and furniture of leading brands
• Own park area with an area of 12 000 sq.m.
• Internal area and alleys without car access
• Underground infrastructure with roads and 116 parking lots
• Perfect year-round access to well-developed district
The construction of the Royal Park Boyana started in June 2015 and will last about 24 months. The completion of 7 buildings and the entire infrastructure of the complex is planned in June 2017.
More information about Royal Park Residence Boyana:
Reference number: Sof Royal Park Boyana 105
This property is in: Royal Park Residence Boyana
Do you like this property? Recommend it to your friends!
NO COMMISSION FROM BUYER!
FOR MORE INFORMATION
Property ref: Sof Royal Park Boyana 105

Victor Vucheliiski
Office Headquarters, Sofia
22, Zlaten Rog Str., floor 4, office 7, Sofia 1407
Apartments With Key Location in Lyulin-2 District
Residential building with upcoming Act 15 in Buxton Quarter