Company Accountancy, Tax Declarations and Advice - Various Accountancy Services by Miltonia Ltd.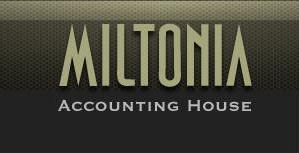 Financial and accounting house Miltonia Ltd
is specialized in accounting services and tax planning of companies registered in Bulgaria for investment funds for construction of residential, retail and office properties, logistics centers, real estate, franchise companies, firms in the area of transportation services, tour operators and hoteliers, companies in the field of software services and Internet advertising.
Miltonia's strength lies in the high qualifications of its team (qualified and certified accountants), and in their energy for providing outstanding accounting services, taxation and planning, financial analysis and payroll processing.
Evaluating all the risks when making investment and successful business in Bulgaria
Miltonia Ltd
ensure proper accounting, fair presentation of financial results and fair taxation of enterprises with knowledge and accurate practical application of several corresponding legislative acts which are constantly changing.
Miltonia Ltd
know that it is very difficult to choose which company to trust with your confidential company information, so
Miltonia
will give you security in the field of accounting and taxation. Miltonia's customers can be confident that their consultants will always strive for perfection, so in the field of accounting service
Miltonia
have unlimited liability for their work, which is arranged in perfect agreement with each client.
To make sure that your company's book-keeping, accounting, taxes and payroll are in perfect shape,
Miltonia
offer:
1.
Annual accounting and filing of tax declarations of limited liability companies
which do not perform any activities
This is a package specially designed for property owners in Bulgaria who own properties through limited companies.
Price: 225 Euros
- including the fee for publishing of the financial reports
Send us an enquiry
and hire Miltonia to do your annual tax returns
Please note that all Bulgarian companies (no matter whether they are trading or not) are obliged to file reports and tax declarations and pay their corporate taxes up to March 31st each year. There are big fines for not submitting declarations and big interest rates on the tax due if not paid on time.
2.
Complete range of accountancy services
:
• Full subscription accounting services;
• Book-keeping services;
• Preparation of annual financial statements;
• Preparation of annual tax returns;
• Payroll - processing payroll and payment of salaries, etc.;
• Financial Audit;
• Tax advice;
• Business evaluations;
• Financial and Insurance advices;
• Virtual Office;
• Corporate Finance.
Send us an enquiry
about a particular service and we can prepare a quote
Read about the tax system in Bulgaria:
Taxation in Bulgaria
Income tax for physical persons and companies in Bulgaria