Registration of a Bulgarian Company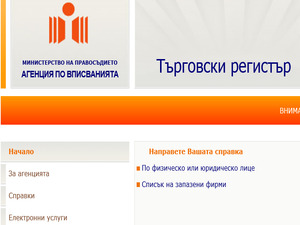 Our lawyers can help you register a Bulgarian company. It generally takes a few days to register a company in the Trade Register. The minimum starting capital of the limited companies is 1 Euro and the lawyer's fee for the registration is 300 Euros.

If you need to register a company in Bulgaria, no matter for what purpose (business or just buying a property), we can help you do that fast and efficiently. Send us an enquiry for company registration today!

Additionally, our partners from accountancy company Miltonia will be able to provide you full advice and accountancy services. Read more about their services

Why need to form a company?
If you are a foreign person and are still not allowed by the Bulgaria Law to own as a physical person a property which comes with land, you can buy such a property in Bulgaria by registering a Bulgarian limited company. Read more about the purchase process and whether you are allowed to buy a property as a physical person on this link or send us an enquiry.

Properties that come with land are: houses with gardens, plots and in some cases, apartments which go together with ideal parts of the land the block was built on. Company formation will also be needed for buying agricultural land, forests and other plots.

Forming a company in Bulgaria is a smooth and straight-forward procedure, which has been used by thousands of foreigners so far and we will help you go through it.

The company you register will own the property and you will own the company and its assets. There is no need to have a Bulgarian partner or manager of the company – any foreign person can register and own 100% of the shares of a Bulgarian company. It will be a regular limited company, which can also trade and you can do business with it if you wish. Tax conditions in Bulgaria are very favourable for starting a business.

Will foreigners be allowed to own land as physical persons and when?
EU physical and legal persons are now allowed to own land in Bulgaria! After Bulgaria joined the EU in January 2007, the Treaty of Accession of Bulgaria to the EU allowed Bulgaria to keep the prohibition for EU physical and legal persons to buy land in Bulgaria for up to 5 years for regulated land and up to 7 years for forests and agricultural land after its accession to the EU. The 5-year term has now finished and since 1.01.2012 all EU citizens can buy regulated plots and houses with gardens in Bulgaria without limitations. The same regulation applies for citizens of countries from the European Economic Area (EEA).

For citizens of countries, which are not EU or EEA members, regulations remain unchanged and they still need to register companies in order to buy properties with land in Bulgaria.

About buying agricultural land in Bulgaria

Contact us by e-mail for more information or call us at +359 2 9 11 50

Hi My name is Bernadette and I have bought another property in Silistra. Has anyone else bought ...
Dear leaders of Bulgarian Properties! We are a family from Israel, Alex and Natalie Bushman, today ...
Dear Hristo and Ivo, Big thanks to you both and a thank you to all involved in making this sale ...