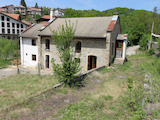 Building in âîíåùà âîäà
WATER
FRONT

€ 70,000€ 65,000 (93 €/m2)
area: 700 m2 garden: 1300 m2
For sale - building
Voneshta Voda Type of listing: For sale Type of property: Chalets, Restaurants, Bars, Hotels, Spa and wellness centres, Leisure centres, Development land, Villas, Campsites, Commercial properties, Mills, Buildings
We offer you this building with a total area of 700 m2. Wooden window frames are available in the property. The property is connected to electricity, communal water supply and septic tank. Some of the other available facilities that you will certainly consider important include: ...read more
Can't find the right property? Contact us, we will help you!
Sergey was very helpful and knowledgeable, and provided excellent guidance and support throughout ...
Apartment looks exactly like on the pictures, profesional attitude and clear communication between ...
We have recently returned from our home in Bulgaria and look forward to our next trip, We bought ...