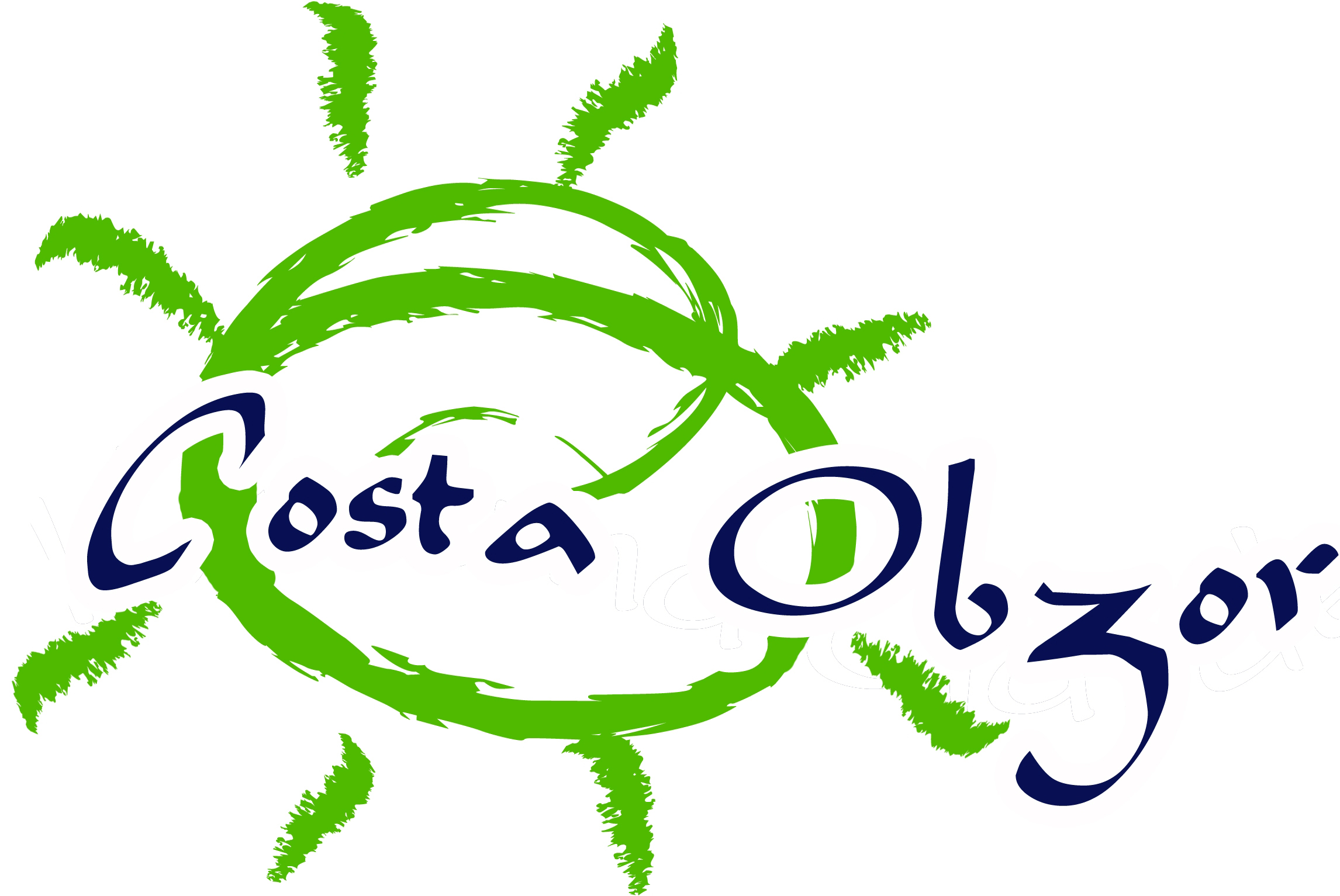 COSTA OBZOR ...
CONTENTMENT LIKE NO OTHER
LUXURIOUSLY FINISHED & FULLY FURNISHED.
Taking its name from the lovely resort itself, Costa Obzor is all about style, elegance, comfort and recreation. This comfortable, low-rise gated development lies just 200 metres from the beach, neighbouring a 5-star hotel and a number of other high-class holiday complexes.
Featuring an exceptional mix of luxurious and spacious 1 & 2-bed apartment units distributed in four blocks amongst extensive green areas with two swimming pools, Costa Obzor combines superb architecture, style, quality and original designs with stunning forest, mountain and sea views to achieve your perfect holiday home in the ideal location.
The town of Obzor, lying mid-way between the cities of
Varna
and
Bourgas
, enjoys an exclusive stretch of the coast and is traditionally visited by discerning holiday makers and families with children.
Costa Obzor Information Pack
Costa Obzor Site Plan
Video from the Costa Obzor Site Plan (5.5MB)
Building Permission & Start of the construction: November 2007
Completion : August - September 2009
Costa Obzor: amenities
- 110 one- and two-bedroom apartments
- swimming pool for adults
- swimming pool for children
- landscaped common areas
- parking zone
Costa Obzor: location
- 1 minute walking to a sandy beach, known as one of the best in Europe with crystal clear waters and safe swimming
- 30 minutes from the international airports at Varna or Bourgas
- close proximity to the new modern marina to be built in the port of Byala
Obzor summer resort: key features
Obzor is a well established holiday resort, lying in the outskirts of the eastern part of the Balkan mountain range; the town has the mountain ridge rising to the west of the city and the Dvoynitsa River to the north. The long, fine sand beach extends from the St. Atanas cape to the north and Mona Petra cape to the south. Surrounded by the Black Sea coast, the town of Obzor was founded in the 4th century BC and named Heliopolis or "The city of the Sun". Obzor has a rich history, which can be seen by the many preserved sites of historical and cultural interest.
The centre offers a wide choice of shops and restaurants, as well as banks, a post office, hospital and pharmacy. There are also several night clubs, a cinema and an area for sports activities. It is not as heavily developed as Sunny Beach or Golden Sands and is more about relaxation and family holidays.
Bulgaria: key features
- Member of EU from 1st January 2007
- Stable government and economy with fixed exchange rate of the BGN (Lev) against the Euro
- low cost of living and significantly cheaper prices
- impending arrival of the UK budget airlines
- highly rated as a tourist destination
- average of 4.9 % growth since 2000, attracting significant level of direct foreign investment
- 22% average annual growth of tourist arrivals for 2002 – 2005
- 34% year-on-year increase of number of British tourists for 2005
- an emerging property market characterized by low prices, high investment potential and capital growth averaging 25%  a year for the last 4 years.
Costa Obzor: Apartments & Standard of Finish
Costa Obzor is a gated community of 4 blocks, comprising of one- and two-bedroom apartments, as well as penthouses, all enjoying contemporary styling and comfortable interiors. The developers use top quality materials and aim for a 2 year construction time.
- Foundations: Reinforced concrete slab. Concrete support walls for soil and ground waters contention.
- Construction: ferroconcrete
- Concrete ring: ceramic bricks, external isolation
- Flooring: laminated floor except in wet areas (tiles)
- Faience: tiles up to 2.40 m height
- Walls: plaster with a solution for external lined walls
- Joinery: external PVC type Veka or similar; Internal doors from MDF; Climalit window panes.
- Electrical fittings: implemented in compliance with R.B.T. wall plugs type Legrand, Valena model or similar. Intercom
- TV output, Lighting conductors
- Elevators
- Pre - installation of air-conditioner
- Water supply and sewerage: pipes from polypropylene
- Insulation of the hot water pipes
- Lavatory pans type Seva or similar, Shower apparatus, Monobloc Seva or similar
- Water heater
- Paint: stone paint for exterior; latex for interior
Costa Obzor: Furnishing Packages
All Costa Obzor apartments will be elegantly finished and FULLY FURNISHED. The furnishing package will feature everything to transform your apartment into an excellent holiday home, incuding:
- Kitchen: oven, washing machine, fridge, extractor hood, ceramic hob
- Living room/dining room: 2 stools, coffee table, dining table, 4 chairs, wardrobes, sofa, small table
- Bedrooms: 2 beds with mattresses, wardrobe, mirror
- Bathroom: mirror, shelf, wardrobe, toilet paper roll holder, soap holder, glass
Maintenance of the complex and its communal areas (compulsory)
The annual maintenance fee charged will depend on the size of the apartment and will be calculated at 8 Euros/sq.m. This charge will cover the following services:
• Maintenance of the garden.
• Maintenance, cleaning and electricity bills for the common parts (corridors of the block).
• Security for the block.
• Standard repairs occurring from the normal use.
PAYMENT PLANS
- 3 600 Euros deposit fee when reserving your apartment
- 30 % minus 3 600 Euros first installment within 28 days after reservation on signing the Preliminary contract
- 20 % second installment within 5 months after the start of the construction
- 50% third installment on completion
PRICES AND AVAILABILITY
(Constantly updated. Prices are final, inclusive of VAT. The full price paid is written in the title deeds. Additional costs, notary fees, local tax and stamp duty are approximately 3-3.5% on top of the purchase price. There are no other hidden costs.)
Costa Obzor Site Plan
BLOCK 1, Entrance A
Ground Floor
Architectural Floor Plan
Apartment No A1/Block 1
, one bedroom, open-plan kitchen with dining area, living room, bathroom/wc, an entrance, two terraces, total size 56.01 sq.m (actual size + common parts),
price 67 200 Euros
Sold
Apartment No A2/Block 1
, one bedroom, open-plan kitchen, living room, bathroom/wc, an entrance, terrace, total size 45.42 sq.m (actual size + common parts),
price 54 480 Euros
Sold
Apartment No A3/Block 1
, two bedrooms, open-plan kitchen with dining area, living room, bathroom/wc, an entrance, corridor, two terraces, total size 77.77 sq.m (actual size + common parts),
price 93 300 Euros
First Residential Floor
Architectural Floor Plan
Apartment No A4/Block 1
, two bedrooms, open-plan kitchen with dining area, living room, bathroom/wc, an entrance, corridor, two terraces, total size 77.25 sq.m (actual size + common parts),
price 97 200 Euros
Apartment No A5/Block 1
, one bedroom, open-plan kitchen, living room, bathroom/wc, an entrance, terrace, total size 45.98 sq.m (actual size + common parts)
Sold
Apartment No A6/Block 1
, two bedrooms, open-plan kitchen with dining area, living room, bathroom/wc, an entrance, corridor, two terraces, total size 78.70 sq.m (actual size + common parts),
price 99 120 Euros
Second Residential Floor
Architectural Floor Plan
Apartment No A7/Block 1
, two bedrooms, open-plan kitchen with dining area, living room, bathroom/wc, an entrance, corridor, two terraces, total size 77.25 sq.m (actual size + common parts),
price 101 970 Euros
Apartment No A8/Block 1
, one bedroom, open-plan kitchen, living room, bathroom/wc, an entrance, terrace, total size 45.98 sq.m (actual size + common parts)
Sold
Apartment No A9/Block 1
, two bedrooms, open-plan kitchen with dining area, living room, bathroom/wc, an entrance, corridor, two terraces, total size 78.70 sq.m (actual size + common parts)
price 103 800 Euros
Third Residential Floor (Penthouse)
Architectural Floor Plan
Apartment No A10/Block 1
, one bedroom, open-plan kitchen with dining area, living room, bathroom/wc, an entrance, two terraces, total size 78.79 sq.m (actual size + common parts),
price 103 800 Euros
Apartment No A11/Block 1
, two bedrooms, open-plan kitchen with dining area, living room, bathroom/wc, an entrance, corridor, one large terrace, total size 103.25 sq.m (actual size + common parts)
price 136 200 Euros
BLOCK 1, ENTRANCE B
Ground Floor
Architectural Floor Plan
Apartment No B1/Block 1
, one bedroom, open-plan kitchen with dining area, living room, storage area, bathroom/wc, an entrance, two terraces, total size 66.81 sq.m (actual size + common parts),
price 80 160 Euros
Apartment No B2/Block 1
, one bedroom, kitchen with dining area, living room, storage area, bathroom/wc, an entrance, a corridor, terrace, total size 67.40 sq.m (actual size + common parts),
price 80 880 Euros
Apartment No B3/Block 1
, two bedrooms, open-plan kitchen with dining area, living room, bathroom/wc, lavatory, an entrance, corridor, two terraces, total size 86.28 sq.m (actual size + common parts),
price 103 500 Euros
First Residential Floor
Architectural Floor Plan
Apartment No B4/Block 1
, two bedrooms, open-plan kitchen with dining area, living room, bathroom/wc, lavatory, storage area, an entrance, corridor, two terraces, total size 87.31 sq.m (actual size + common parts),
price 109 800 Euros
Apartment No B5/Block 1
, one bedroom, kitchen with dining area, living room, storage area, bathroom/wc, an entrance, a corridor, terrace, total size 68.24 sq.m (actual size + common parts)
price 85 980 Euros
Apartment No B6/Block 1
, two bedrooms, open-plan kitchen with dining area, living room, bathroom/wc, lavatory, an entrance, corridor, two terraces, total size 87.31 sq.m (actual size + common parts),
price 109 980 Euros
Second Residential Floor
Architectural Floor Plan
Apartment No B7/Block 1
, two bedrooms, open-plan kitchen with dining area, living room, bathroom/wc, lavatory, storage area, an entrance, corridor, two terraces, total size 87.31 sq.m (actual size + common parts),
price 115 200 Euros
Apartment No B8/Block 1
, one bedroom, kitchen with dining area, living room, storage area, bathroom/wc, an entrance, a corridor, terrace, total size 68.24 sq.m (actual size + common parts)
price 90 000 Euros
Apartment No B9/Block 1
, two bedrooms, open-plan kitchen with dining area, living room, bathroom/wc, lavatory, an entrance, corridor, two terraces, total size 87.31 sq.m (actual size + common parts),
price 115 200 Euros
Third Residential Floor (Penthouse)
Architectural Floor Plan
Apartment No B10/Block 1
, two bedrooms, open-plan kitchen with dining area, living room, bathroom/wc, lavatory, storage area, an entrance, two terraces, total size 111.43 sq.m (actual size + common parts),
price 147 000 Euros
Apartment No B11/Block 1
, two bedrooms, open-plan kitchen with dining area, living room, bathroom/wc, lavatory, storage area, an entrance, two terraces, total size 111.43 sq.m (actual size + common parts),
price 147 000 Euros
BLOCK 1, ENTRANCE C
Ground Floor
Architectural Floor Plan
Apartment No C1/Block 1
, one bedroom, open-plan kitchen with dining area, living room, storage area, bathroom/wc, an entrance, two terraces, total size 56.01 sq.m (actual size + common parts),
price 67 200 Euros
Apartment No C2/Block 1
, one bedroom, open-plan kitchen, living room, bathroom/wc, an entrance, terrace, total size 45.42 sq.m (actual size + common parts)
Sold
Apartment No C3/Block 1
, two bedrooms, open-plan kitchen with dining area, living room, storage area, bathroom/wc, an entrance, corridor, two terraces, total size 77.77 sq.m (actual size + common parts),
price 93 300 Euros
First Residential Floor
Architectural Floor Plan
Apartment No C4/Block 1
, two bedrooms, open-plan kitchen with dining area, living room, storage area, bathroom/wc, an entrance, corridor, two terraces, total size 77.25 sq.m (actual size + common parts)
price 97 200 Euros
Apartment No C5/Block 1
, one bedroom, open-plan kitchen, living room, bathroom/wc, an entrance, terrace, total size 45.98 sq.m (actual size + common parts)
Sold
Apartment No C6/Block 1
, two bedrooms, open-plan kitchen with dining area, living room, storage area, bathroom/wc, an entrance, corridor, two terraces, total size 78.70 sq.m (actual size + common parts),
price 99 120 Euros
Sold
Second Residential Floor
Architectural Floor Plan
Apartment No C7/Block 1
, two bedrooms, open-plan kitchen with dining area, living room, storage area, bathroom/wc, an entrance, corridor, two terraces, total size 77.25 sq.m (actual size + common parts)
price 101 970 Euros
Apartment No C8/Block 1
, one bedroom, open-plan kitchen, living room, bathroom/wc, an entrance, terrace, total size 45.98 sq.m (actual size + common parts)
Sold
Apartment No C9/Block 1
, two bedrooms, open-plan kitchen with dining area, living room, storage area, bathroom/wc, an entrance, corridor, two terraces, total size 78.70 sq.m (actual size + common parts),
price 103 800 Euros
Sold
Third Residential Floor (Penthouse)
Architectural Floor Plan
Apartment No C10/Block 1
, two bedrooms, open-plan kitchen with dining area, living room, storage area, bathroom/wc, an entrance, two terraces, total size 78.79 sq.m (actual size + common parts),
price 103 800 Euros
Apartment No C11/Block 1
, one bedroom, open-plan kitchen with dining area, living room, bathroom/wc, an entrance, large terrace, total size 103.25 sq.m (actual size + common parts)
Sold
BLOCK 2, Entrance A
Ground Floor
Architectural Floor Plan
Apartment No A1/Block 2
, one bedroom, open-plan kitchen with dining area, living room, bathroom/wc, an entrance, two terraces, total size 56.01 sq.m (actual size + common parts)
Sold
Apartment No A2/Block 2
, one bedroom, open-plan kitchen, living room, bathroom/wc, an entrance, terrace, total size 45.42 sq.m (actual size + common parts)
Sold
Apartment No A3/Block 2
, two bedrooms, open-plan kitchen with dining area, living room, bathroom/wc, an entrance, corridor, two terraces, total size 77.77 sq.m (actual size + common parts),
price 93 300 Euros
First Residential Floor
Architectural Floor Plan
Apartment No A4/Block 2
, two bedrooms, open-plan kitchen with dining area, living room, bathroom/wc, an entrance, corridor, two terraces, total size 77.25 sq.m (actual size + common parts),
price 97 200 Euros
Apartment No A5/Block 2
, one bedroom, open-plan kitchen, living room, bathroom/wc, an entrance, terrace, total size 45.98 sq.m (actual size + common parts)
Sold
Apartment No A6/Block 2
, two bedrooms, open-plan kitchen with dining area, living room, bathroom/wc, an entrance, corridor, two terraces, total size 78.70 sq.m (actual size + common parts)
price 99 120 Euros
Second Residential Floor
Architectural Floor Plan
Apartment No A7/Block 2
, two bedrooms, open-plan kitchen with dining area, living room, bathroom/wc, an entrance, corridor, two terraces, total size 77.25 sq.m (actual size + common parts),
price 101 970 Euros
Apartment No A8/Block 2
, one bedroom, open-plan kitchen, living room, bathroom/wc, an entrance, terrace, total size 45.98 sq.m (actual size + common parts)
Sold
Apartment No A9/Block 2
, two bedrooms, open-plan kitchen with dining area, living room, bathroom/wc, an entrance, corridor, two terraces, total size 78.70 sq.m (actual size + common parts)
price 103 800 Euros
Third Residential Floor (Penthouse)
Architectural Floor Plan
Apartment No A10/Block 2
, one bedroom, open-plan kitchen with dining area, living room, bathroom/wc, an entrance, two terraces, total size 78.79 sq.m (actual size + common parts),
price 103 800 Euros
Apartment No A11/Block 2
, two bedrooms, open-plan kitchen with dining area, living room, bathroom/wc, an entrance, corridor, one large terrace, total size 103.25 sq.m (actual size + common parts)
price 136 200 Euros
BLOCK 2, ENTRANCE B
Ground Floor
Architectural Floor Plan
Apartment No B1/Block 2
, one bedroom, open-plan kitchen with dining area, living room, storage area, bathroom/wc, an entrance, two terraces, total size 66.81 sq.m (actual size + common parts),
price 80 160 Euros
Sold
Apartment No B2/Block 2
, one bedroom, kitchen with dining area, living room, storage area, bathroom/wc, an entrance, a corridor, terrace, total size 67.40 sq.m (actual size + common parts),
price 80 880 Euros
Sold
Apartment No B3/Block 2
, two bedrooms, open-plan kitchen with dining area, living room, bathroom/wc, lavatory, an entrance, corridor, two terraces, total size 86.28 sq.m (actual size + common parts),
price 103 500 Euros
First Residential Floor
Architectural Floor Plan
Apartment No B4/Block 2
, two bedrooms, open-plan kitchen with dining area, living room, bathroom/wc, lavatory, storage area, an entrance, corridor, two terraces, total size 87.31 sq.m (actual size + common parts),
price 109 800 Euros
Apartment No B5/Block 2
, one bedroom, kitchen with dining area, living room, storage area, bathroom/wc, an entrance, a corridor, terrace, total size 68.24 sq.m (actual size + common parts)
Sold
Apartment No B6/Block 2
, two bedrooms, open-plan kitchen with dining area, living room, bathroom/wc, lavatory, an entrance, corridor, two terraces, total size 87.31 sq.m (actual size + common parts),
price 109 980 Euros
Second Residential Floor
Architectural Floor Plan
Apartment No B7/Block 2
, two bedrooms, open-plan kitchen with dining area, living room, bathroom/wc, lavatory, storage area, an entrance, corridor, two terraces, total size 87.31 sq.m (actual size + common parts),
price 115 200 Euros
Apartment No B8/Block 2
, one bedroom, kitchen with dining area, living room, storage area, bathroom/wc, an entrance, a corridor, terrace, total size 68.24 sq.m (actual size + common parts)
Sold
Apartment No B9/Block 2
, two bedrooms, open-plan kitchen with dining area, living room, bathroom/wc, lavatory, an entrance, corridor, two terraces, total size 87.31 sq.m (actual size + common parts),
price 115 200 Euros
Third Residential Floor (Penthouse)
Architectural Floor Plan
Apartment No B10/Block 2
, two bedrooms, open-plan kitchen with dining area, living room, bathroom/wc, lavatory, storage area, an entrance, two terraces, total size 111.43 sq.m (actual size + common parts),
price 147 000 Euros
Apartment No B11/Block 2
, two bedrooms, open-plan kitchen with dining area, living room, bathroom/wc, lavatory, storage area, an entrance, two terraces, total size 111.43 sq.m (actual size + common parts),
price 147 000 Euros
BLOCK 2, ENTRANCE C
Ground Floor
Architectural Floor Plan
Apartment No C1/Block 2
, one bedroom, open-plan kitchen with dining area, living room, storage area, bathroom/wc, an entrance, two terraces, total size 56.01 sq.m (actual size + common parts),
price 70 560 Euros
Sold
Apartment No C2/Block 2
, one bedroom, open-plan kitchen, living room, bathroom/wc, an entrance, terrace, total size 45.42 sq.m (actual size + common parts),
price 57 180 Euros
Sold
Apartment No C3/Block 2
, two bedrooms, open-plan kitchen with dining area, living room, storage area, bathroom/wc, an entrance, corridor, two terraces, total size 77.77 sq.m (actual size + common parts),
price 97 980 Euros
First Residential Floor
Architectural Floor Plan
Apartment No C4/Block 2
, two bedrooms, open-plan kitchen with dining area, living room, storage area, bathroom/wc, an entrance, corridor, two terraces, total size 77.25 sq.m (actual size + common parts),
price 101 970 Euros
Sold
Apartment No C5/Block 2
, one bedroom, open-plan kitchen, living room, bathroom/wc, an entrance, terrace, total size 45.98 sq.m (actual size + common parts)
Sold
Apartment No C6/Block 2
, two bedrooms, open-plan kitchen with dining area, living room, storage area, bathroom/wc, an entrance, corridor, two terraces, total size 78.70 sq.m (actual size + common parts),
price 103 800 Euros
Sold
Second Residential Floor
Architectural Floor Plan
Apartment No C7/Block 2
, two bedrooms, open-plan kitchen with dining area, living room, storage area, bathroom/wc, an entrance, corridor, two terraces, total size 77.25 sq.m (actual size + common parts)
Sold
Apartment No C8/Block 2
, one bedroom, open-plan kitchen, living room, bathroom/wc, an entrance, terrace, total size 45.98 sq.m (actual size + common parts)
Sold
Apartment No C9/Block 2
, two bedrooms, open-plan kitchen with dining area, living room, storage area, bathroom/wc, an entrance, corridor, two terraces, total size 78.70 sq.m (actual size + common parts)
Sold
Third Residential Floor (Penthouse)
Architectural Floor Plan
Apartment No C10/Block 2
, two bedrooms, open-plan kitchen with dining area, living room, storage area, bathroom/wc, an entrance, two terraces, total size 78.79 sq.m (actual size + common parts),
price 108 600 Euros
Apartment No C11/Block 2
, one bedroom, open-plan kitchen with dining area, living room, bathroom/wc, an entrance, large terrace, total size 103.25 sq.m (actual size + common parts)
Sold
BLOCK 3, Entrance A
Ground Floor
Architectural Floor Plan
Apartment No A1/Block 3
, one bedroom, open-plan kitchen with dining area, living room, storage area, bathroom/wc, an entrance, two terraces, total size 56.45 sq.m (actual size + common parts),
price 67 680 Euros
Sold
Apartment No A2/Block 3
, one bedroom, open-plan kitchen, living room, bathroom/wc, an entrance, terrace, total size 45.79 sq.m (actual size + common parts),
price 54 900 Euros
Apartment No A3/Block 3
, two bedrooms, open-plan kitchen with dining area, living room, storage area, bathroom/wc, an entrance, corridor, two terraces, total size 78.38 sq.m (actual size + common parts),
price 94 056 Euros
Sold
First Residential Floor
Architectural Floor Plan
Apartment No A4/Block 3
, two bedrooms, open-plan kitchen with dining area, living room, storage area, bathroom/wc, an entrance, corridor, two terraces, total size 77.91 sq.m (actual size + common parts),
price 98 160 Euros
Sold
Apartment No A5/Block 3
, one bedroom, open-plan kitchen, living room, bathroom/wc, an entrance, terrace, total size 46.39 sq.m (actual size + common parts),
price 58 440 Euros
Sold
Apartment No A6/Block 3
, two bedrooms, open-plan kitchen with dining area, living room, storage area, bathroom/wc, an entrance, corridor, two terraces, total size 79.37 sq.m (actual size + common parts),
price 99 960 Euros
Second Residential Floor
Architectural Floor Plan
Apartment No A7/Block 3
, >, two bedrooms, open-plan kitchen with dining area, living room, storage area, bathroom/wc, an entrance, corridor, two terraces, total size 77.91 sq.m (actual size + common parts),
price 102 840 Euros
Sold
Apartment No A8/Block 3
, one bedroom, open-plan kitchen, living room, bathroom/wc, an entrance, terrace, total size 46.39 sq.m (actual size + common parts)
Sold
Apartment No A9/Block 3
, two bedrooms, open-plan kitchen with dining area, living room, bathroom/wc, an entrance, corridor, two terraces, total size 79.37 sq.m (actual size + common parts)
price 104 760 Euros
Third Residential Floor (Penthouse)
Architectural Floor Plan
Apartment No A10/Block 3
, one bedroom, open-plan kitchen with dining area, living room, storage area, bathroom/wc, an entrance, two terraces, total size 79.43 sq.m (actual size + common parts),
price 104 760 Euros
Apartment No A11/Block 3
, two bedrooms, open-plan kitchen with dining area, living room, bathroom/wc, an entrance, corridor, one large terrace, total size 103.95 sq.m (actual size + common parts)
price 137 160 Euros
BLOCK 3, ENTRANCE B
Ground Floor
Architectural Floor Plan
Apartment No B1/Block 3
, one bedroom, open-plan kitchen with dining area, living room, storage area, bathroom/wc, an entrance, two terraces, total size 56.45 sq.m (actual size + common parts),
price 71 124 Euros
Sold
Apartment No B2/Block 3
, one bedroom, kitchen with dining area, living room, storage area, bathroom/wc, an entrance, terrace, total size 45.79 sq.m (actual size + common parts),
price 57 600 Euros
Apartment No B3/Block 3
, two bedrooms, open-plan kitchen with dining area, living room, storage area, bathroom/wc, an entrance, corridor, two terraces, total size 78.38 sq.m (actual size + common parts),
price 98 760 Euros
First Residential Floor
Architectural Floor Plan
Apartment No B4/Block 3
, two bedrooms, open-plan kitchen with dining area, living room, storage area, bathroom/wc, an entrance, corridor, two terraces, total size 77.91 sq.m (actual size + common parts),
price 102 840 Euros
Apartment No B5/Block 3
, one bedroom, kitchen with dining area, living room, storage area, bathroom/wc, an entrance, a corridor, terrace, total size 46.39 sq.m (actual size + common parts),
price 61 200 Euros
Sold
Apartment No B6/Block 3
, two bedrooms, open-plan kitchen with dining area, living room, storage area, bathroom/wc, an entrance, corridor, two terraces, total size 79.37 sq.m (actual size + common parts)
Sold
Second Residential Floor
Architectural Floor Plan
Apartment No B7/Block 3
, two bedrooms, open-plan kitchen with dining area, living room, storage area, bathroom/wc, an entrance, corridor, two terraces, total size 77.91 sq.m (actual size + common parts),
price 107 508 Euros
Sold
Apartment No B8/Block 3
, one bedroom, kitchen with dining area, living room, storage area, bathroom/wc, an entrance, a corridor, terrace, total size 46.39 sq.m (actual size + common parts)
Sold
Apartment No B9/Block 3
, two bedrooms, open-plan kitchen with dining area, living room, storage area, bathroom/wc, an entrance, corridor, two terraces, total size 79.37 sq.m (actual size + common parts)
Sold
Third Residential Floor (Penthouse)
Architectural Floor Plan
Apartment No B10/Block 3
, one bedroom, open-plan kitchen with dining area, living room, storage area, bathroom/wc, an entrance, two terraces, total size 79.43 sq.m (actual size + common parts),
price 109 524 Euros
Apartment No B11/Block 3
, two bedrooms, open-plan kitchen with dining area, living room, bathroom/wc, an entrance, large terrace, total size 103.95 sq.m (actual size + common parts)
Sold
BLOCK 4, Entrance A
Ground Floor
Architectural Floor Plan
Apartment No A1/Block 4
, one bedroom, open-plan kitchen with dining area, living room, storage area, bathroom/wc, an entrance, two terraces, total size 56.45 sq.m (actual size + common parts),
price 67 680 Euros
Sold
Apartment No A2/Block 4
, one bedroom, open-plan kitchen, living room, bathroom/wc, an entrance, terrace, total size 45.79 sq.m (actual size + common parts),
price 54 900 Euros
Sold
Apartment No A3/Block 4
, two bedrooms, open-plan kitchen with dining area, living room, storage area, bathroom/wc, an entrance, corridor, two terraces, total size 78.38 sq.m (actual size + common parts),
price 94 056 Euros
First Residential Floor
Architectural Floor Plan
Apartment No A4/Block 4
, two bedrooms, open-plan kitchen with dining area, living room, storage area, bathroom/wc, an entrance, corridor, two terraces, total size 77.91 sq.m (actual size + common parts),
price 98 160 Euros
Apartment No A5/Block 4
, one bedroom, open-plan kitchen, living room, bathroom/wc, an entrance, terrace, total size 46.39 sq.m (actual size + common parts)
Sold
Apartment No A6/Block 4
, two bedrooms, open-plan kitchen with dining area, living room, storage area, bathroom/wc, an entrance, corridor, two terraces, total size 79.37 sq.m (actual size + common parts),
price 99 960 Euros
Second Residential Floor
Architectural Floor Plan
Apartment No A7/Block 4
, >, two bedrooms, open-plan kitchen with dining area, living room, storage area, bathroom/wc, an entrance, corridor, two terraces, total size 77.91 sq.m (actual size + common parts),
price 102 840 Euros
Apartment No A8/Block 4
, one bedroom, open-plan kitchen, living room, bathroom/wc, an entrance, terrace, total size 46.39 sq.m (actual size + common parts)
Sold
Apartment No A9/Block 4
, two bedrooms, open-plan kitchen with dining area, living room, bathroom/wc, an entrance, corridor, two terraces, total size 79.37 sq.m (actual size + common parts),
price 104 760 Euros
Third Residential Floor (Penthouse)
Architectural Floor Plan
Apartment No A10/Block 4
, one bedroom, open-plan kitchen with dining area, living room, storage area, bathroom/wc, an entrance, two terraces, total size 79.43 sq.m (actual size + common parts),
price 104 760 Euros
Apartment No A11/Block 4
, two bedrooms, open-plan kitchen with dining area, living room, bathroom/wc, an entrance, corridor, one large terrace, total size 103.95 sq.m (actual size + common parts),
price 137 160 Euros
BLOCK 4, ENTRANCE B
Ground Floor
Architectural Floor Plan
Apartment No B1/Block 4
, one bedroom, open-plan kitchen with dining area, living room, storage area, bathroom/wc, an entrance, two terraces, total size 56.45 sq.m (actual size + common parts),
price 67 680 Euros
Sold
Apartment No B2/Block 4
, one bedroom, kitchen with dining area, living room, storage area, bathroom/wc, an entrance, terrace, total size 45.79 sq.m (actual size + common parts),
price 54 900 Euros
Sold
Apartment No B3/Block 4
, two bedrooms, open-plan kitchen with dining area, living room, storage area, bathroom/wc, an entrance, corridor, two terraces, total size 78.38 sq.m (actual size + common parts),
price 94 056 Euros
First Residential Floor
Architectural Floor Plan
Apartment No B4/Block 4
, two bedrooms, open-plan kitchen with dining area, living room, storage area, bathroom/wc, an entrance, corridor, two terraces, total size 77.91 sq.m (actual size + common parts),
price 98 160 Euros
Apartment No B5/Block 4
, one bedroom, kitchen with dining area, living room, storage area, bathroom/wc, an entrance, a corridor, terrace, total size 46.39 sq.m (actual size + common parts),
price 58 440 Euros
Sold
Apartment No B6/Block 4
, two bedrooms, open-plan kitchen with dining area, living room, storage area, bathroom/wc, an entrance, corridor, two terraces, total size 79.37 sq.m (actual size + common parts),
price 99 960 Euros
Second Residential Floor
Architectural Floor Plan
Apartment No B7/Block 4
, two bedrooms, open-plan kitchen with dining area, living room, storage area, bathroom/wc, an entrance, corridor, two terraces, total size 77.91 sq.m (actual size + common parts),
price 102 840 Euros
Apartment No B8/Block 4
, one bedroom, kitchen with dining area, living room, storage area, bathroom/wc, an entrance, a corridor, terrace, total size 46.39 sq.m (actual size + common parts)
Sold
Apartment No B9/Block 4
, two bedrooms, open-plan kitchen with dining area, living room, storage area, bathroom/wc, an entrance, corridor, two terraces, total size 79.37 sq.m (actual size + common parts)
price 104 760 Euros
Third Residential Floor (Penthouse)
Architectural Floor Plan
Apartment No B10/Block 4
, one bedroom, open-plan kitchen with dining area, living room, storage area, bathroom/wc, an entrance, two terraces, total size 79.43 sq.m (actual size + common parts),
price 104 760 Euros
Apartment No B11/Block 4
, two bedrooms, open-plan kitchen with dining area, living room, bathroom/wc, an entrance, large terrace, total size 103.95 sq.m (actual size + common parts)
price 137 160 Euros