Properties and real estate in Obzor for sale and rent
Obzor is a small town and seaside resort on the Black Sea coast of Bulgaria. It is part of Nesebar municipality, Bourgas Province. It is situated 65 km south of Varna, 73 km north of Burgas and 530 km east of Sofia. Despite the town's convenient location and six-kilometer long sandy beach (the largest between Golden Sands and Sunny Beach), this remarkably pleasant spot is surprisingly uncrowded even during peak season.

The beach by the town is long and it extends from Cape St. Atanas on the north to the southern Cape Mona Petra. It is followed by a small nestling cove and a beach named Irakli. There are three camp sites with chalets and enough space for tents between the village of Byala and the town of Obzor.

Read more about Obzor, Book a hotel room in Obzor, Rent a car, Furnish your property in Obzor, Sell your property in Obzor, Rent out your property in Obzor

|22|33|
|10|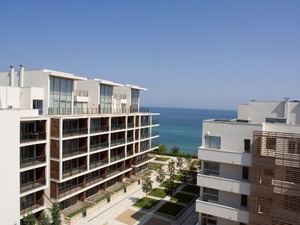 YooBulgaria Obzor - chic metropolitan living!
Obzor
First line from the beach, high quality construction, creative architecture and design
The Destination With its fresh mountain air, warm sea breeze, unspoilt landscape and picturesque beach for bathing, the small riviera town of Obzor is considered the gem of the Black Sea coast. The ancient Greeks named it Heliopolis, or Town of the Sun, due to its virtually ...read more
75.00 m2 - 341.61 m2 (1249€/m2)
Can't find the right property? Contact us, we will help you!