Do you have a property for sale in Belvedere Holiday Club? Sell it with us!
Belvedere Holiday Club
Luxury ski apartments in the best gated complex of Bansko
Total 314 properties: 240 sold, 0 reserved, 74 available. Prices and availability...
Building
completed
Date of completion: 01.10.2008
This property is in
Belvedere Holiday Club complex
Property features
Type of property: Apartments (various types), Studios, 1-bedroom apartments, 2-bedroom apartments
Total area: 50.64 m2 (net area: 41.83 m2 plus common parts: 8.81 m2)
Bedrooms: 1-2
Floor: 6
Condition: Excellent
Air-conditioning system: No air-conditioning system
Furnishing: Furnished/unfurnished
Type of building: New building
Ref. No.: Belvedere Holiday Club - 10120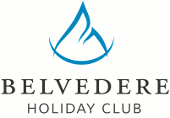 The newly constructed and already functioning Belvedere Holiday Club is an exclusive high-class holiday development boasting world class facilities superior to many resorts in the Alps. We offer you truly de-luxe living and leisure in the best Ski & Golf resort in Eastern Europe.
Watch a video about Belvedere Holiday Club
Now you can become the owner of an elite ski apartment at amazingly good prices and payment plans!
Belvedere Holiday Club is a gated development of luxurious apartments, matched with a fully integrated range of superb leisure facilities, beautifully set in the heart of Bansko's premium development area, just 400 meters (few minutes walk) from the Gondola lift and very close to Mall of Bansko.
Belvedere Holiday Club was developed by KP Immobilien Ltd, a subsidiary company of
MOTO-PFOHE
, which is owned by the German developer
Karl-Heinz Pfohe
who has been working successfully in Bulgaria for more than 18 years.
KP Immobilien received the award of the Bulgarian Chamber of Commerce and Industry in the category
Top 100 companies ranked according to the change in their net revenue 2008/2007.
The Executive Director of the companies KP Immobilien and Ford Moto-Pfohe
Mr. Atanas Fournadzhiev
is among the most respected businessmen in Bulgaria as he takes part in a number of socially important projects and is an avowed supporter of Bulgarian football.
Watch an interview with Karl Heinz and Philip Pfohe - owners of MOTO-PFOHE
Watch and interview with the Managing Director of MOTO PFOHE-Bulgaria and KP Immobilien - Mr. Atanas Fournadzhiev
Read a review of Belvedere Holiday Club in the press
The architectural design was made by Art New Vision – one of the most successful Bulgarian architectural companies in the last few years. The development has been designed in accordance with the requirements for a modern holiday site and in accordance with the guidelines provided by our subsidiary company for luxury real estate
LUXIMOTI
. The building-installation works were performed by AT Engineering which is one of the leading companies in the sector and is currently in the Top 5 of the construction companies in Bulgaria.
Belvedere Holiday Club is truly one of the best holiday developments in Bansko, offering a lot of space and greenery, beautiful architecture and amenities which you won't find anywhere else in Bansko (for more details see below).
Belvedere Holiday Club consists of three blocks with luxury apartments, both furnished and unfurnished and the ground floors offers additional facilities and amenities. No compromise has been made with the quality of the materials and the standard of the finishing works. The owners will have a property that measures up to the highest standards set personally by Mr. Pfohe and guaranteed by the leasing construction company AT Engineering.
Facilities and amenities at Belvedere Holiday Club
• The chic Belvedere Classico restaurant which has turned into the most elegant place in Bansko (
watch a short film about Belvedere Classico
/
watch the film with Greek subtitles
);
• Indoor heated pool with children's zone
• Outdoor pool (heated in the summer) with children's zone and pool bar
• Outdoor Jacuzzi for 15 people
• Luxury main reception area in Block 1 and smaller reception areas in the other blocks
• Lobby area
• Lobby bar serving drinks and food
• Hall with pool tables, darts and other games
• Children's room
• Children's playground outside
• Conference hall for 100 people
• Ski and golf-club storage
• Underground garages & Parking lots
• Landscaped gardens with lighting and pathways
• Own heating system with naphtha, which will switch to gas next year.
SPA:
• Infrared sauna
• Turkish bath
• Relax room
• 2 Finnish baths
• 2 steam baths
• Jacuzzi for 10 people
• Solarium
• The apartment owners have special discount prices when using the Spa center
• The apartment owners can use all outdoor facilities without any limit.
Sports:
• Professional football pitch – size 60 õ 40 meters
• Fitness hall
• Badminton court
• Basketball area
Belvedere Holiday Club services
• 24-hour reception & room service
• 24-hour security
• Ski bus & shuttle transport to the Gondola, Bansko centre and the local Golf Courses
• Wi-Fi Internet throughout the whole complex and all properties
Technical characteristic of the units
The apartments at Belvedere Holiday Club, Block 1 are offered for sale completely finished and furnished.
The apartments at Belvedere Holiday Club, Block 4 and Block 5 are offered for sale completely finished. Some are furnishe and others are unfurnished. Upon additional payment we offer furnishing packages which include everything necessary for living in the apartment and for renting it out.
The level of finishing of the units is as follows:
• Completely fitted toilet and bathroom with shower cubicle, all sanitary equipment and accessories
• UPVC double glazing windows
• Internal and entrance doors of MDF, with locks included
• Fire-alarm system
• Internet connection (wireless and via internal LAN network)
• Laminated parquet flooring
• Tiled floors at the corridors, the kitchenette zone, balcony and the WC/bathroom
• Smooth-plastered walls and ceilings
• Latex painted walls and ceilings
• All electrical sockets and switches installed
The complex is completely finished, it has a Certificate of Habitation and is functioning since 2008.
General conditions
• All buyers will be required to sign a Preliminary Contract and a Contract for Maintenance of the Building.
RESERVATION OF APARTMENTS
Any apartment can be reserved immediately with a non-refundable deposit of 2000 Euro of the purchase price payable in cash, with a credit card or bank transfer. The reservation deposit will hold the property reserved for maximum 28 days, until the Preliminary Contract for the complex is drawn up. After that the buyer and the developer sign the Preliminary Contract. Together with the Preliminary Contract a Contract for Maintenance of the Building and the Development must be signed.
PAYMENT PLAN
STANDARD
• 5% deposit (non-refundable) when reserving your apartment
• 15% of the price when signing the preliminary contract (within 15 days after reservation)
• 80% of the balance payment within 30 days after the preliminary contract is signed
FOR 3 YEARS WITH AN ANNUAL INTEREST OF 6%
• 5 % deposit (non-refundable) when reserving your apartment
• 45 % of the price when signing the preliminary contract (within 28 days after reservation)
• equal installments of the purchase price every three months until the full price is paid or upon individual plan arranged with the investor.
PRICES AND AVAILABILITY
• The information is constantly updated and valid.
• The buyers shall pay all State taxes and Notary fees and the expenses for transferring the ownership of the apartments - approximately 4-6% of the purchase price.
More information about Belvedere Holiday Club:
Reference number: Belvedere Holiday Club - 10120
This property is in: Belvedere Holiday Club
Do you like this property? Recommend it to your friends!
NO COMMISSION FROM BUYER!
FOR MORE INFORMATION
Property ref: Belvedere Holiday Club - 10120

Pavel Dimitrov
Office Bansko
14, Pirin Str. Vazrazhdane Sq, Bansko 2770
Apartment building in Plovdiv