The Winners in the Annual Awards of BULGARIAN PROPERTIES 2020
2020-12-23 | BULGARIAN PROPERTIES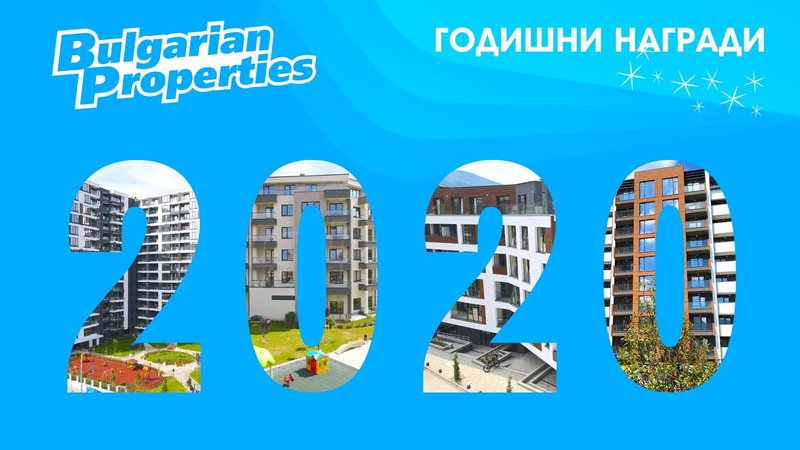 In 2020 BULGARIAN PROPERTIES kept the tradition and for the 13th time presented its Annual Awards for the best results and highest achievements over the past year.

This happened during a virtual ceremony attended by teams from the company's offices across the country.

2020 took a lot from us, but at the same time it gave us more enthusiasm, energy and collective spirit, which brought us on the right track and helped us achieve excellent results.

Once again we proved that we can!

We present you the winners for 2020:

HIGHEST GROWTH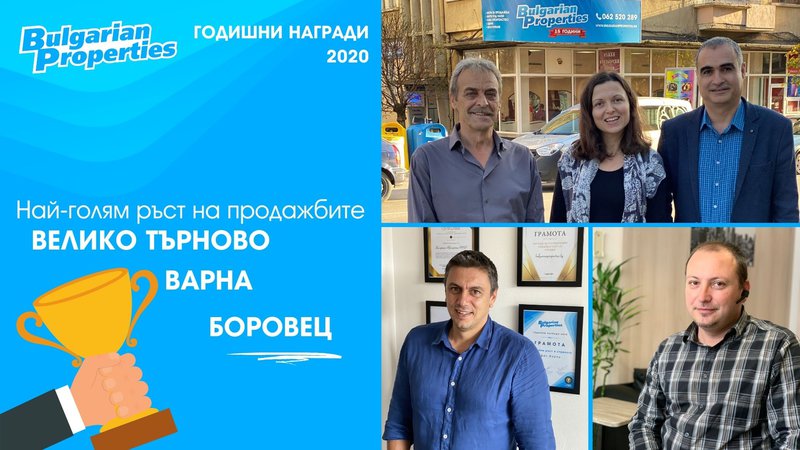 In this category, the winners are three offices that have achieved amazing sales growth in this difficult year:

• Veliko Tarnovo Office
• Varna Office
• Borovets Office

MOST EXPENSIVE PROPERTIES

• The most expensive property we have sold in 2020 is a house by Inga Novgorodtseva - a unique estate in the highest segment of the market.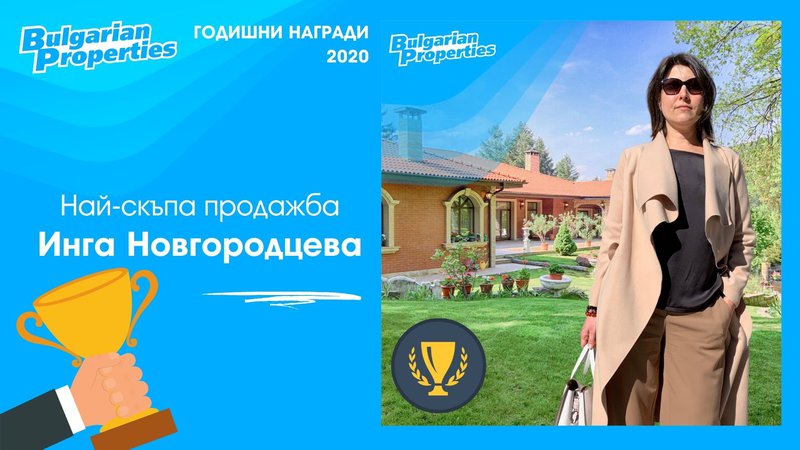 The other prizes in this category are divided according to the type of property:

• The most expensive sale of an apartment goes to Magdalena Tosheva for a penthouse in the emblematic complex Vitosha View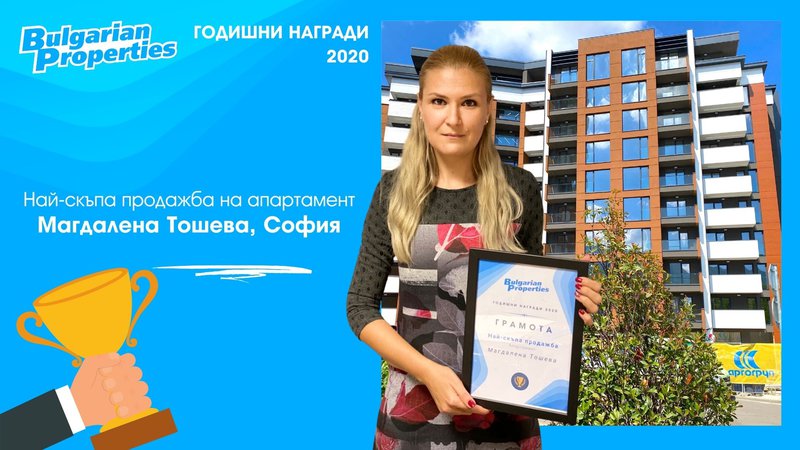 Her runners-up are Inga Novgorodtseva and Daniel Tonev for the sale of luxury apartments in Sofia.

• The most expensive sale of a house in a gated complex was made by Teodora Petrova - a house in Green Park Lozen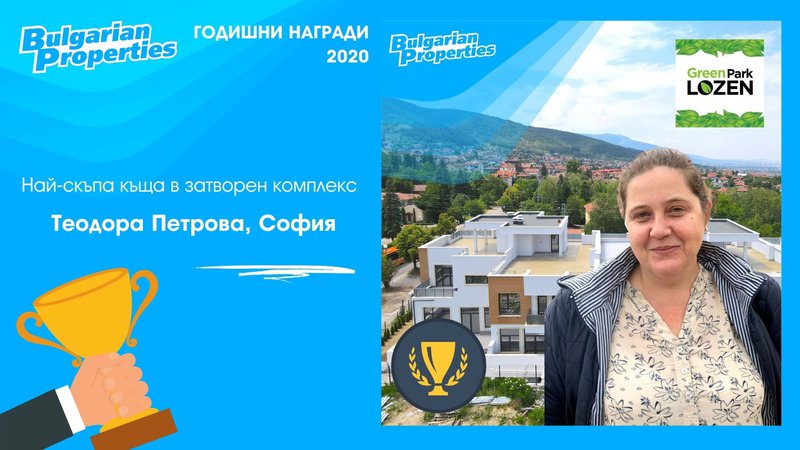 On a second and third place come Stoycho Bugov with a house in Sunny Houses complex and Daniel Tonev with a house in Gorna Banya. Georgi Harizanov from Plovdiv also received an award for selling a house in a complex in Ostromila district.

• The most expensive sale of a holiday property was presented to Stefan Abanozov for the sale of holiday villas in Euphoria complex in Borovets.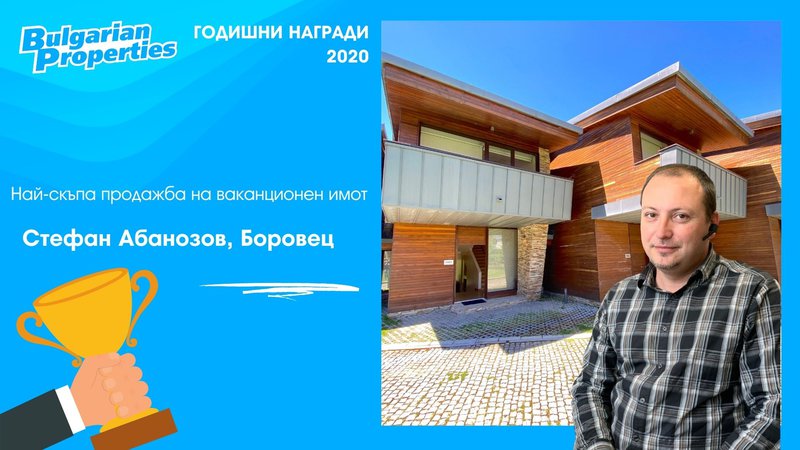 Runners-up with the most expensive holiday properties sold are Kalin Chernev for an apartment in Lighthouse Golf Resort, Ivan Kunev for a beachfront apartment in Sveti Vlas, Yuliana Kurteva for a unique apartment with sea views in Byala and Stilian Georgiev for an apartment in the elite complex Sunset Resort in Pomorie.

• The most expensive sale of a country house went to Nikolay Nikolov for the sale of a mansion near Apriltsi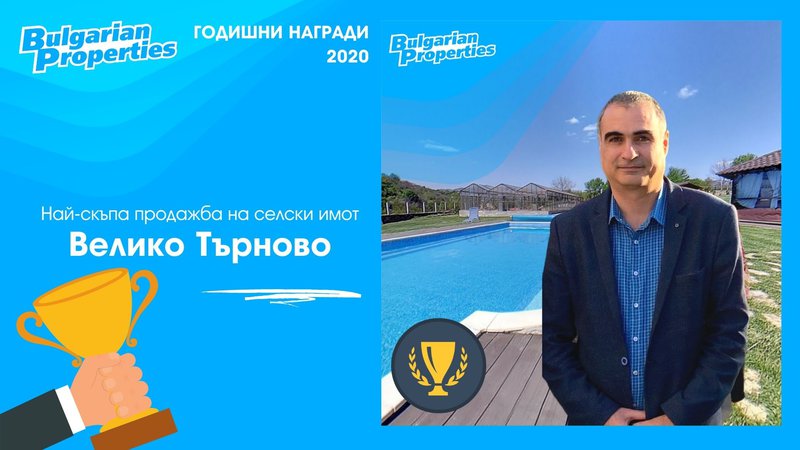 He was followed by Mincho Lilov for a luxury house near Pamporovo and Ivan Kunev for a holiday house in Kosharitsa near Sunny Beach.

• The most expensive sale of a plot of land is the work of Teodora Petrova for a plot of land in Sofia

• The most expensive sale of agricultural land goes to Kalin Chernev from Varna Office

AGENT OF THE YEAR

The most wanted award by all agents, which is received on the basis of the highest sales volume, always number 1 in the monthly company rankings and excellent customer reviews, this year went to:

• First place is for Ivan Krumov - undisputed winner with excellent results in the sale of Park View Residence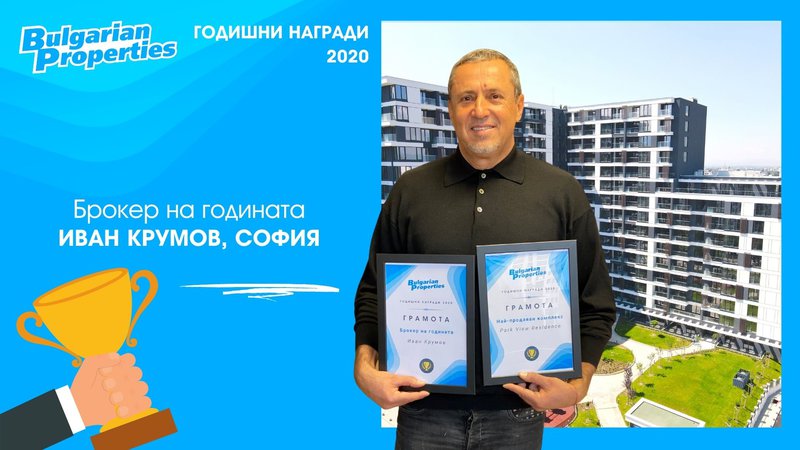 • Second place for Julia Todorova, who for the second year in a row retains her position and can boast a successfully sold complex AMur Residence with permission for use.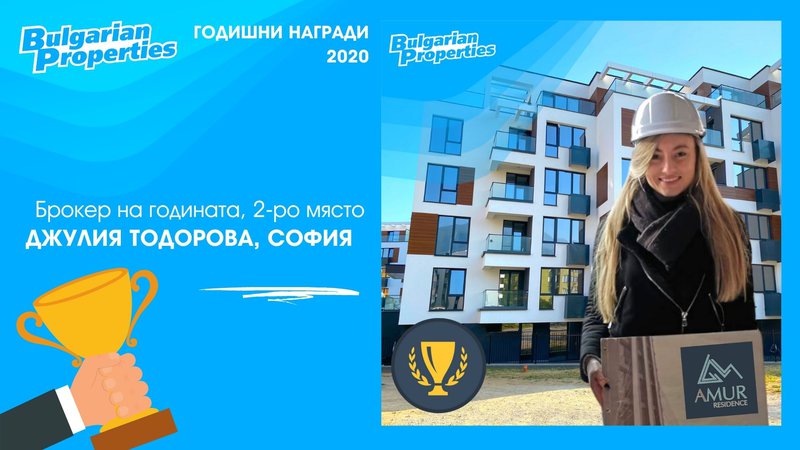 • Third place in this category is for Stefan Abanozov from Borovets Office, who celebrated an extremely successful year, as evidenced by the previous categories.

DEVELOPMENTS OF THE YEAR

• The award "Best Selling Complex" for 2020 goes to Park View Residence. Its first phase awaits Act 16, and the second phase started in July 2020 and by the end of the year was sold out at 80%.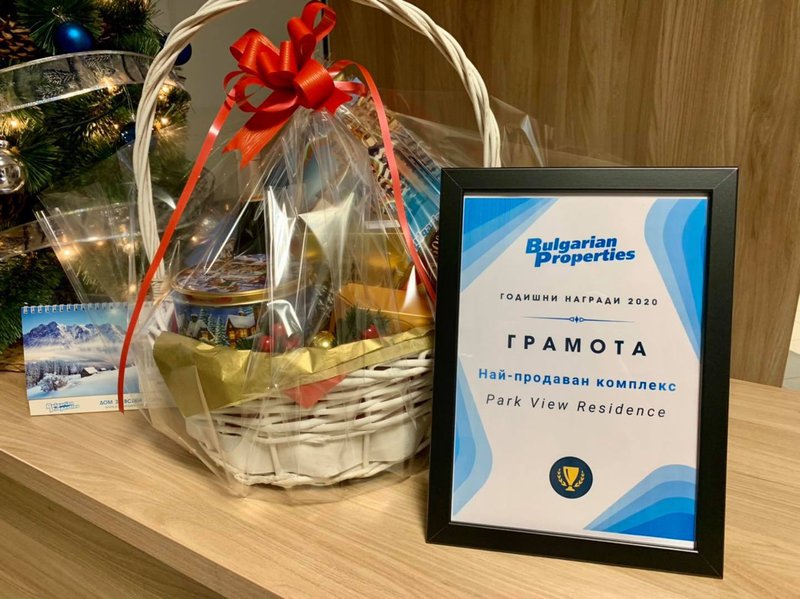 • Borovets Gardens 2 was announced as the best-selling holiday complex for the second year in a row. It is in the final stage of construction and will soon welcome its new owners for a great winter season.

• The award for "Most successful realization" for completed and put into operation complexes was given to our exclusive sites:

Modera Residence, which was put into operation at the end of March 2020 and is currently completely sold out by us.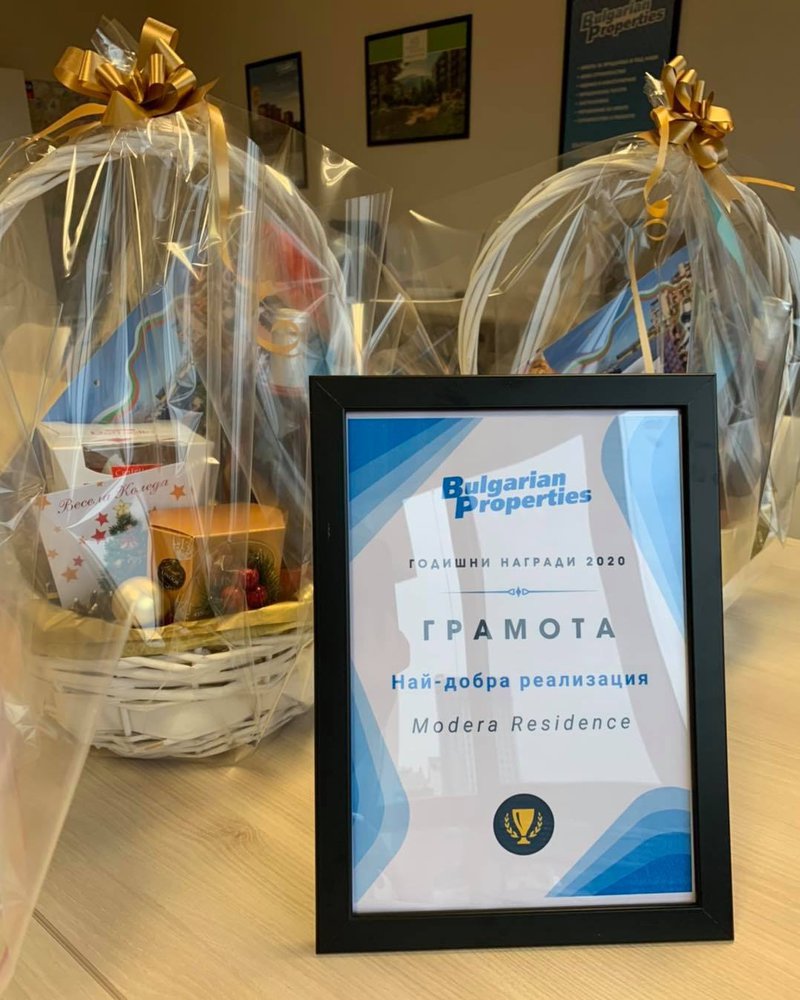 AMur Residence, which received Act 16 in July 2020 and currently has only 1 apartment available for sale.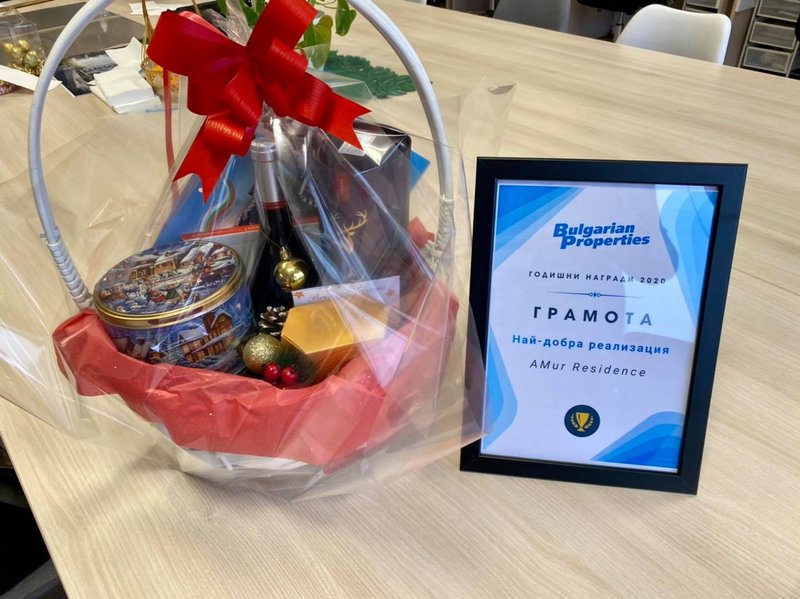 Vitosha View, whose building D received Act 16 after it was completely sold out by us, building E is in the final stages, and building F is progressing and has limited availability.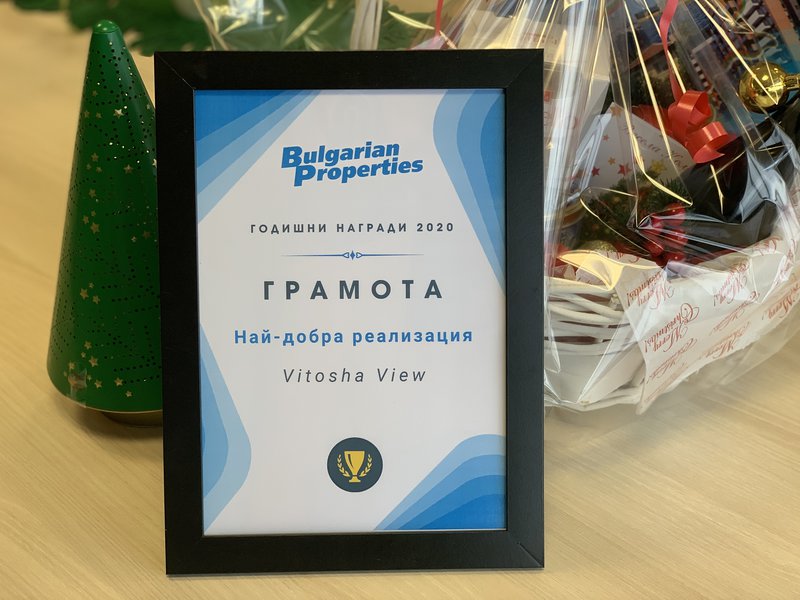 SPECIAL AWARDS

• For the second year in a row, Yovko Nikolov earned the "Employee of the Year" award for overall contribution to ensuring the process of closing deals and for dedication during the pandemic.

• Lawyers of the Year are Martin Polimenov and Katalina Stefanova.

• Nevena Georgieva received an award for overall contribution to the servicing the transactions in our exclusive complexes.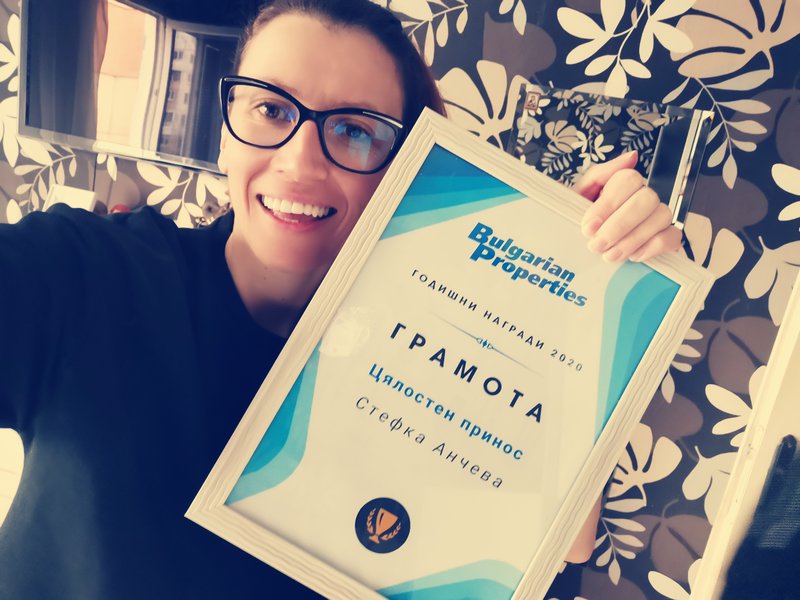 • Stefka Ancheva was awarded for her contribution in various aspects of customer service and the administrative activity of the company.

• Elena Makreeva received an award for contribution to the development of our digital presence and advertising.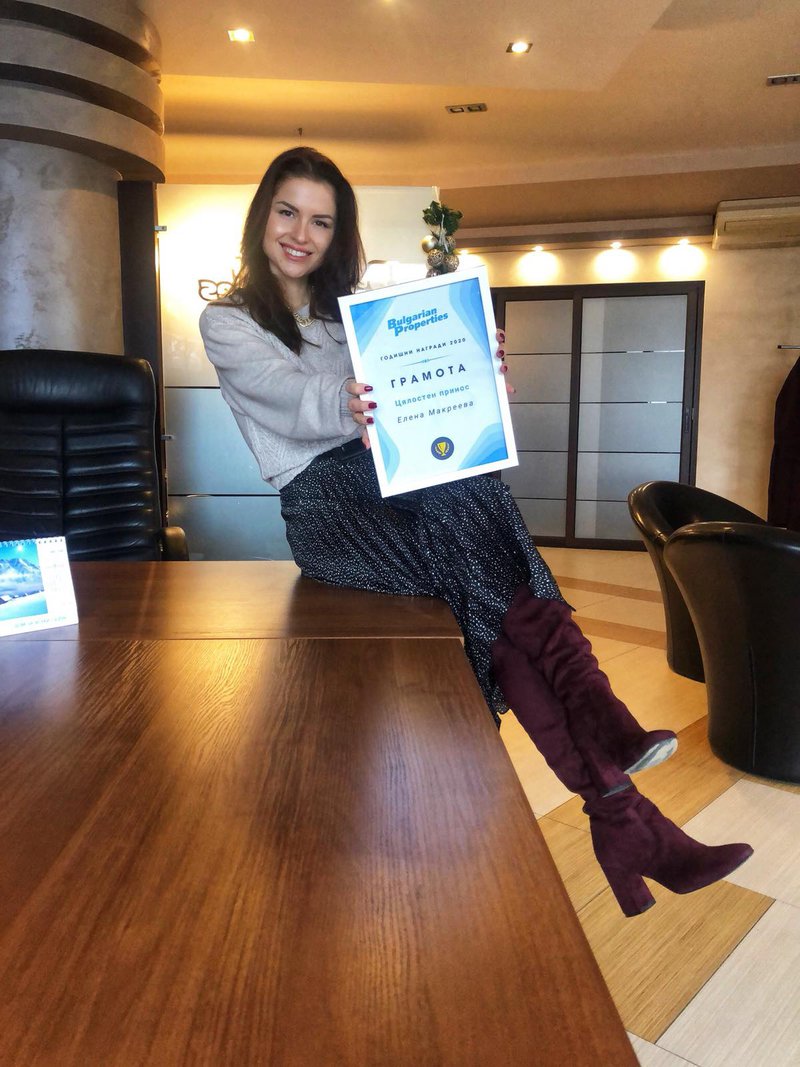 Congratulations to all winners!

We wish our colleagues, partners and clients lots of health and hope that 2021 will be better and more successful for everyone!

Happy Holidays!


Read more news