Do you have a property for sale near ZLATARICA ? Sell it with us!
Real estate near ZLATARICA . Sales and rentals of properties near ZLATARICA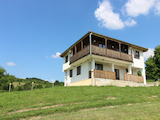 House near ZLATARICA
INVESTMENT
PROJECT

€ 600,000
area: 1035 m2 garden: 131334 m2
For sale - house
Near ZLATARICA Type of listing: For sale Type of property: Apartments (various types), Houses, Cottages, Chalets, Hotels, Leisure centres, Development land, Agricultural land, Land, Villas, Mansions, Investment projects, Other properties, Townhouses, Barns, Investment properties, Buildings
We offer you this house with a total area of 1,035 m2. The property has electric heating appliances (fan heater, radiators, etc.), fireplace, heating with wood, local heating and solar panels. Laminate flooring, painted walls, parquet flooring, tiled flooring and upvc window ...read more
Can't find the right property? Contact us, we will help you!
I am very happy with the Bulgarian Properties Varna Office, their service and I am happy that I make ...
I would like to thank Silvia and Angel for dedicating a whole day to us and showing a range of ...
We would like to thank ALL of the team at Bulgarian properties for all their constant help and ...