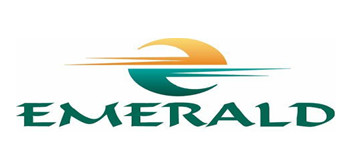 A stylish and luxurious gem, set in a beautiful natural park and overlooking the alluring Coast of Black Sea. Indulge in an exotic resort, created to satisfy the most exquisite taste!
The resort's architecture is an fusion of sophistication and luxury which extends into the five indepented buildings: the Emerald with its three wings - Cashmere, Satin and Damask Wings, Madras and Ikat Buildings and Challis and Bagheera Villas - all named after the most delicate materials know to man.
Location
"Emerald Beach Resort & SPA" is situated in Ravda, one of the newest and most exciting Bulgarian Black Sea resorts. Ravda is less than 15 km from Bourgas Airport and only 5 km from Sunny Beach. It is known as a family resort due to its relaxing atmosphere, healthy climate, fine golden sand, and clean water. Therefore, it is the ideal place for those who seek a perfect vacation.
Apartments
Step into an elegant suite, guaranteed to cater to all your needs… Relax amidst a lavish and spacious interior, complemented by a functional kitchenette… you'll hesitate to check out of this room! All "Emerald Resort Beach and Spa" apartments offer elegant luxury combined with a feeling of coziness and comfort. The view of Sunny Beach and the ancient city of Nessebar is breathtaking at dawn and sparkling by night. Or would you rather feast your eyes in the emerald sea of our park and the majestic skyline of Bourgas in the distance? The choice is yours!
Each apartment offers the following services: room Service, wake-up call – upon request, laundry.
Types of apartments
• Studio - one premise approximately 40 sq.m. consisting a kitchenette, 2 single beds or a sofa bed, fitted kitchenette /hobs, extractor, fridge, sink built-in into kitchen cupboards /, a folding chair (depending on the size of the studio), a dining table with 4 chairs, satellite TV, an air conditioner, a balcony, telephone, a bathroom with a bathtub, a hairdryer.
• One-bedroom apartment - approximately 70 sq.m. consisting of one bedroom furnished with 2 beds with the possibility of disconnection and a living room, a kitchenette/hobs, extractor, fridge, sink built-in into kitchen cupboards/, a dining table with 4 chairs, satellite TV, a sofa bed, a sofa chair, telephone, a balcony, a bathroom with a bathtub, hairdryer.
• Two-bedroom apartment - approximately 100 sq.m. consisting of two bedrooms furnished with 2 beds with the possibility of disconnection and a living room, a kitchenette /hobs, extractor, fridge, sink built-in into kitchen cupboards/ a dining table with 4 chairs, satellite TV, a sofa bed, telephone, a balcony, two bathrooms with toilet and a bathtub or a shower, a hairdryer.
Furnishing
All apartments in Emerald Beach Resort & Spa are offered for sale completely finished and fully furnished.
Maintenance of the communal areas
The annual maintenance fee for the apartments at Emerald Beach Resort & Spa is 15 Euros per sq.m. (VAT excluded) and will cover the following:
•24-hour reception
• payment of the common utility bills;
• maintenance and cleaning of the common areas of the buildings;
• 24-hour security and video surveillance
• maintenance of the lift
• maintenance of the common grounds – green areas, alleys, pool;
• ecological and hygiene services, etc.
Restaurant & Bars
"Luscious Garden Restaurant"
…Fine cuisine featuring an abundant variety of tantalizing specialities, prepared to your own personal taste. For the vine connoisseurs - a special selection of the finest wines
"Bamboo Bar"
Exotic, stylish and fresh… This stunning interior is entirely crafted from authentic materials, making it the ideal place to have a drink and sink into exotica
"Sky bar"
Experience luxury in its purest form, highlighted by a panoramic view of the sea, whilst lingering over a cigar, yet another appealing proposal…
"Drake's Bar and Grill"
Finish off your special treatment with a refreshing cocktail… spoil yourself, choose from a wide range of drinks and just relax...
"Pool Bar"
Hide from the sizzling sun in the mini-heaven of our Pool Bar, whilst adoring our captivating water screen… still feeling hot?
SPA
The most amazing Spa Center, part of the famous Indonesian chain "Taman Sari Royal Heritage Spa". Our Spa pampers with internationally qualified Indonesian terapists offering an array of therapeutical Asian Spa treatments designed to suit every individual's needs.
Spa Center offers:
• 1500 square meters Spa Facility
• 10 Indoor Treatment Rooms, Couple Suite
• Precious Stones Room
• Sarai Bath Hammam or Ottoman Bath
• Aroma Steam Room
• Finnish Sauna Thai Suite
• Tropical Shower Room
• Frigidarium or Ice Room Kneipp Cure
• Heated Benches
• Year-round heated Lounge Pool and Jacuzzi
• Well equipped Fitness Center
• Hair Salon, Relaxation Lounge and Retail Botique
Sport and Leasure
The Resort offers a wide range of opportunities for these who want to go in for a sport or just to have fun. Whether you are an exercise enthusiast or an entertainment addict, we've got just the right activity for you and your family.
Sports in the Resort:
• Tennis courts
• Fitness Center
• Beach Volleyball
Other sports and facilities nearby:
• Scuba Diving
• Horse Riding
• Off-Road Driving
• Mini Golf
• Jets and Windsurf
• Paint Ball
Available sports in summer:
• Assorted water sports available
Entertainment in the resort:
• Mini club and daytime entertainment program for children
• Daytime entertainment program for adults
• Music and shows
Entertainment nearby:
• Luxury Yacht and Boats
• Action Aqua Park
• Wine Tasting
• Ostrich Farm
• Pirates Cruise Show
Other extras
Conference and Meeting Facilities
• Convenient conference room, perfect for board meetings, seminars, workshops, conferences and more.
• Conference venue accommodating any groups from 10 to 150 people.
• High quality facilities, available to host conferences and business meetings in a variety of functional apartments.
• New Conference Centre
Varity of coffee breaks, business lunches or executive dinners along with integration parties and banquets, available on request.
Standart equipement:
• Screen
• Sound System
• Projector
• Flipchart
PAYMENT PLAN
• 10% reservation deposit to the bank account of the developer (non-refundable)
• 90% final installment payable on completion of the deal
PRICES, SIZES, AVAILABILITY (constantly updated and valid!)
Prices are final, inclusive of VAT, with the full value declared in the Title deeds. On top of this price you will also need to pay the Notary fees, stamp duty and local tax (approx. 4-6% of the purchase price).
Every owner of property in Bulgaria pays an annual real estate tax and local communal tax the amount of which depends on the size of the property.