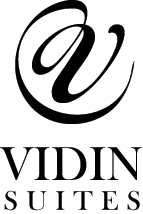 BRAND NEW RESIDENTIAL BUILDING.
2 APARTAMENTS ON UNBELIEVABLE PRICE OF 310 EURO PER SQ.M.
ONE BEDROOM APARTMENTS FROM 27 195 EURO
Vidin Suites is an elegant fully finished complex, situated on a small street in one of the quiet residential districts in the town of Vidin. The development presents an outstanding opportunity to own a home in a complex that truly stands out for its gracious design, in a place ideal for pleasant and peaceful permanent living. Behind the Vidin Suites complex's discreet façade is a quality living space on five residential floors, and two service floors. Garages, situated on the ground floor, are also offered for sale as some of them are quite large and can easily be reorganized into an office or a shop. The property, which is completely built and functioning, will satisfy the owners with quality construction and tasteful completion of the common parts. The development company is highly reputable, with more than twelve years of experience on the local market and many completed buildings in Vidin and around, including
Danubia Lodge
, which we successfully marketed a couple of years ago.
Vidin Suites is set in proximity to one of the main boulevards in town which ensures easy and fast access to the centre, with many places for shopping and fine dining, as well as clubbing. It is 5 minutes drive away from the historic district in town where the famous Baba Vida Fortress is located, along with many other historical monuments.
Read a review of Vidin Suites in the press
Vidin Suites complex is completed with persmission of inhabitation
The town of Vidin
A regional and administrative centre, the town of Vidin enjoys strategic position close to two borders (with Romania and with Serbia) and is considered as an up-and-coming area of great importance. As member of the EU, Bulgaria received a lot of investment and Vidin faced the construction of EU funded development of a second Danube bridge between Bulgaria and Romania. Once completed the new bridge will transform the international road E-79 into a major pan-European transport corridor, which will join Western, Northern and Eastern Europe, thus creating a road to Greece and Asia. The investment is 236 million Euro and is expected to result in an influx of tourists, business people and commercial travelers to Vidin. That is why every investment in the area made now will increase its value after the bridge completion in year 2010. The closest international airport to Vidin with regular direct flights is Sofia Airport, set approx. 220 km away (or 3 hours drive by car).
Vidin is an old city dating back from Roman times, with great and rich history, many monuments and art galleries. It enjoys a lush and peaceful city garden along the Danube River which has timeless appeal and attracts all tourists and local residents. The most pleasant way to contemplate the river would be upon a fish meal at one of the boat restaurants. Another way would be from the many cruise ships that are crossing the river every day, bringing tourists from Western Europe. The town of Vidin has several beach zones scattered in and out of the town. Besides swimming, the river is suitable for watersports, boating and fishing as well.
Vidin has all amenities one could possibly need, including many schools and kindergartens, great shopping zone, hospitals, theatre and symphonic orchestra, excellent transportation service.
Standard of Apartments
Vidin Suites is traditionally constructed using the most up to date building materials and techniques creating energy efficient homes that are easy to maintain. The building and the apartments are created according to the
"Bulgarian Completion Standard"
. This term describes the usual finish that most of the newly built residential properties in Bulgaria have when completed. The common parts of the building are completely finished, while the apartments will come with plastered walls, with front door and double glazed windows, concrete floors (no floorings), not-painted, unfinished bathrooms (no tiles, no accessories), no lighting in the apartment. In Bulgaria most of the buyers of residential properties, prefer to buy their new property completed to this standard, because they have the complete freedom to design and finish their property exactly as they wish, and within their budget. We believe that purchasing a residential property completed to
"Bulgarian Completion Standard"
is the best option both for property investors and for buyers intending to live here permanently. For the investors it is a flexible way to acquire a property on the minimum possible price, keep it for some time after the building is completed, and then re-sell in the same condition (Bulgarian Completion Standard) with profit. The buyer of your re-sell property would be usually a person who will live there, so he/she will have the opportunity to choose all the finishing materials and design.
Read more about the "Bulgarian Completion Standard"
Each of the apartments at Vidin Suites is offered for sale with a cellar which is obligatory to purchase together with the apartment. The price of the Cellar is 1500 Euros. Garages are available upon an additional price given in the price list below. Garages are not compulsory to buy.
The developer can offer full finishing and furnishing of the apartments upon request and against additional payment (check the price list).
Why invest in Vidin Suites?
It is a smart way to participate on the dynamic property market in Bulgaria ... Wise decision that will bring you great return... Simply a great investment... Read why:
•
The right type of property:
Vidin Suites is a fine example of a town property, where the demand from local buyers is high and constant. The residential property market in the towns of Bulgaria is strong, liquid and profitable for the smart investors. The positive economic trend in Bulgaria continues, the unemployment decreases, people get wealthy. The demand for high quality newly built residential properties in the regional towns of Bulgaria grows, because people are leaving their old dwellings at pannel blocks and upgrading to new modern homes, as they can afford it. Access to mortgages is available as well. New residential properties in Vidin have great potential to continue growing.
•
Unbelievable price of just 310 EUR/sq.m.:
Yes, this is true. Vidin Suites cost that low! Similar property in Sofia (the capital of Bulgaria) would cost minimum 1000 EUR/sq.m. Follow the most important advice for successful property investment: "Always look for low price and high quality". Your investment will appreciate greatly.
•
Exclusive building:
Modern, special and remarkable. Vidin Suites is one of the very few luxury residential buildings in the town of Vidin, that it present luxury living atmosphere and prestigious character.
•
Reputable developer:
One of the most experienced developers in Vidin. Significant number of completed residential and commercial developments in the whole region. Known locally for high quality, meeting deadlines and keeping the promises. Highly recommended by Bulgarian Properties.
•
Great residential location:
Close to the city centre (just 5 minutes drive), quiet area and close to renowned schools and local amenities.
•
Great rental returns:
Suitable for long-term luxury lets, these apartments meet the requirements of tenants looking for a high-specification property rental. Your apartment will earn good money, until you decide to re-sell.
•
Full set of property management services:
Vidin Suites will benefit from all maintenance, management and letting services provided by a dedicated team of professionals from the leading company PropertyManagement.BG
Furnishing
The apartments are offered for sale unfurnished (with no fitted kitchen) but with an alternative option for purchasing a fully furnished and fitted apartments (see Prices and Availability below for more details). The leading interior design and furnishing company,
Furnish.BG
, will manage the overall furnishing of the apartments purchased with the "fully furnished" option. Offered are standard furnishing packs which are exclusively designed to match the requirements for letting. The prices depend of the type of the property - 5200 Euros for a studio, 6300 Euros for a 1-bedroom apartment and 7400 Euros for a 2-bedroom apartment. The full furniture pack includes everything necessary for the use of the property by owners and tenants, including:
• Beds, tables, cupboards and wardrobes – Italian design.
• Fitted kitchen including white goods: fridge, microwave, cookers.
• TV in each room, audio/video system (DVD, CD, MP3)
• Pots, pans, cutlery, crockery, kitchen implements
• Linen, towels, bedding etc.
• Lighting
• And other necessarry items

Property Management & Letting of the complex (non-compulsory):

Vidin Suites complex is one of the most luxurious residential buildings in Vidin. All apartments are designed to the highest specification and standard of finish to match the necessary requirements for luxury residential living in the town. Our experience shows that most of our foreign buyers will be interested in renting their apartments, therefore full property management and rental services will be provided by our partners from the leading management and letting company

PropertyManagement.BG

. This company is already managing and letting successfully many residential buildings, single apartments, gated complexes, holiday villas in the big cities and all tourist regions of Bulgaria. It is typical that apart from the property letting, this company also provides a full range of additional services both to the property owners and the tenants.

Vidin Suites are planned to function as a luxury residence with high-specification apartments and various useful services for the occupants like cleaning, washing, cooking, baby-sitting, maintenance and repairs. For Vidin Suites, the management company will prepare a tailor-made business program and efficient marketing activities aiming to attract mostly long-term tenants like business people, senior managers working in the city and frequent travelers who are looking for contemporary-styled and comfortable apartments offered at reasonable price. The local demand for luxury short- and long-term letting will increase as well due to the need of accommodation for the highly qualified employees who will work on the bridge construction or in the branches of new international companies which will start operating in the area.

Additionally PropertyManagement.BG offer management service, representation of the owner and taking care of the apartment. These services are especially suitable for owners who are not residing permanently in Bulgaria and are not able to look after their property personally. These services cost 300 Euro per year VAT excluded and are not compulsory.

Maintenance of the complex (compulsory):

PropertyManagement.BG will offer complete maintenance of the building and the surrounding areas (gardens). The annual maintenance charge is 7 Euro per sq.m. on the property owned, VAT excluded, and will cover the maintenance and upkeep of the complex and all its facilities, bills for water and electricity for the communal areas (corridors at the block). This charge is compulsory for all owners of properties at Vidin Suites.

Reservation of Apartments

Any apartment in the Vidin Suites complex can be reserved immediately with a non-refundable deposit of 5 % of the purchase price paid into the developer's bank account by credit card or bank transfer. The reservation deposit will hold the property for maximum 30 days when the preliminary contract will be signed.

Payment Plan Standard Payment Plan

- 5 % reservation deposit, non-refundable

- 45 % first installment payable at signing the Preliminary Contract (maximum 30 days after reservation)

- 30 % second installment due approx. in 60 days after the Preliminary contract

- 20 % third installment due when transferring the deeds

Deferred Payment Plan with 7 % increase on the price

- 5 % reservation deposit, non-refundable

- 5 % first installment payable at signing the Preliminary Contract (maximum 30 days after reservation)

- 90 % second installment on transferring the deeds in one year

Bulgarian Properties charge 3 % agency commission on the apartment price, payable together with the first installment.

Prices, Sizes, Availability (constantly updated and valid!)

Prices are final. On top of this price you will also need to pay the Notary fees, stamp duty and local tax (approx. 4 - 6 % on the price shown on the Title Deeds).

Every owner of property in Bulgaria pays an annual real estate tax and local communal tax the amount of which depends on the size of the property (appox. 80 Euros for a one-bedroom apartment).

>