Promotional prices, discounts and free bonuses for purchasing a property at specific developments
View our special selection of apartments and villas in buildings and gated complexes, which are offered by developers/sellers at promotional prices and purchase terms for a limited period of time. Often developers offer a limited number of properties for sale in new buildings and complexes, which have been completed or still in the process of finishing works, at favorable terms both in terms of a price, payment terms or they offer additional bonuses in the form of free extras. The aim is to stimulate sales in a short period of time when the promotion is held. Often promotions are offered during exhibitions, seminars or until the amount of properties will be finished.

Buyers who are specifically looking to buy a property under the most favorable terms and prices can view our section PROMOTIONS AND DISCOUNTS or subscribe to receive an automatically notification to their email regarding to new promotions offered in various complexes.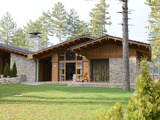 Pirin Golf & Country Club Villas


Topoffer
Promo
Exclusive villas with luxury design on 5* golf resort
Near Bansko Golf course Ian Woosnam Type of listing: For sale Type of property: Houses, Chalets, Villas
Pirin Golf & Country Club is an impressive 5-star holiday complex, located near a world class golf course, designed by Ian Woosnam. The complex covers an area of 150 hectares and is placed near Bansko, the most modern ski resort on the Balkans. Due to the natural resources and ...read more
Can't find the right property? Contact us, we will help you!
I have got 5 stars service by Silvia Gocheva. I was looking an apartment in Varna and Silvia has ...
During the past three months I have purchased several properties through different Bulgarian ...
We bought a house near Vidin on our first visit, the whole process was incredibly efficient (makes ...