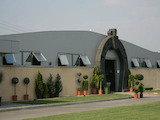 Equestrian near Yambol
INVESTMENT
PROJECT
on request
area: 24000 m2
For sale - equestrian with a restaurant in historic area and near a natural reserve
Near Yambol Type of listing: For sale Type of property: Storehouses, Logistic centres, Factories, Industrial, Metal buildings for industrial purposes, Industrial buildings, Restaurants, Bars, Hotels, Spa and wellness centres, Farms, Business, Development projects, Development land, Industrial land, Investment land, Building plots with project, Investment projects, Other properties, Chateaus, Equestrians, Property development shares, Buildings
We offer for sale an excellent equestrian which is located just 1 km from the ancient town of Kabile, Trakia highway and 2 km from the administrative center of Yambol town. The plot has a size of 20000 m2 and the property has been functioning as an equestrian has all the ...read more
Can't find the right property? Contact us, we will help you!
We would like to thank all the staff at the Veliko Turnovo office for their help to purchase a house ...
Sincere thanks to Sergey for a super efficient and professional sale. Guided through the entire ...
as delited bulgarian purchasers and confirmed fans of BulgarianProperties.com we were wondering if ...