15.01.2008 Analysis of the ski & beach resort markets - a summary
Adrian Musgrave, BulgarianProperties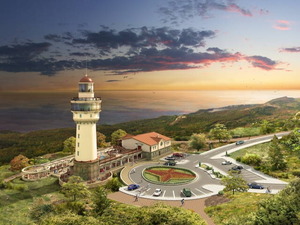 From the positive feedback that we have received from our recent series of articles analysing the property market in Bulgaria's Ski and Beach resorts, we have identified a recurring theme that, while our analyses were considered helpful, wide-ranging and informative, they did not necessarily answer the practical questions of what and where to purchase. To address this, we are now pleased to bring you this summary article, which introduces a range of additional economic indicators and provides a number of specific purchase recommendations …

To extract practical purchasing strategies from the general analytical perspective taken in the previous articles, we need to add some further detail in the form of hard, economic data. And the first key point to note, here, is that 2007 was the year in which all previous real estate records were broken. Final figures for the year are not yet available but the turnover from real estate transactions has grown to a massive 11.36 billion Euro, compared with some 9 billion Euro for 2006. Alongside this, with an annualised growth rate of 30.6% up to September, property prices in Bulgaria rose faster than anywhere else in the world (ref: Knight Frank Global Price Index Q3 2007). However, given that our previous articles identified less dramatic rises of some 15 to 18% in the resort areas through 2007, this indicates even higher levels of increase in the cities and other parts of the country - which, in turn, means that Bulgaria's ski and beach resort properties are, if anything, somewhat under-valued as we move into 2008.

Secondly, we can note the consistently increasing income levels and standards of living right across Bulgaria. This can be attributed to four key factors, namely: the input of EU funding, foreign direct investment into the country, rising asset prices and government economic initiatives such as the reduction in income tax levels and the scrapping of Profit tax (Capital Gains tax) on the sale of a first (or only) property in any tax year. Overall, there is now more and more wealth circulating within the economy. People are becoming richer - and, inevitably, this is enabling the banks to offer a wider range of credit facilities. For the property market, this means mortgages and, today, mortgage funding accounts for some 32% of property transactions. All the banks now offer mortgage services for the purchase of apartments when the building has received Article 14 certification, usually referred to as shell stage. This is now a pretty standard arrangement but as an indicator of how rapidly things are moving in this field, we are now also able to offer an off-plan mortgage facility which can be applied to purchases (on specified new-build developments) from the contract signing stage.

From our previous articles and a consideration of these economic factors, we can see that the ski and beach resorts currently offer an extremely positive purchasing climate. Market activity is growing and there are lots of purchase options available. Prices are rising at their highest ever level but are still low, in both real and relative terms. Competition is driving improved quality of build and services - and with increasingly attractive financial options now becoming available, it has never been easier to make your purchase

So, what to buy - and where? Well, this is where it comes down to your individual preferences and choices. What we can do, though, is offer you a selection of what we consider to be the best Ski and Beach resort offers in our portfolio, matched against the key criteria of location, value-for-money, quality and investment potential …

Ski Resorts:
Belvedere Holiday Club: Bansko
Godlevo Resort: Bansko
Bellecote: Pamporovo
Villa Park Mountain Residence: Borovets
Perelik Palace: Pamporovo

Beach Resorts:
Sunset Kosharitsa: Sunny Beach
Splendido Mare: St Vlas
Emberli: Lozenets
Sozopolis Spa Resort: Sozopol
Lighthouse Golf Resort: Balchik

And what we can also do is suggest that you find out more about buying with Bulgarian Properties by requesting your free copy of our Off-Plan Buyers Guide 2008, sent directly to your mailbox

TOP PUBLISHED OFFER
TOP SOLD OFFER
read more newsletters
My son and I went to Smoylan last June. All the staff at the Smolyan office (special thanks to Luba ...
My sincere thanks to Bulgarian Properties for selling my ski apartment. In particular, I commend ...
Hope this one reaches you guys in the Stara Zagora office. Just a great big "thanks" to you all for ...
Terms of Use | Privacy Policy | Cookie Policy

All photos, texts, video clips, charts and banners on our website are property of our company or of our partners and are protected by the Copyright Act of the Republic of Bulgaria. Any unauthorized use of photos, texts, videos and other materials from our website by third parties will be subject to immediate claim on the part of the copyright owners. The information on our website is with information and advertising purposes. Alhtough we have made all efforts to provide accurate information, there may be some mistakes. For full and correct information is considered only the information received at the offices of Bulgarian Properties Ltd.