23.07.2015 Property prices in Sofia with an annual growth of 6%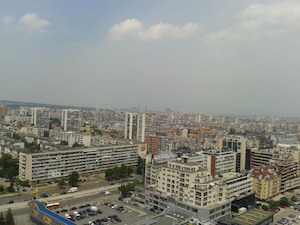 "For the first time since 2008 we have seen a simultaneous increase in all key indicators of the property market – number of sales, property prices, number of mortgages granted and activity in the construction sector with more issued building permits and started new buildings. As a result, both the buyers and the sellers now agree that the market is in an upward trend and it is now the right time for signing deals", commented Polina Stoykova MRICS, Managing Director & Head of Research at BULGARIAN PROPERTIES. "The investment interest towards Sofia has increased and a large number of people from around the country are now investing in properties in the capital seeing it as a stable market with good prospects for growth and return on investment. These buyers currently account for approximately 15% of the total buyers in the capital", she adds.

Average prices

According to data collected by BULGARIAN PROPERTIES, the average price of the sold apartments in Sofia in Q2 of 2015 was 780 Euro/sq.m. compared to 771 Euro/sq.m. for Q1 of 2015 and 735 Euro/sq.m for Q2 of 2014. Accordingly, the increase in property prices in Sofia amounts to 6% on an year basis and 1% on a quarterly basis.

The average purchase price of an apartment in Sofia is 75,000 Euro and it remains comparable to that in 2014. In other words, there is no significant change in the budgets of the buyers since last year. An important difference is that in Q1 of the year predominantly budget purchases were made at prices up to 50,000 Euro, while in the second quarter the buyers were much more confident and the purchases were in the medium and high price segment.

Sales by districts

Lozenets is one of the most desirable neighbourhood in the second quarter of the year. The district holds the highest prices – the deals in the area are completed at prices of approximately 1,100 Euro/sq.m. Similar are the prices of the properties in the City Centre of the capital which also attracts the interest of the buyers. Other popular residential areas include Students Town, Vitosha, Krustova Vada where there is a good supply of new quality construction at good prices. These are the standout quarters, however deals are signed in all other districts of the capital as well.

Another sales growth

The data of BULGARIAN PROPERTIES also shows an annual growth of 50% of the deals volume in Sofia. In the first quarter there was a 30% increase in the sales which means that the process of market activation is accelerating, and the past quarter has become the most successful for the real estate market in the capital for a period of several years.

Parameters of the apartments sold

We can say that the purchases of 2-bedroom apartments presently dominate. They represent almost 50% of the residential properties that have been sold, according to data by BULGARIAN PROPERTIES. The one-bedroom apartments account for only 25% of the total sales, while large apartments account for 15% and the houses are 10% of the residential sales. The share of two-bedroom apartments is increasing at the expense of the one-bedroom apartments. This is a significant change in the structure of the sales of residential properties compared to the first quarter when the one-bedroom and the two-bedroom apartments were almost with equal share.

Accordingly, the average area of the sold apartments rose to 100 sq.m. compared to 74 sq.m. at the beginning of the year. The brick-built homes remain the most preferred ones and retain their share of 70% of the total apartments sold in the second quarter. Almost 50% of the apartments sold have central heating system.

Time on the market

The trend for a shorter sale period of the properties in Sofia continues. According to data of BULGARIAN PROPERTIES, the average stay of the properties on the market before being sold is 73 days in Q2 compared to 80 days in Q1 and 104 days on average for 2014.

Trends and Prospects

So far year 2015 confirms our expectations for being a turning point in the city property market and especially in the largest market - Sofia. It could be said that the property market in the capital is in good condition and that it is confidently going out of stagnation. We expect that this rate of price and sales increase will remain similar till the end of the year and we can forecast a growth of around 6-7% for the entire year. This will definitely give greater confidence to all market participants.

Check out our top properties in Sofia


TOP PUBLISHED OFFER
TOP SOLD OFFER
read more newsletters
We are proud owners of a beautiful home, with a unique view. We would like to say a big "THANK YOU" ...
I can highly recommend Sergey Pelovski for giving such great service to us, when selling our ...
Just a few words of praise for all the staff at the Elhovo office of Bugarian Propeties ...
Terms of Use | Privacy Policy | Cookie Policy

All photos, texts, video clips, charts and banners on our website are property of our company or of our partners and are protected by the Copyright Act of the Republic of Bulgaria. Any unauthorized use of photos, texts, videos and other materials from our website by third parties will be subject to immediate claim on the part of the copyright owners. The information on our website is with information and advertising purposes. Alhtough we have made all efforts to provide accurate information, there may be some mistakes. For full and correct information is considered only the information received at the offices of Bulgarian Properties Ltd.