MAJOR LOCATIONS IN BULGARIA
AHELOY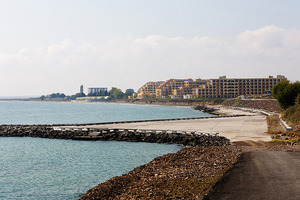 Aheloy is situated on the motorway Bourgas- Nessebar 7 km southwest of Nessebar, near the mouth of Aheloy River. Aheloy is a unique site, having calm and pleasant sea and long and sandy beaches. The quiet sea breeze has a positive impact on the local climate and turns the summer holiday into pleasant and relaxing experience.
In contrast to the nearby resorts, Aheloy has remained intact from the invasion of huge and overcrowded hotel complexes, big and noisy restaurants and public houses. Despite booming construction works along the Black Sea coastline, the village has preserved its calmness and serenity and the villagers are warm-hearted and hospitable people. There are no large-scale construction sites but there is much air, calmness and serenity.
HISTORY
One of the bloodiest battles in the Middle Ages took place near the town in 917 when the Bulgarian Emperor Simeon I delivered a devastating blow to the Byzantine army. More than 90,000 men perished in the battle, 70,000 of whom were Byzantines. In the decades following the Battle of Anchialus the Bulgarian Empire entered a period of upheaval and relished a territorial extent, covering most of the Balkan peninsula.
SIGHTS AND BEACHES
The coastline near the village is well maintained and provides perfect conditions for a nice summer holiday.
Aheloy is famous for its beautiful fruit gardens and vine yards. The small summer paradise offers to its guests nice atmosphere for relax and recreation. Visitors enjoy the opportunity to taste organic fruits and vegetables straight from the gardens where they are growing.
TRANSPORT
Regular bus lines connect Aheloy to connecting Bourgas. Route taxis, minibuses and ordinary taxis run south to Bourgas and north to the famous Nessebar and Sunny Beach resorts. Private water transport to connecting Bourgas and connecting Nessebar can be used upon agreement with boatsmen.
Main source: www.VisitBulgaria.net
View all our offer for sale and rent in/near Aheloy