Do you have a property for sale near Sozopol? Sell it with us!
Studios for sale and rent near Sozopol
As a leading company on the Bulgarian real estate market BULGARIAN PROPERTIES offer a wide choice of studios for rent and sale in Bulgaria. Moreover, we do everything possible to offer our clients numerous offers for studios near Sozopol. This way you can choose the type of property that suits you best – house, villa, plot of land, commercial areas, etc. – set close to Sozopol.

On this page you can view all our offers of studios located near Sozopol. Each offer contains detailed information and photos. In the links below you will also find detailed information about all other types of properties we offer near Sozopol.

If you wish to receive more information please contact your sales agent whose details you will find under the photos of the property. You can also receive advice whether the studios and its location will suit your needs and whether if you can rent the property out or resell it at a good price.

We hope that among our offers of studios for sale and rent near Sozopol you will find the property you are looking for. If you have any questions, please contact us.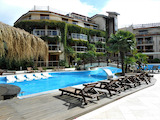 Studio in complex Laguna Beach near Sozopol
WATER
FRONT

Topoffer
€ 43,000€ 36,000 (824 €/m2)
area: 43.69 m2
Seafront studio apartment 50 m from Zlatna Ribka Beach
Near Sozopol Plaj Zlatna ribka Type of listing: For sale Type of property: Studios
Ready-to-move in studio in gated complex Laguna Beach, set on the first line from Zlatna Ribka Beach (50 m), 3 km from Sozopol, on the main road Bourgas-Sozopol. The apartment is set on the second floor with a total area of ​​43.69 sq.m. of which 38.33 sq.m. - ...read more
€ 40,000€ 36,000 (617 €/m2)
area: 58.33 m2
Compact apartment on Goldfish beach
Near Sozopol Zlatna Ribka Beach Type of listing: For sale Type of property: Studios
We offer for sale a fully firnished and equipped studio, which is located in Sozopoli Style gated complex, only 1.5 km from the town of Sozopol. The complex was built in 2007 and has Act 16. The location is very quiet and peaceful, only 30 m from the beach "Goldfish". The ...read more
Can't find the right property? Contact us, we will help you!
The decision to sell our apartment in Velingrad was taken due to family circumstances. From then on ...
as delited bulgarian purchasers and confirmed fans of BulgarianProperties.com we were wondering if ...
I would just like to say how very pleased i was with the services that the VT office provided. ...