Do you have a property for sale in the area of Stara Zagora? Sell it with us!
Properties in Zagorka quarter in Stara Zagora for sale and for rent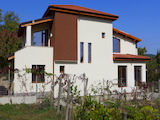 House for sale in Stara Zagora

Topoffer
€ 115,000€ 105,000
area: 185 m2 garden: 600 m2
Family house between Ayazmoto park and Zagorka
Stara Zagora Quarter Zagorka Type of listing: For sale Type of property: Houses
We offer to your attention two storied family house, located in the lovely nature between the Ayazmoto park and Zagorka. The house has total build up area 185 sq. m and a garden 600 sq. m. The area on the ground floor is distributed between a living room with a fire place and ...read more
Can't find the right property? Contact us, we will help you!
A very professional company. Sergey was very knowledgeable and helpful throughout the sale. ...
We purchased a property in Bansko from Andrew Peach at Bulgarian Properties. We could not recommend ...
Dear Sir or Madam, Thank you for your quick response to my inquiry. I will do business with you ...