31.10.2018 Sofia public transport- modern, eco-friendly and cheap
http://bnr.bg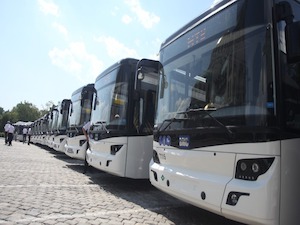 Bulgaria's capital Sofia has a very well developed network of public transport. It includes 97 bus, 12 tram, 9 trolleybus and 2 metro lines. Several months ago the Sofia Municipality launched night bus service as well.

Meanwhile, the quality of the transport services in Bulgaria's capital improved as well. The city municipality invested a lot of money in the recent years in new eco-friendly busses, trolleybuses and trams. Moreover, the Sofia underground is among the best ones in Europe. The Russian and Japanese trains operated at the Sofia subway are comfortable and quickly cover the distances in the Bulgarian capital. Many of the old busses have been already replaced. The first 20 electric buses already arrived in Bulgaria and will soon serve some of the regular bus lines. Seventeen of all sixty buses powered by propane were also delivered. Even most of the diesel buses that are currently used in the Sofia public transport are new and are of higher emission standard. Most of them are equipped with air conditioning systems and have areas for disabled people and mothers with children. Moreover, passengers can benefit from a free-of charge WiFi. The tram service has also seen positive developments in the recent years, although things happen a bit slower there as compared to the metro and bus services. Many trams manufactured during the communist period are still in use in Sofia. However, the old trams are yet to be replaced, because the European Regional Development Fund recently allotted to Bulgaria EUR 46.6 million for this purpose.

Prices of the Sofia public transport are lower as compared to those in Central and Western Europe. A single ticket costs 80 Eurocents and passengers can save on their trips if they buy monthly and yearly cards. Big discounts are offered to students, pensioners and people with disabilities. The competition coming from the taxi services is one of the biggest challenges to the public transport in Sofia. Thousands of taxi cars offer their services to the citizens and the guests of Sofia at attractive prices.

Air pollution caused by the public transport and the private vehicles is one of Sofia's biggest problems. Several European cities already banned diesel cars. Bulgaria's capital has not yet resorted to such measure. However, the local authorities have taken other measures to reduce the levels of air pollution and the replacement of the old diesel busses with new electric buses and vehicles powered by propane is one of them.

Twenty odd years ago most citizens and guests of Sofia used public transport, which was cheap, yet not as comfortable as it is now. However, the number of private vehicles in the recent years literally skyrocketed and most people now prefer to use their own cars. Now the public transport in Sofia has to adapt to the new environmental requirements. It also has the task to guarantee higher security, safety and comfort to passengers.

Check out our top properties in Sofia

Read more news

LATEST REGIONAL NEWS

Bulgaria's oldest city honored as European Capital of Culture for 2019

14/January/2019
The Associated Press

SOFIA, Bulgaria (AP) — Plovdiv, the oldest city in Bulgaria, has been officially inaugurated as the European Capital of Culture for 2019.

Some 50,000 people gathered on a central square Saturday to watch the opening show dubbed "We are all colors" with 1,500 local and foreign artists on several stages.

Squeezed between the Balkan and the Rodopi Mountains, Bulgaria's s... read more

Brilliant!! Orlin, and his colleages in Varna, especially Alex looked after our every need and made ...

Dear Manager Bulgarian Properties Sofia I wish to write this with great pleasure that I ...

I just want to convey positive feedback to you as regards my visit to Bulgaria last week. Your staff ...
Terms of Use | Privacy Policy | Cookie Policy

All photos, texts, video clips, charts and banners on our website are property of our company or of our partners and are protected by the Copyright Act of the Republic of Bulgaria. Any unauthorized use of photos, texts, videos and other materials from our website by third parties will be subject to immediate claim on the part of the copyright owners. The information on our website is with information and advertising purposes. Alhtough we have made all efforts to provide accurate information, there may be some mistakes. For full and correct information is considered only the information received at the offices of Bulgarian Properties Ltd.