Successful presentation of BULGARIAN PROPERTIES at St. Petersburg International Property Show on 29-30 March, 2013
2013-04-02 | BULGARIAN PROPERTIES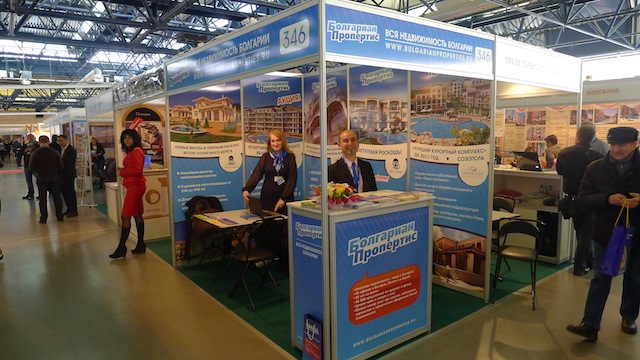 Another successful participation of our company in a property exhibition - this time in the northern capital of Russia, the beautiful city of St. Petersburg. The organizers from AiGroup held an excellent event in the exhibition center "Lenexpo".

Dozens of real estate companies from Europe have participated in the exhibition. Bulgarian section of the exhibition was traditionally the largest and attracted the main group of visitors again. To the serious competitors from Spain, Cyprus and Turkey, the developers from Bulgaria offer new exclusive complexes with unique design and the best quality, at prices and financial terms without competition! Excellent Bulgarian properties in combination with a lot of attractive features of Bulgaria is the reason why a number of Russian buyers in Bulgaria has been increasing steadily in recent years.

The presentation of our company was at a high level - a corner stand with a good view, great panel design, quality marketing materials. BULGARIAN PROPERTIES's stand was presented by the manager of the Moscow office Tatyana Oleynik, the director of our regional office in Burgas Dinko Slavov and the general manager of the company and co-owner Nicola Stoyanov.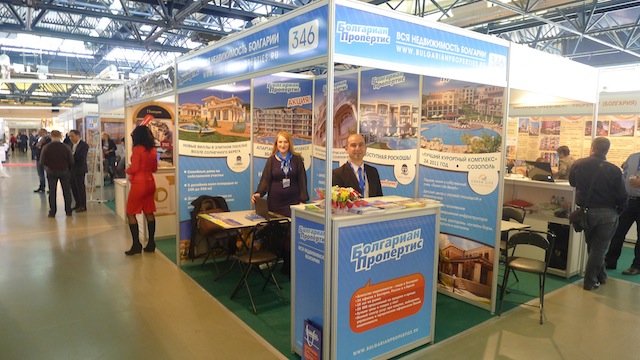 We presented our own top projects developed by the construction company of our corporate group Chovanov and Stoyanov Ltd.: Sunset Deluxe, Sunset Villas, Emberli, Sunset Kosharitsa. We presented also two of our partners' best projects: Dawn Park Royal Venera Palace in Sunny Beach and Green Life in Sozopol.

The visitors at our stand were able to get acquainted with all other top new complexes offered by our company as well as thousands of resale offers and our latest offers for sale or rent in Bulgaria. The majority of clients are interested in buying holiday apartments on the Black sea southern coast, but there was interest in buying real estate in Varna and the resorts close to Varna and in the ski resorts of Bulgaria - Bansko, Pamporovo and Borovets. It is interesting to be noted that in St. Petersburg continues a trend for searching buy-to-let properties in the capital Sofia.

We were visited and received greetings from many our old clients have already purchased property with us. Many of our current clients from St. Petersburg and the Northwest of Russia, who are in the process of buying now came to meet our managers. During the exhibition we exchanged many ideas with our colleagues from other agencies offering properties in Bulgaria. We have signed agreements with several new partners who want to represent our company in the cities of the Northwest of Russia. We have got in touch with specialized media from St. Petersburg, where BULGARIAN PROPERTIES will advertise their properties and services in the future. The general director of the company gave interviews to several media including the largest Russian property portal Prian.ru.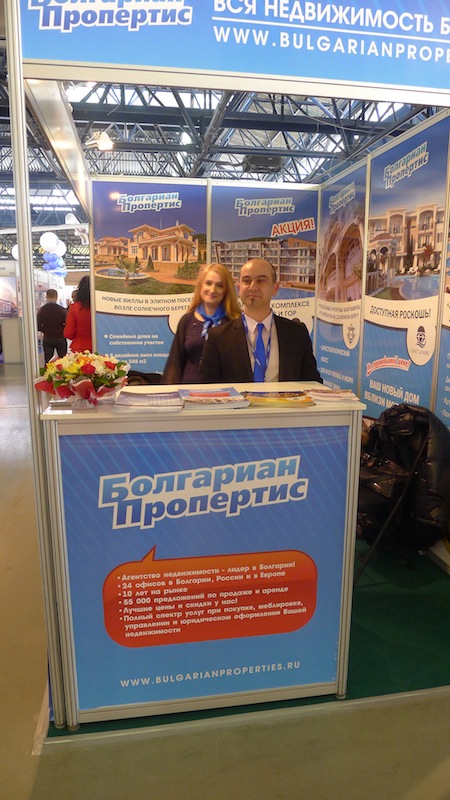 The exhibition was very useful for setting the clock with partners, colleagues and competitors.


Read more news