Polina Stoykova in front of Bloomberg TV: We are close to the peak in rural property prices
2022-05-13 | Bloomverg TV Bulgaria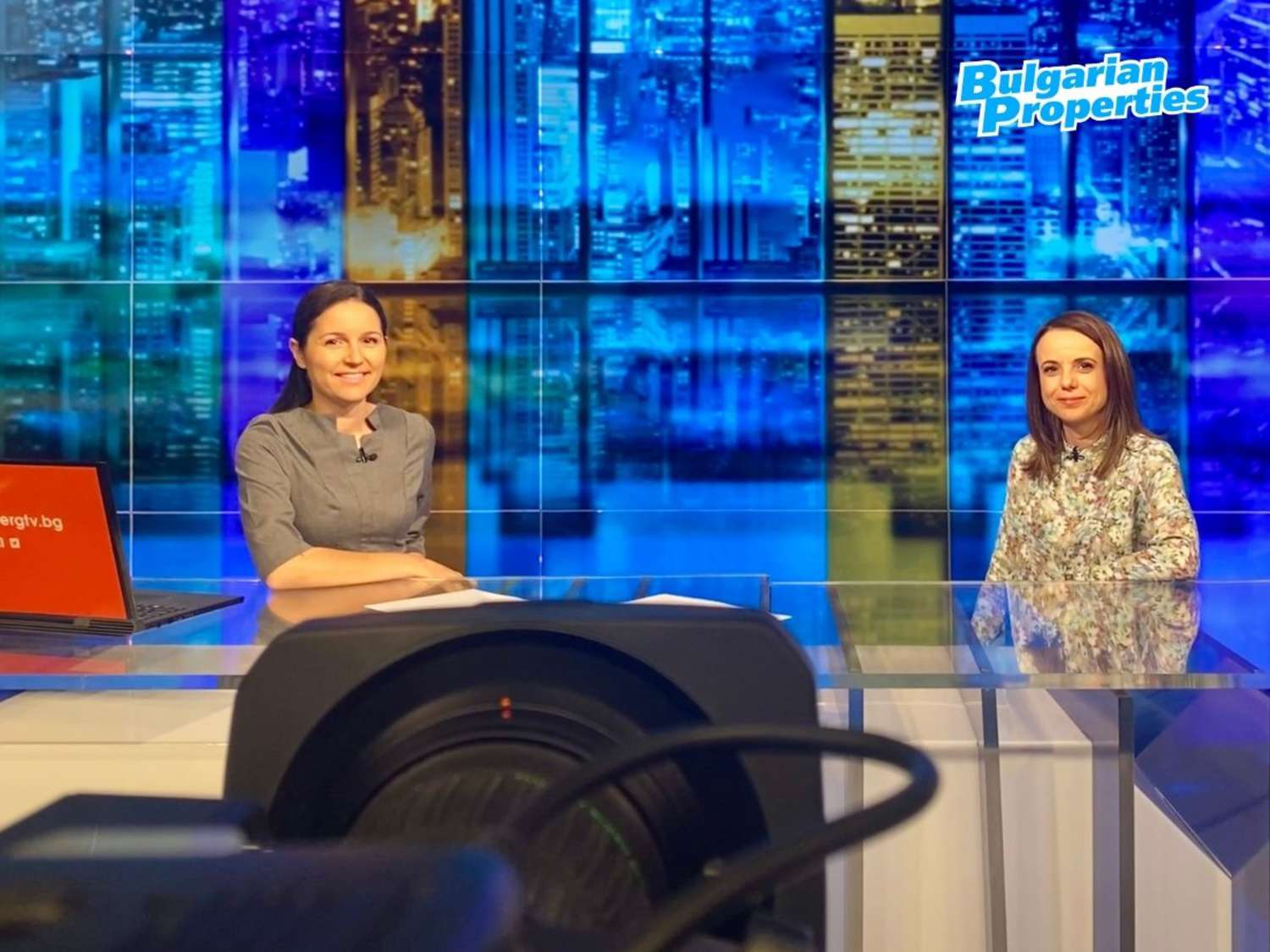 Polina Stoykova MRICS, Managing director of BULGARIAN PROPERTIES, took part in the programme "In development" hosted by Veronika Denizova on Bloomberg TV Bulgaria with a detailed analysis of rural properties and current trends on the real estate market in Bulgaria in 2022.

After the pandemic, there is great interest in real estate in the villages, mostly by Bulgarian buyers, which has led to an almost double jump in the prices of these properties. However, the process of rising prices is already calming down and is close to a peak after which the market will remain stable. This was commented by Polina Stoykova MRICS, Managing Director of BULGARIAN PROPERTIES, in an interview for the economic program "In Development" hosted by Veronika Denizova.

'After the withdrawal of the British and Irish buyers, who used to buy rural properties back in 2005-08, rural real estate market was quite depressed, with falling prices and low sales volume. Now, however, there is a recovery on the market and prices have risen as demand is very high.'

'Average prices have risen from 20,000 to 25,000 euros per house before the pandemic to nearly 50,000 euros in the first quarter of 2022,'she said.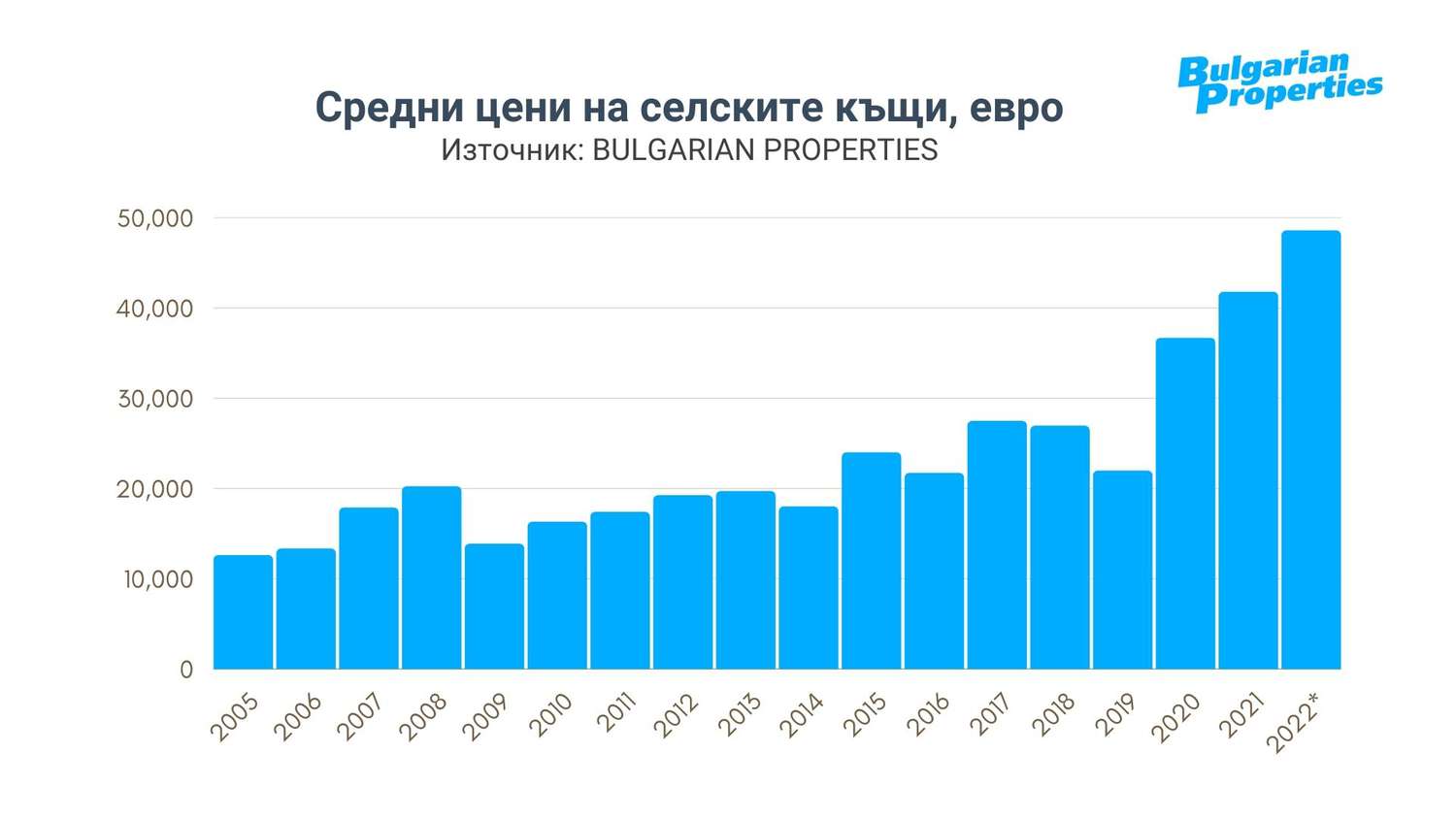 Average annual rural house prices of concluded deals by BULGARIAN PROPERTIES

Stoykova notes that there is no new supply in rural areas and there is an increased interest. But she says prices will not continue to rise a lot more because buyers 'are reluctant to pay the huge prices required by some owners.'

According to her, many Bulgarians focus their savings on buying property, as real estate is a safe haven in times of crisis and inflation. Bank lending conditions also remain unchanged and unemployment is low - there are no factors to stop demand, she added.

After the start of the war in Ukraine, Bulgaria accepted many Ukrainian refugees, but according to Stoykova, at the moment their impact on the property market is mostly in the rental segment.

'Since the first days of the war, we have had an influx of refugees requiring rentals. We have removed all fees and commissions, so that we could provide the necessary housing as soon as possible. 'Refugees are already looking for longer-term rent, but it is too early to talk about buying property, as there is a lot of uncertainty and it takes time to see if they will stay in Bulgaria for a long time,' she said.

With regard to Russian property owners in the resorts on the Black Sea coast, Stoykova emphasizes that there is no process of increased supply. 'There is also uncertainty for them - whether they will be able to get their money in a possible deal and whether they will be able to travel to use their property.'

According to her, Russian owners have been active on the market for many years, and in the last 5-6 years there have been more sellers than buyers. 'This is a process that began long before the war,' she said. However, property prices in the resorts have risen significantly, as 'we had a period of 10 years in which there was no new construction in the resorts, and the resale market supply has now began to run out.'

Due to the high demand, prices have returned to levels from 10 years ago and the long-running process of falling prices has already been reversed. 'During the winter at the sea there was a real boom in purchases from Bulgarians who were looking to buy homes for the summer and for investment to protect against inflation,' she said.

See our offers for rural houses

See properties on the sea and in the ski resorts

Sell your property with us!

Read more news