07.10.2010 Nikola Stoyanov – Managing Director of BusinessForSale.BG: Now is Not a Good Time for Selling a Business
Klassa Daily, vol.859, 06.10.10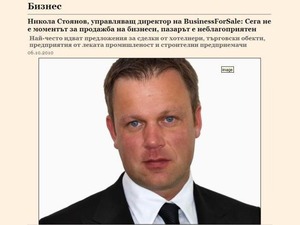 Nikola Stoyanov is a Managing Partner and co-founder of the real estate agency BULGARIAN PROPERTIES and of LUXIMOTI - a real estate agency specialized in the deluxe segment. The newest addition to the company portfolio of BULGARIAN PROPERTIES is the consultancy company for business consulting, mergers and acquisitions BusinessForSale.BG, which was created in 2009 and whose Managing Director is Mr. Stoyanov.

- Mr. Stoyanov, a year after the creation of BusinessForSale.BG what changes are you witnessing on the market of businesses in Bulgaria? What will happen in the sector till the end of the year and in 2011?
- Our company is focused on the segment of middle-sized and small businesses. There are no drastic changes in this market segment. However, there is an increase in the number of businesses put up for sale and in the last few months there is an increase in the number of enquiries from potential buyers. There definitely is interest in the companies we have for sale, but regretfully for now buyers and sellers can't agree on the asking price. I must note that we are helping company owners not only to make a successful deal but we also offer to find partners and co-financing.

- Which are the sectors with the most offers and what is the average price which sellers look for? In which parts of the country are companies most affected and look for a solution through selling a business asset?
- Most often there are offers from hotels, restaurants, trading sites, factories and, of course, many offers from developers who have halted their projects and want to sell them or find co-financing.

- Among your offers there are interesting ones for sale of businesses but there is no list of potential buyers. Are there investors on the market who want to acquire a company and what companies are they looking for?
- We have quite a substantial data base of investors and buyers who have stated their serous interest in buying/acquiring specific businesses in specific branches at clear parameters like price, quality of the company, realized turnover and market presence. However, most of those potential buyers do not what to be known as they wish to get the best possible price in case of an acquisition. We service a regular mailing list of such investors and buyers as we regularly inform them about all new interesting offers matching their criteria.

- During a crisis many companies did not make it and they had to start an insolvency procedure. Are there owners of such companies looking to sell their business and if this is the case what is their share of the total number of offers?
- At the moment we do not service companies which are in the process of starting an insolvency procedure or which have already started one. Generally speaking the declaring of insolvency is the last step for our clients and we advise them to commence this procedure only after we have tried all the possible variants to find a buyer or a partner to help the company.

- Do you know how long on average an offer remains listed before it is sold or rented out? Is there a stage when the price is decreased drastically?
- Most offers remain on the market long enough, too long I would add. Many companies have been on our site for more than a year and without any idea whether they will be sold or rented out soon. Everyone knows that the times we live in do not stimulate quick sales and the reaching of the so-called just price. That is why we advise all sellers not to start selling now if they can afford that, because the market of expensive assets and businesses is unfavorable.

Of course, we also have many companies put up at the market price and that is the price which it should cost according to their owners – so that it is clear they are for sale in case a buyer comes who is ready to pay for the quality of the company. All our clients understand the situation and do not expect a fast sale. Frankly speaking, the few deals with businesses for sale in Bulgaria are concluded at a price that is very low. The reason for that is that potential buyers place too much value on the risk of acquiring a company at the moment, in these tough times and with the unclear future of almost all business undertakings.

- Can you give us an example of unusual business offers, as well as of offers whose prices are too high?
- Every day we receive many unusual business offers. However, most of these offers are not sensible and do not become part of our listings. Our team has to filter various inventions without any practical application, unadvised business ideas, assets at very high prices and others of the sort.
There are also many businessmen who hide the level of their indebtness and the bad financial overview of their company in their attempt to attract interest from investors. We try to sift out all confusing offers and those with unclear parameters.

- According to a number of consultancy and analyzing companies there is going to be a boom in mergers and acquisitions soon. What is your opinion? Where does Bulgaria stand on that issue?
- I hope that in 2011 the long-awaited sobering of sellers and buyers will become a fact and their interests will finally meet so that there would be deals. At the moment one party wants a price too high and the other party is ready to pay too little. The market is stressed and the players are insecure. When things calm down the market will return to its normal rhythm. Of course, no one should expect that it will return to the levels from 2007 and 2008. What will probably happen is that there will be more deals at sensible prices. This calming down is already a fact among the players and the economy. If it continues and the process remains stable for at least 6 months I believe there will be gradual improvement. I don't expect a boom of mergers and acquisitions but I expect a calmer market and more deals in 2011.

- What do you expect with regard to the interest of foreign investors towards Bulgarian companies in the months to come and can we offer attractive offers on the international markets?
- If the stability in the economy continues and there are no negative trends in the next few months I expect an increase in the activity of foreign investors and buyers. What is typical for our company is that it manages to offer lucrative business offers even for small private investors and buyers from around the world. In combination with the various additional services we offer all foreign investors in Bulgaria can count on good support on a local level and care of their investment. I think that up to now Bulgaria has been presenting itself well on the international business market during this crisis due to which the country's image as an investment destination is intact. We have all the preconditions for believing that next year more foreign investors will come to Bulgaria.

View all our businesses for sale and rent

---
Copyright: 2010 Bulgarian Properties Ltd. All rights reserved. For further information or advice please contact us on tel.: +359 2 9 11 50 or e-mail: info@bulgarianproperties.com. The use of this article by third parties is allowed only with proper quotations of the source www.BulgarianProperties.com and the Author of the article. The data in this material has been collected by the Author and Bulgarian Properties Ltd. and is presented for information purposes only. We have made every effort to ensure the accuracy of the data. However, Bulgarian Properties Ltd. cannot be held responsible for loss or damage as a result of decisions made based on the information presented in this article.
© Bulgarian Properties Ltd. 2010.

Read more news

LATEST REGIONAL NEWS

The First "Bile Fest" - Herbs Dedicated Festival Will Be Held on the St. Anastasia Island in Bourgas

12/June/2019
https://www.novinite.com

The island of Saint Anastasia will welcome guests with folk rituals for health and fertility in the first edition of the "Bile Fest", a heraldic festival, announced Burgas Municipality.

More than 50 participants will take part in the event with herbs and healthy foods, curative extracts and ointments, and will show the authentic ways of preparing them.

The accompanyin... read more

For the second time we find it appropriate to personally thank Bulgarian Properties, and in ...

I would like to say a special thanks to Sergey and all of the Bulgarian Properties team for the ...

Dave and me arrived in Elhovo just after 9pm.same day we arrived we were taken to a resturant to ...
Terms of Use | Privacy Policy | Cookie Policy

All photos, texts, video clips, charts and banners on our website are property of our company or of our partners and are protected by the Copyright Act of the Republic of Bulgaria. Any unauthorized use of photos, texts, videos and other materials from our website by third parties will be subject to immediate claim on the part of the copyright owners. The information on our website is with information and advertising purposes. Alhtough we have made all efforts to provide accurate information, there may be some mistakes. For full and correct information is considered only the information received at the offices of Bulgarian Properties Ltd.