Housing Price Determinants and the Price Cycle in Bulgaria - a Paper by the Chief Operations Manager of BULGARIAN PROPERTIES
2011-06-10 | BULGARIAN PROPERTIES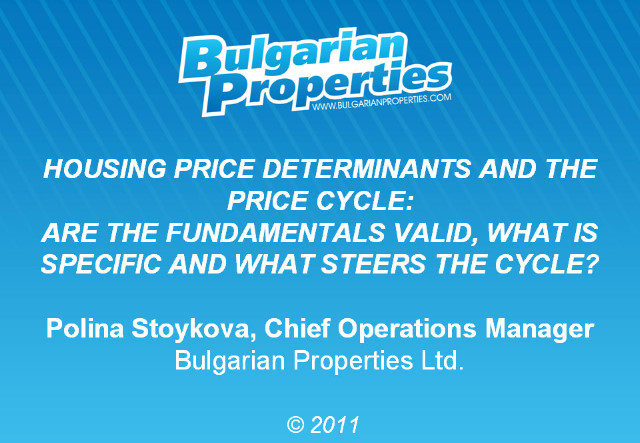 Polina Stoykova, Chief Operations Manager and Head of the Research Department of BULGARIAN PROPERTIES presented a paper at the Summer Conference of the International Academy of Business and Economics in Barcelona, Spain on 3rd June. This paper is published in the current issue of the Journal of International Business and Economics.

The title of the paper is: 'Housing Price Determinants and the Price Cycle: Are the Fundamentals Valid, What is Specific and What Steers the Cycle?'

Download a brief presentation of the article from here

The main findings from the conducted research are the following:


The fundamental long-term housing price determinants are also valid in Bulgaria.


However, there are some cyclical deviations from the long-term trend which should be explained through the theory of the short-term property price determinants.


In order to forecast the Bulgarian real estate market the short-term determinants should be used and the general economic development should be considered.


There are 2 main drivers of the property prices in Bulgaria and their effect appears with a lag of one year.

The participants at the conference expressed a great interest to the topic, to Bulgaria as a developing and attractive property market and to the future development of the real estate markets globally. Many questions were asked and suggestions for future research given, which will be taken in account for our future research projects.

If you wish to receive more information about the article and its findings, please send us an e-mail

See all our research papers and pubications

Use our market analyses and consultancy services


Read more news