Daily Telegraph: The cheap European destinations that are actually worth visiting
2018-05-16 | www.telegraph.co.uk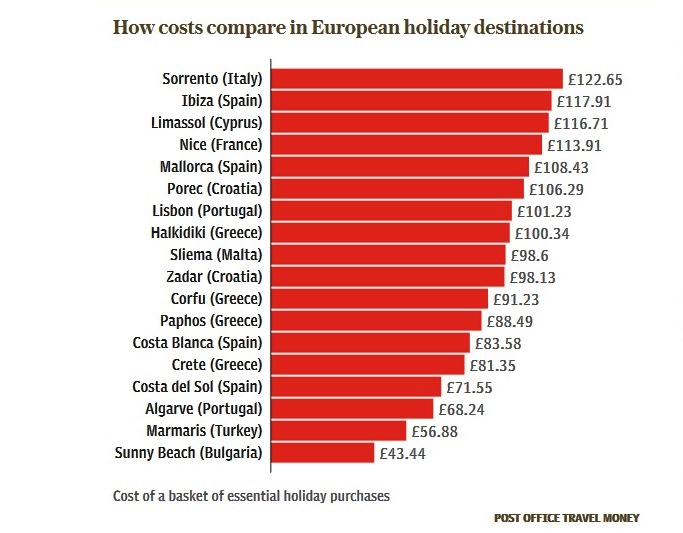 The Black Sea resort of Sunny Beach, in Bulgaria, is - for the fifth year running - the best value
Source: www.telegraph.co.uk
There are several signs that spring is getting into gear - the growing number of flowers, the hint of fragrance on the air, a slowly noticeable increase in warmth (although not this week). And the release of the Post Office's annual "Holiday Costs Barometer", which takes the financial temperature of beach-break hotspots across continental Europe, and works out where British travellers' money will stretch furthest in the coming summer.
It is a straight-forward but invaluable tranche of research, which assesses the cost of a sojourn in 18 different destinations by comparing them on the combined cost of nine holiday essentials.
These are: a cup of coffee in a cafe; a bottle of local beer in a bar; a bottle of Coca-Cola in a cafe; a glass of wine in a bar; a 1.5-litre bottle of mineral water in a supermarket; a bottle of suncream; a bottle of insect repellent; a two-course restaurant lunch for two people, minus drinks; a three-course dinner for two with wine.
The results are not exactly surprising. Of the 18 selected locations, the Black Sea resort of Sunny Beach, in Bulgaria, is - for the fifth year running - the best value (with lunch for two reckoned to cost £8.56, and a total amount for the nine items calculated to be £43.44). There is no shock here. Bulgaria's east flank has long been one of Europe's cheapest corners, and its continued existence outside the Eurozone (the currency is still the Lev, which floats at about 2.25 to the pound) means that this situation is unlikely to change.
Attractive selection of properties in Sunny Beach and the neighboring resorts
View our top properties in the beach resorts
Read more news