A Place in the Sun Magazine: Hunt for Affordable Rural Properties in Bulgaria
2009-08-17 | A Place in the Sun Magazine, August 2009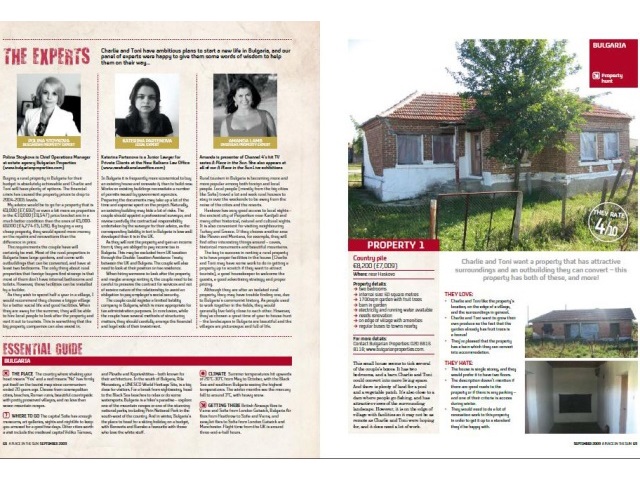 Properties in Bulgaria now cost less and a growing number of British buyers are coming back to the market.

Following this trend, in the August issue of the popular British overseas property magazine A Place in the Sun an English couple is hunting to buy cheap property in Bulgaria because they can afford it with their savings and they can afford to live there with their income from the UK. The couple is given three rural houses to choose from and it is advised by experts during the process.

One of the experts is Polina Stoykova - Chief Operations Manager at BULGARIAN PROPERTIES:

Buying a rural property in Bulgaria for their budget is absolutely achievable and Charlie and Toni will have plenty of options. The financial crisis has caused the property prices to drop to 2004-2005 levels.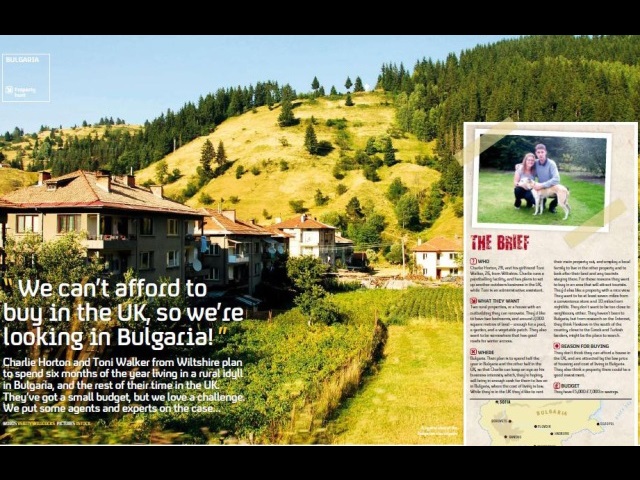 My advice would be to go for a property that is €9,000 (£7,692) or even a bit more as properties in the €10,000 (£8,547) price bracket are in a much better condition than the ones of €5,000-€6000 (£4,274-£5,128). By buying a very cheap property, they would spend more money on the repairs and renovations than the difference in price.

The requirements the couple have will certainly be met. Most of the rural properties in Bulgaria have large gardens, and come with outbuildings that can be converted, and have at least two bedrooms. The only thing about rural properties that foreign buyers find strange is that most of them don't have internal bathrooms and toilets. However, these facilities can be installed by a builder.

As they wish to spend half a year in a village, I would recommend they choose a bigger village for a better social life and good facilities. When they are away for the summer, they will be able to hire local people to look after the property and rent it out to tourists. This is something that the big property companies can also assist in.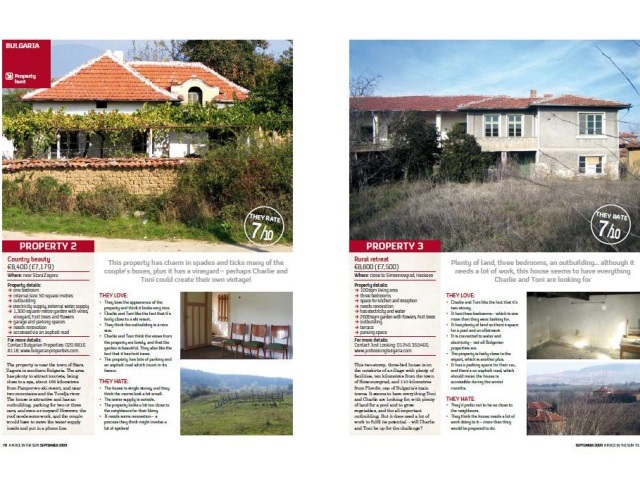 Polina Stoykova adds that prices for rural properties in Bulgaria show great variation. According to BULGARIAN PROPERTIES data in the Varna region a newer or renovated house with a 500-square-metre garden will cost around €38K (£32K). About 40-50 kilometres from Bourgas, you'll pay €27K (£23K) for a decent-sized house (150 sqm) with an 800-square-metre garden that doesn't need too much doing to it. Moving down the price range, an average 100-square-metre house to the north of Sofia, around the town of Svoge, with 500-1,000 square metres of land can be bought for just over €16K (£13.5K).

Alternatively, 30-40 kilometres north of Veliko Tarnovo you can buy an old house that's in good condition for about €12,600 (£11K). For properties around the €10K (£8.5K) mark that need renovation, try east and west of Yambol, or the Stara Zagora region. And for really cheap properties of around €4K (£3.5K) but needing renovations, try the Montana or Pleven regions.

View our BEST BARGAIN properties

DISCOUNTED PROPERTIES

Read the article

Read more news