09.06.2010 Finished Holiday Properties in Bulgaria for as Little as €300 per sq.m.
BULGARIAN PROPERTIES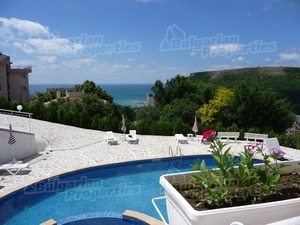 The Bulgarian seaside and ski resorts are full of offers for cheap properties. The prices of finished and in some cases furnished apartments start from just 300-350 EUR/sq.m., real estate agents say.

"The deals in the resorts are mainly concluded at prices between 350 and 700 EUR/sq.m.", BULGARIAN PROPERTIES say. The company's Chief Operations Manager explained that there are less and less property owners who want high asking prices as it is unrealistic to conclude a deal at a high price. Many owners sell their properties at a loss including foreign property owners who bought them a while ago with the aim of making a profit.

BULGARIAN PROPERTIES gave the following few examples:
- a fully furnished apartment in Bansko, bought in 2006 for 1,500 EUR/sq.m., was sold at 750 EUR/sq.m. or with a 50% loss;
- a fully furnished apartment bought in Bansko in 2006 for 1,400 EUR/sq.m., was sold with a 40% loss for 835 EUR/sq.m.;
- an apartment in Golden Sands bought for 1,385 EUR/sq.m. was sold at 700 EUR/sq.m., which is a 50% loss for the owner;
- an apartment in Kranevo bought 5 years ago for 550 EUR/sq.m. found a new owner for just 315 EUR/sq.m., which is 43% less;
- an owner of an apartment in Sunny Beach sold it with a loss of just 7%. He bought it in 2007 for 815 EUR/sq.m. and sold it for 760 EUR/sq.m.

There are also sellers who bought their properties at relatively low prices before the big price peak and now manage to sell them without a loss, the company adds.

Part of the developers are also selling at prices that are 50% lower than those at which they made deals 2 years ago. Since the beginning of 2010 many of them lowered the prices of properties along the seaside and asking prices of apartments in finished developments are starting from 360 EUR/sq.m. In Bansko the lowest prices start from about 500 EUR/sq.m. for finished unfurnished apartments.

The observations of BULGARIAN PROPERTIES show that it is British and Irish owners that are the most active sellers. Both they and the developers agree on a price close to the one paid some time ago or close to the cost price of the development.

Both in Bansko and along the Black Sea coast the buyers are mainly interested in cheap apartments ranging from 25,000 and 40,000 Euro, the company says. The prices of the most sought luxurious Black Sea properties range between 80,000 and 130,000 Euro.

View our holiday homes with discounted prices

---
Copyright: 2010 Bulgarian Properties Ltd. All rights reserved. For further information or advice please contact us on tel.: +359 2 9 11 50 or e-mail: info@bulgarianproperties.com. The use of this article by third parties is allowed only with proper quotations of the source www.BulgarianProperties.com and the Author of the article. The data in this material has been collected by the Author and Bulgarian Properties Ltd. and is presented for information purposes only. We have made every effort to ensure the accuracy of the data. However, Bulgarian Properties Ltd. cannot be held responsible for loss or damage as a result of decisions made based on the information presented in this article.
© Bulgarian Properties Ltd. 2010

Read more news

LATEST REGIONAL NEWS

The First "Bile Fest" - Herbs Dedicated Festival Will Be Held on the St. Anastasia Island in Bourgas

12/June/2019
https://www.novinite.com

The island of Saint Anastasia will welcome guests with folk rituals for health and fertility in the first edition of the "Bile Fest", a heraldic festival, announced Burgas Municipality.

More than 50 participants will take part in the event with herbs and healthy foods, curative extracts and ointments, and will show the authentic ways of preparing them.

The accompanyin... read more

Good afternoon Team of Bulgarian Properties, Happy 15 anniversary of your work, efforts and ...

HAPPY BIRTHDAY !!! You have always been very professional, kind and helpful to me !!! Bucuresti ...

Hello it Paul McGarry who is purchasing property pat08. I am writing this email to you all to thank ...
Terms of Use | Privacy Policy | Cookie Policy

All photos, texts, video clips, charts and banners on our website are property of our company or of our partners and are protected by the Copyright Act of the Republic of Bulgaria. Any unauthorized use of photos, texts, videos and other materials from our website by third parties will be subject to immediate claim on the part of the copyright owners. The information on our website is with information and advertising purposes. Alhtough we have made all efforts to provide accurate information, there may be some mistakes. For full and correct information is considered only the information received at the offices of Bulgarian Properties Ltd.