28.08.2014 BULGARIAN PROPERTIES in The New York Times
The New York Times, with excerpts, August 27, 2014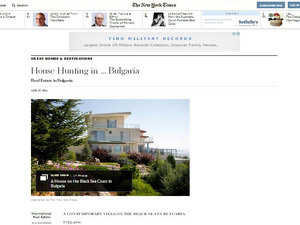 After a long housing-market slump triggered by the global real estate crisis, when prices dropped on average about 30 percent below their 2008 highs, Bulgaria is seeing housing prices rise this year for the first time, brokers said.

Data from Bulgaria's National Statistical Institute show an increase of 1.79 percent in home prices during the first quarter of 2014 over the previous year; the second quarter had an increase of 2 percent, said Polina Stoykova, the chief operations manager of Bulgarian Properties, based in Sofia with offices worldwide. The biggest cities in the country, such as the capital, Sofia, and Plovdiv, have seen the biggest increases in home prices, she said.

Foreign buyers, most of whom are seeking vacation apartments or houses, tend to be attracted to the Black Sea coast, in particular the cities of Varna and Burgas, followed by ski resorts, such as Pamporovo and Borovets. The capital, Sofia, is the third preferred region or area for foreign buyers.

The average price of homes in Sofia in the second quarter of 2014 was 753 euros, or about $992, per square meter, or about $92 a square foot, Ms. Stoykova said. In Varna, the average price is 699 euros, or about $920, per square meter, or roughly $85 a square foot, she said. (Though Bulgaria still has its own currency, many real estate listings and transactions are in euros now.)

Among foreign homebuyers, there is a search for first-line beach houses, which, due to the building restrictions in Bulgaria and the rarity of that beach topography, makes their prices high.

WHO BUYS IN BULGARIA

British buyers, who helped fuel the home price bubble in Bulgaria from 2000 to 2008, largely disappeared after 2008 and were replaced by Russians. However, this year, British buyers have been returning to the Bulgarian market in growing numbers, Ms. Stoykova said.

"We have noticed a steady return of the British buyers in the past two months," she said. "We expect that trend to continue."

Russians continue to be the largest group of foreign homebuyers in Bulgaria, and are joined by buyers from Germany, France, Holland, Belgium, Ukraine, Scandinavia, the United States, Canada, Australia and South Africa, brokers said.

BUYING BASICS

Foreigners are not restricted when buying apartments in Bulgaria, but homes with land pose a bit of an obstacle. While buyers from the European Union countries have no restrictions, other foreigners who wish to buy a home with land must form a company, brokers said. The process is fairly fast, easy and cheap, and can be handled by real estate agencies, brokers said.

The Bulgarian government a year ago made the process of setting up a limited company easier and cheaper. They do the process electronically, and all documents can be applied for online now.

For agency assistance, which usually includes legal assistance, buyers typically pay about 3 percent commission, Ms. Stoykova said. Notary fees, stamp duty and municipal local tax typically cost about 4 to 6 percent of the property price.

In total, additional costs are about 8 to 9 percent of the price of the property, she said.

View our poperties on the sea for sale and rent

Read more news

LATEST REGIONAL NEWS

The First "Bile Fest" - Herbs Dedicated Festival Will Be Held on the St. Anastasia Island in Bourgas

12/June/2019
https://www.novinite.com

The island of Saint Anastasia will welcome guests with folk rituals for health and fertility in the first edition of the "Bile Fest", a heraldic festival, announced Burgas Municipality.

More than 50 participants will take part in the event with herbs and healthy foods, curative extracts and ointments, and will show the authentic ways of preparing them.

The accompanyin... read more

We have just purchased a house in Molina Bulgaria. We did this through the Varna office and the ...

From the time the Apartment was listed to the final interest, Hristo has advised and supported all ...

Hi all, Many thanks to all at elhovo office for our great visit in september.And many thankls to ...
Terms of Use | Privacy Policy | Cookie Policy

All photos, texts, video clips, charts and banners on our website are property of our company or of our partners and are protected by the Copyright Act of the Republic of Bulgaria. Any unauthorized use of photos, texts, videos and other materials from our website by third parties will be subject to immediate claim on the part of the copyright owners. The information on our website is with information and advertising purposes. Alhtough we have made all efforts to provide accurate information, there may be some mistakes. For full and correct information is considered only the information received at the offices of Bulgarian Properties Ltd.