Rising private consumption to boost retail space demand
Europaproperty.com, Central & Eastern Europe Retail Guide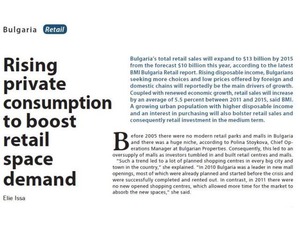 Bulgaria's total retail sales will expand to $13 billion by 2015 from the forecast $10 billion this year, according to the latest BMI Bulgaria Retail report. Rising disposable income, Bulgarians seeking more choices and low prices offered by foreign and domestic chains will reportedly be the main drivers of growth. Coupled with renewed economic growth, retail sales will increase by an average of 5.5 percent between 2011 and 2015, said BMI. A growing urban population with higher disposable income and an interest in purchasing will also bolster retail sales and consequently retail investment in the medium term.

Before 2005 there were no modern retail parks and malls in Bulgaria and there was a huge niche, according to Polina Stoykova, Chief Operations Manager at Bulgarian Properties. Consequently, this led to an oversupply of malls as investors tumbled in and built retail centres and malls. "Such a trend led to a lot of planned shopping centres in every big city and town in the country," she explained. "In 2010 Bulgaria was a leader in new mall openings, most of which were already planned and started before the crisis and
were successfully completed and rented out. In contrast, in 2011 there were no new opened shopping centres, which allowed more time for the market to absorb the new spaces," she said.

Sofia currently leads the retail market in Bulgaria with five operating malls boasting 230,000 sqm retail space altogether and one outlet mall of 36,000 sqm. Three new shopping malls under construction at present with expected total area of nearly 400,000 sqm. "They are to be ready in 2012, when the total retails pace in shopping centres in Sofia will more than double," Polina Stoykova projected.

Bulgaria ranks 13th in Europe in terms of commercial space in shopping centres that are due to be completed by the end of 2012, according to a report by real estate consulting firm Cushman & Wakefield. By the end-2012, about 181,500 sqm of commercial area in shopping centres across the country will be delivered, the report said. As to available shopping centre space, Bulgaria ranks 30th in Europe, or 67,5 sqm for every 1,000 residents, which is far below the European average of 240 sqm. This implies tangible opportunities for expansion over the next two-to-three years.

"After being one of the top five countries in terms of new shopping centre space in 2010, not a single mall opened in 2011," said Vladislav Kayzerov, office and retail space manager at Forton International. Further, says Kayzerov, the market is starting to stabilise and he projects that the retail segment will see new foreign tenants, operators of unfamiliar formats for entertainment, as well as a new generation of shopping centres.

The current shopping centre stock stands at almost 560,000 sqm GLA, according to Forton International. In Sofia the available retail space is more ostensive on high streets rather than in shopping centres but still the high occupancy in operating malls is seriously shaken. But pipeline supply remains challenging with over 237,000 sqm of retail space under construction. If all of the projects are completed successfully, the total shopping centre stock in the country will increase by 42 percent to nearly 800,000 sqm, or 107 sqm per 1,000 residents, according to Forton.

A relatively new trend on the retail market outside the capital is the gradual relocation of retailers from high streets to shopping malls, as rent levels are almost equal for both locations. The investment market has improved in terms of completed transactions. Retail transaction volumes for the first quarter exceeded €115 million. In June one of the prime shopping malls in Bulgaria (Mall of Sofia - 23,600 sqm retail space and 10,000 sqm office space) was acquired for €105 million. Prime shopping centre yields remain unchanged as confirmed by this latest investment transaction.

Another major acquisition saw Belgium's Delhaize Group purchase Serbia's Delta Maxi group, which had owned the supermarket chain Piccadilly. Delhaize Group plans to increase the number of its stores in the country by about 15 a year, Erikjan Lantink, Piccadilly's newly appointed CEO said. Piccadilly plans to open several more outlets in Sofia of its Piccadilly and Piccadilly Express brands by the end of 2011, of which three have already been contracted. Apart from its expected chain expansion, the Belgian company also aims to add more local products to its portfolio and to increase the share of its own product brands. "Large retailers, however, are looking for exposure in both shopping malls and on high streets. For this reason, Vitosha Blvd. will sooner or later recover its leadership as top retail destination in Sofia," said Sergey Koinov, Partner and Managing Director at Forton.

Vitosha Blvd takes 52nd place in the Cushman & Wakefield report for the most expensive shopping streets in the world. The current average monthly rent on the main shopping street in Sofia is about €50 per sqm. The report also shows that in 2010 rent levels in the rest of the country have fallen by 10 percent to 25 percent on average.

"The situation in Bulgaria is dynamic, it changes every day," Curtis M. Coward, CEO and Managing Partner at Arceland, an asset management fund based in Sofia, recently told Novinite.bg. Coward reckoned that the situation in Bulgaria is not as attractive as it used to be three years ago when there was a huge inflow of "hot money" around the EU accession. But now the driver for values of real estate is "really income levels and domestic demand of Bulgarians", Coward underscored. The bad news is that Bulgarians are the poorest people in the EU so therefore it starts at a very low level. But the good news is the growth in that income is one of "the fastest because it is from such a low base so as a percentage it is growing much faster than in the EU generally," Coward said.

All the factors cited so far suggest that Bulgaria's retail market is again on track and much more will come. The construction of Sofia Ring Mall will soon start, according to Colliers International, the leasing consultant of the project. Glavbolgarstroy and Arcon Constructions were chosen as the main construction companies for the project. Both firms will be involved in phase one, meaning the excavation, concrete works and rough construction of the project. The main work will take 12 months. Sofia Ring Mall will then launch a second tender to select a firm for the finishing works. The mall, to be located on the newly extended southern curve of the Sofia ring road, will be directly connected
with IKEA's first hypermarket in Bulgaria through a pedestrian connection and a common underground parking facility. The combined parking will provide more than 3,500 places, accessed from the ring road. The opening of Sofia Ring Mall is planned for 2013. The mega project will be one of the biggest shopping centres in Bulgaria with a GLA of approximately 70,000 sqm.

The Sofia Ring Mall project has been delayed for several years due to the crisis. It will be part of a larger commercial and residential project including a hypermarket with an area of 9,000 sqm, a DIY store and a cinema. The investor in the project is Sofia Ring Mall Sofia EAD, a subsidiary of the Greek company Danaos Development.

read more articles



Nothing was to much trouble for Evgeni or Stanimira they were very helpful and Brilliant in selling ...

Many thanks to all at Bulgarian Properties who made our trip last week so enjoyable. Thanks to ...

A big thank you to Mihail, without his help we would have had no idea about buying property in ...
Terms of Use | Privacy Policy | Cookie Policy

All photos, texts, video clips, charts and banners on our website are property of our company or of our partners and are protected by the Copyright Act of the Republic of Bulgaria. Any unauthorized use of photos, texts, videos and other materials from our website by third parties will be subject to immediate claim on the part of the copyright owners. The information on our website is with information and advertising purposes. Alhtough we have made all efforts to provide accurate information, there may be some mistakes. For full and correct information is considered only the information received at the offices of Bulgarian Properties Ltd.