Now is the time to invest in a property in Bulgaria
Victoria Mindova, GRReporter, 28.01.2010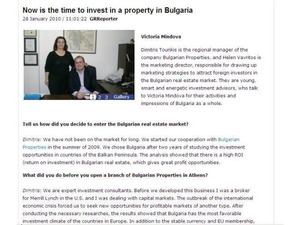 Dimitris Tourikis is the regional manager of the company Bulgarian Properties, and Helen Varvaritis is the marketing director, responsible for drawing up marketing strategies to attract foreign investors in the Bulgarian real estate market. They are young, smart and energetic investment advisors, who talk to Victoria Mindova for their activities and impressions of Bulgaria as a whole.

Tell us how did you decide to enter the Bulgarian real estate market?

Dimitris: We have not been on the market for long. We started our cooperation with Bulgarian Properties in the summer of 2009. We chose Bulgaria after two years of studying the investment opportunities in countries of the Balkan Peninsula. The analysis showed that there is a high ROI (return on investment) in Bulgarian real estate, which gives great profit opportunities.

What did you do before you open a branch of Bulgarian Properties in Athens?

Dimitris: We are expert investment consultants. Before we developed this business I was a broker for Merrill Lynch in the U.S. and I was dealing with capital markets. The outbreak of the international economic crisis forced us to seek new opportunities for profitable markets of another type. After conducting the necessary researches, the results showed that Bulgaria has the most favorable investment climate of the countries in Europe. In addition to the stable currency and EU membership, another factor that makes the Bulgarian market attractive is the low prices, according to pan-European standards of real estate. I must admit that sales until have significantly exceeded our initial expectations. We perform big transactions, and interest in property acquisition is big.

Helen: My background is marketing and before we started our cooperation with Bulgarian Properties I was living in Australia and I had a family business there, part of which included property management. My main role in our company is marketing Bulgaria as a destination to the Greek market and advising our customers on what makes a property a good investment.

Can you please describe in detail the main advantages of the Bulgarian real estate market and what makes it so attractive for Greek investors?

Dimitris: Bulgarian membership in the EU since 2007 and locking the BGN to the Euro are the two main factors that provide zero risk for foreign investors in Bulgarian real estate market. This facilitates buyers from other European countries and provides them with easy access to new opportunities for profit. Also, due to the economic crisis, we can see a decline in property prices across Europe. In Bulgaria this decline marks at around 40% compared with the average price level in 2008. This creates greater opportunity for future profits for people who will invest now. Currently the market has reached its lowest level and from now on property prices will increase. Studies of the Bulgarian office of Bulgarian Properties show that in mid-January, prices have already started to rise. Demand for apartments and offices is increasing, which will inevitably lead to a new boom in prices.

About three years ago, shortly before the outbreak of the global economic crisis, market analysts have argued that real estate prices in Bulgaria have been artificially inflated. How has the situation changed now?

Helen: I can definitely say that at that point we witnessed a boom in the property market. With the beginning of the crisis prices fell because demand fell sharply. Indeed, the crisis helped in regulating the market and brought property prices to more normal and realistic values. With the strengthening of the market and local economy prices naturally began to rise. This is the natural progression of market development, especially in a country like Bulgaria, which can still expand its economy. Real estate marketing is just one of the sectors in Bulgaria that loads the country with new investments.

Dimitris: For a young economy as the Bulgarian one, it is not unusual to observe a similar development (high price rises and sharp falls). I believe that the boom in prices and demand until the summer of 2008 is a natural reaction to the market, which is now entering the game. The difference after the crisis is that we are witnessing a second wave of healthy price increase of real estate. The reason for this is that banks learned a lesson from the experienced crisis and now they grant loans or finance certain operations more accountable. There are no longer "random players" on the market and whoever invests, knows what he/she is doing.

Who are your main clients?

Helen: The truth is that many of our clients invest money that they already have. Rather than playing with them on the stock market, they prefer to invest them in real estate as a secure way to increase their money.

Dimitris: We have customers who come to us and are willing to invest funds paid by stock dividends or successful operations. We are talking about amounts of around €30-50 thousand, which is the average price of a nice apartment in Bansko, for example. Here comes our role. We offer investors portfolio diversification by investing in another type of asset with the highest future return - property in Bulgaria. In social terms, we are talking about middle-class Greeks, who have good education and are interested primarily in residential properties. Businessmen and entrepreneurs, who are already present on the Bulgarian market, are interested in buying business premises.

Helen: Greek investors who are open to the idea of investing their money in foreign markets are more open-minded. Generally, an ordinary Greek citizen is slightly more conservative and investing in a foreign country is not typical of all Greeks. This is why we say that our clients are more enterprising. All who have visited the country, accept it very warm. We even have customers who plan to live in Bulgaria after they retire. The country has all conditions for a good life at a lower cost.

What types of properties are sought the most?

Dimitris: 80% of our sales are residential properties in Sofia and holiday homes in Bansko. Other types of properties are commercial and office buildings, in which the investor has higher ROI and high profit.

What are your predictions for the average ROI that your customers can receive on successful investment in the Bulgarian real estate market?

Dimitris: Generally, expected is a 6%-10% annual capital growth from investments made in already established markets, such as those in western Europe. The value of capital growth in Bulgaria's property market is about 20% per year and I think this trend will be maintained for the next five years.

Now you know how the situation in Bulgaria is. What do you believe are some of the things that should be changed, in order to attract more foreign investors?

Helen: Right now one of the main problems in Bulgaria, after its entry into the European Union, is improving the country's infrastructure. In particular, the road structure of the country needs serious improvement and development. Easy access to all parts of the country is essential for both big and small investors. One of the main reasons for some Greeks to hesitate on entering the Bulgarian market is the poor road condition. We know that improving the road system is a slow process and we cannot fail to note that there is work done on this issue (for example, the Sofia-Varna highway), but there is still a lot of work in this direction. Beyond that, I do not think that Bulgaria has other problems.

Dimitris: I totally agree with Helen and I cannot think of any other impediment, which will stop an investment in Bulgaria. My only advice to the Bulgarian government is: "Advertise your country more!" The world should know what Bulgaria is today. For us, who are in constant touch with the country, it is clear that Bulgaria is a safe and modern country with many opportunities and it has nothing to do with Bulgaria twenty years before. It has good laws, progressive thinking and it is an international place for investments. Actually, I would like to point out the positive features of the country.

People in Bulgaria are extremely hardworking and honest. We have excellent business relations with our Bulgarian partners and transactions are done in full transparency and with professionalism. I think we need to know that professionals of very high level are working in Bulgaria and the Bulgarian market is extremely reliable for business development. Actually the Bulgarian regulatory body in the field of taxation is much better than the Greek one. There are good conditions for attracting and absorbing foreign capital. The government in the country has seriously taken measures to attract new investments and Bulgaria is moving very quickly to economic progress. I personally believe this is the right direction to ensure a positive economic growth.

What are Bulgarian buyers interested in the Greek real estate market?

Dimitris: There has been some interest by Bulgarians, mainly in properties in northern Greece - in the region of Halkidiki. With the entry of Bulgaria into the European Union the number of those investors is increasing but it is still not relevant to Greek buyers in Bulgaria. Access to the Mediterranean Sea is the main reason for buying properties in northern Greece.

How do you believe Bulgaria's entry into the European single currency will affect the real estate market?

Dimitris: If I have to judge from my experience in Greece, after the introduction of the Euro prices jumped up. At the time when Bulgaria introduces the Euro, you can expect the same thing to happen to you. This will not only affect real estate trade, we are talking about a general rise in prices in the country. I can foresee with certainty at least 10% increase from the first day of introducing the Euro.

Helen: Bulgarian companies have made a good step - they are already working in Euros, property prices are in Euro. So the currency exchange will not lead to such confusion, as was it sis with the Drachma. Surely, however, there will be price increases.

So the conclusion from our conversation should be that now is the time to buy a property in Bulgaria, right?

Dimitris: Now is the time to invest in Bulgarian real estate market, because you will receive the highest possible return on invested capital in the future. There are many good opportunities that will lead to better profits in the next five years.

View our BEST BARGAIN properties

DISCOUNTED PROPERTIES

read more articles



My husband and I have just returned from our trip to Bulgaria organised by Bulgarian Properties. ...

We bought a property in Tatari, near Svistov,through Bulgarian Properties and were very satisfied ...

thanks to BulgarianProperties and to Miroslav for helping us to find our house near Borovets. Also a ...
Terms of Use | Privacy Policy | Cookie Policy

All photos, texts, video clips, charts and banners on our website are property of our company or of our partners and are protected by the Copyright Act of the Republic of Bulgaria. Any unauthorized use of photos, texts, videos and other materials from our website by third parties will be subject to immediate claim on the part of the copyright owners. The information on our website is with information and advertising purposes. Alhtough we have made all efforts to provide accurate information, there may be some mistakes. For full and correct information is considered only the information received at the offices of Bulgarian Properties Ltd.