Construction grinds to a halt
Theodor Troev, ft.com, June 18 2009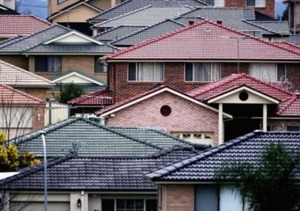 Construction was a main driver of the economy until last year, as developers rushed to meet foreign demand for holiday properties, provide homes for Sofia's new middle class and build modern office space for fast-growing businesses.

But construction sites have fallen silent across the capital as cash-strapped developers wait out the crisis. Bulgaria's mostly foreign-owned banks have stopped lending to the sector. For the past six months, not a single large construction project has started in Sofia.

According to data from the National Statistical Institute, the number of construction permits for residential buildings was 40 per cent lower in the first quarter of 2009 compared with the previous quarter.

There has been a 30 per cent decline in construction market volumes, and a 20-30 per cent decline in real estate prices since last October, according to Ivo Prokopiev, chairman of the Confederation of Employers and Industrialists.

"Also, unemployment is being fuelled by the return of Bulgarian construction workers from other European Union countries where these sectors are also suffering," Mr Prokopiev says.

The number of companies involved in residential development has dropped by more than 70 per cent since the start of the crisis, according to the Bulgarian Chamber of Developers and House Builders.

One of the survivors, Cleves Investments, a UK company with a €35m portfolio of rental apartments under construction in the capital, mainly targets employees of multinational companies as its clients.

But Vesey Crichton, a partner in Cleves, has seen a decline in Sofia's expatriate population over the past year as inflows of foreign investment slowed.

"For Cleves, this has been partially compensated by the return of senior Bulgarians from high-level jobs on Wall Street, the City of London and elsewhere," Mr Crichton says.
The holiday property market, mainly based along the Black Sea coast and in the ski resort of Bansko, south of the capital, is also suffering.

Off-plan investor-led demand from the UK and Ireland had diminished even before the crisis struck. Property hunters looking for the "next big thing" had already moved on to Cape Verde, Venezuela and other far-flung destinations.

"Bulgaria's problem is that its undoubted attractions as a holiday and investment destination stimulated not only huge demand but also a dramatic increase in supply, and of very variable quality," says Dominic Ferard of Eden Developments, a British-Bulgarian joint venture that has built a resort on the Black Sea coast.

Some off-plan investors were prepared to buy on the basis of apartment size and price, without coming to Bulgaria to inspect the location themselves. Construction quality inevitably suffered as a result.

"The result, in today's very different environment, is an overhang of poorly-located and in some cases unfinished apartments, which are either unsold or held by investor owners who would like to resell. Prices for these types of properties have fallen precipitously," says Mr Ferard.

However, at the upper end of the holiday market, developments in good locations that are well designed and built are still finding buyers. Demand in this segment, which is led by investors who also want to make regular use of their properties, is slow but steady.

At the moment it mostly attracts Russian and other east European professionals. While western buyers tend to use their properties for just a few weeks a year, Russian owners of coastal apartments stay throughout the summer months.

According to Mihail Chobanov of Bulgarian Properties, a Sofia-based estate agency, prices of high-end developments are not expected to decline.

Moreover, the market for lower-quality properties will only pick up if prices fall by as much as 40-50 per cent, he says. Prices for middle-range properties would have to fall by about 30 per cent to attract renewed buyer interest.

"There has been a big fall in the number of deals. But so far the fall in prices hasn't been so big," Mr Chobanov says. "Most sellers are still not ready to offer big discounts."

Richard Clegg, who heads the Sofia office of law firm Wolf Theiss, says the holiday property market is in poor shape although developers are still marketing to Russian and CIS retail investors.

But the outlook for other market segments that are comparatively underdeveloped is more encouraging.

"There is a significant shortage of genuine Class A office space in Sofia and Varna, so this will encourage developers to invest in location, construction quality and facility management," Mr Clegg says. "The need for warehousing also offers a strong opportunity for the logistics market."

View our BEST BARGAIN offers

read more articles



We just wanted to know how much we appreciated the excellent service from Stoicho Bugov and Biliana ...

Through this my wife and I want to specially say thanks to Iva from the Bulgarian Properties Office ...

Thanks to your agency we have rented out a luxury apartment in Sofia! We are impressed by the ...
Terms of Use | Privacy Policy | Cookie Policy

All photos, texts, video clips, charts and banners on our website are property of our company or of our partners and are protected by the Copyright Act of the Republic of Bulgaria. Any unauthorized use of photos, texts, videos and other materials from our website by third parties will be subject to immediate claim on the part of the copyright owners. The information on our website is with information and advertising purposes. Alhtough we have made all efforts to provide accurate information, there may be some mistakes. For full and correct information is considered only the information received at the offices of Bulgarian Properties Ltd.