BULGARIAN PROPERTIES - the tireless
Imam Imot Magazine, December 2009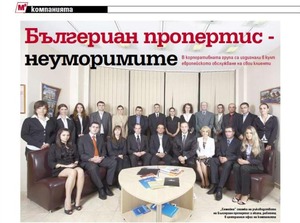 If you ever had to deal with all the requirements of Bulgarian law and administration for the purchase, repair and maintenance of a property then you probably know that this is not an easy thing.

Now imagine that there is a company that can save you the time you would lose in going from an office to office.

No, there's no catch. It is a fact that there are already companies in Bulgaria which you can trust and be sure that the property you will own will be exactly as you imagined it.

It will be checked by lawyers so that you will be sure of your ownership, it will be furnished to your wishes and will be kept in an excellent condition. And if it is a holiday property and you do not use it all year round then it can also bring you money by being rented out, once again without you bothering with tenants and payment of the bills.

This is what I call a job well done, someone fed up with bureaucracy would say. What is more, it can be found in Bulgaria.

Such is the case when one decides to use the services of the national real estate company BULGARIAN PROPERTIES. The total number of people working there in the offices around the country is 150. All are young (average age 25-30 years), pleasant, intelligent and ambitious. The headquarters of all regional offices and subsidiary companies of BULGARIAN PROPERTIES are located in the Sofia residential quarter of Lozenets. The atmosphere in the office there is welcoming and tranquil – in each room there are 4-5 people but the doors between them are always open so that the colleagues can communicate easily.

The founders of the company – Mihail Chobanov and Nikola Stoyanov - are always there – they not only give the instructions but continue to work with the clients.

Mihail Chobanov is the managing partner of BULGARIAN PROPERTIES and Nikola Stoyanov is the managing director of LUXIMTOTI – a subsidiary and a real estate agency specialized in the "de luxe" segment of the market. "I don't know how I found the time to get married!" says Chobanov laughing while finishing his work for the day before setting off on his honeymoon with his bride. "My computer will be with me. I hope the island I am traveling to offers good internet connections because I cannot afford to not be in constant touch with the team here. I must know what is happening at any moment and I want to answer personally to the clients I work with".

He is a lawyer by profession and draws up the agreements by himself and his partner Nikola Stoyanov is a financier as well as the main driver behind every new activity the company has started since its founding 7 years ago.

Law and finance – a successful combination, those familiar with the peculiarities of the real estate would say. There is a Bulgarian saying "If you want to lose a friend start doing business with them". However, this is not valid for the two young (and quite good looking) men, as well as for the other members of the company's team.

"I am very content with my business partner because for already 7 years there is nothing we haven't shared. We trust each other completely. We have been though a lot – both good and bad", says Mihail.

The hiring of staff in BULGARIAN PROPERTIES is also based on trust. "When there is a vacated position in the company we first tell our employees to look for a person that would fit the position among their friends and acquaintances. If we don't find such a person we place an ad for the position. We found one of our most successful managers – that in Varna, with an ad 4 years ago. Currently, this person is the general manager of all our active businesses in the region. Every one of the people working in BULGARIAN PROPERTIES was hired or fired personally by Nikola and me. We are keen on having personal contact with each candidate applying for a job with us. We have never slaved for diplomas and certificated. I come from the University of Bourgas and I claim that I received a very good education there. It doesn't matter to us which university the person has graduated from but what kind of person they are", Chobanov explains.

We are not your typical brokers. Our people are not interested only in selling a certain property and take the commission. We stay with the client for years after the deal. People come back to us all the time, they recommend us to their friends who also come back when they need us. Because they are happy with the servicing here", explains Polina Stoykova, Chief Operations Director in BULGARIAN PROPERTIES. She is a delicate young woman with a slender figure who puts the person in front of her at ease with a lot of charm and intellect.

"Different clients – Bulgarians and foreigners, have different interests and we try to facilitate them in the issues related to the acquisition of real property. For example, Bulgarian law states that foreigners cannot buy land if they do not have a registered company in Bulgaria. Even if they buy a rural property the plot must still be registered to a company in Bulgaria. And each year this company must have an accounting report, must submit a tax declaration, etc. Moreover, every foreigner living in Bulgaria must register and receive a temporary or permanent residency permit. You probably know what it is like to wander in a foreign country and how relieved one feels when there is someone to help you find your way through the laws and requirements. We do all these things for our clients – we are consultants in different spheres because we have the respective specialists – tax, accounting, legal, marketing, advertising, internet. This year alone the experts in our company have written over 20 analyses for the various real estate market segments. We have been cited in over 200 media publications. Since 2003-2004 we are also sought by foreign magazines and newspapers writing about the Bulgarian real estate market", thus Polina explains the specifics of the work in BULGARIAN PROPERTIES. And she introduces the team: Galya Zlatanova deals with mortgages and property insurance, and Silvia Mitrova and Magdalena Tosheva monitor the whole process of controlling the properties' internal database – notary certifications, transfers, communication with the clients regarding deferred payments, negotiations with the builders, etc. Despite their young age some of the girls have been working in the company for almost 5 years. Some came with the help of friends, some after answering an ad.

The company's site is managed by Velimira Dimitrova and Anna Hinova.

Sergey Pelovski is a sales manager in a few regions around the country and Andrew Willis is the company's link with its partners abroad. The Englishman has also been working in the company for 5 years. He came to Bulgaria because his brother praised the ski slopes in the resort of Bansko. From slope to slope he found love and moved to live to Bulgaria. He likes the country very much and ardently recommends it to all who have decided to buy a property here. "The truth is that our English and Irish clients feel much calmer after they meet Andrew and talk to him. As their fellow-countryman he inspires confidence in them and after they receive all the services they need when buying a property in Bulgaria they recommend the company to their friends", Polina says.

"Initially our company developed in internet – this is where we focused our advertisement, this is where we made a breakthrough and a reputation. At the moment we continue with an innovative approach on the net and we reach all kinds of markets. This is mostly thanks to Nikola Stoyanov who personally deals with the company's marketing.

The video format is popular when presenting our offers – explains Polina. With each offer we try to provide full and detailed information, as well as plans of the property – not only when it is a new building (which usually has an architectural plan) but of rural properties as well. Our brokers also measure the property and draw sketches with a software by preserving the scale so that the buyer can get a better idea of the place. For almost 3 years now we also make video clips of some of the offers on your site. We also have a number of short films presenting our complexes, villages and quarters where we sell properties. Clients like this very much because they want to have a preliminary idea of what is on offer. Moreover, this way our foreign clients know where they are going and what their choices are. This way the don't fell disappointed".

The site is extremely well developed and answers our all clients' needs for quality servicing. Annually the site is visited by over 1,000,000 visitors and the offers for sale and rent in it are over 30,000.

BULGARIAN PROPERTIES has 14 representatives and offices in Bulgaria and 8 abroad, as well as a worldwide network of 450 partners. From 2002 till now over 10,000 deals with properties in Bulgaria have been concluded with the mediation of BULGARIAN PROPERTIES. "I think that with regard to the number of sold properties in Bulgaria our company as in informal leader in the branch", Mihail Chobanov says. And he definitely has the data to prove it.

View our BEST BARGAIN properties

DISCOUNTED PROPERTIES


read more articles



I am very grateful to the team of BULGARIAN PROPERTIES for prompt and complete offering of ...

Would like to say a big thank you to Polina for all her assistance in purchasing our property. Also ...

Hearty Wishes on your Birthday!!!.All Best Wishes for continued growth and wider services!! ...
Terms of Use | Privacy Policy | Cookie Policy

All photos, texts, video clips, charts and banners on our website are property of our company or of our partners and are protected by the Copyright Act of the Republic of Bulgaria. Any unauthorized use of photos, texts, videos and other materials from our website by third parties will be subject to immediate claim on the part of the copyright owners. The information on our website is with information and advertising purposes. Alhtough we have made all efforts to provide accurate information, there may be some mistakes. For full and correct information is considered only the information received at the offices of Bulgarian Properties Ltd.