NEWSLETTER
28.01.2015 Sofia prices rose by 3% in 2014 - analysis based on National Statistics data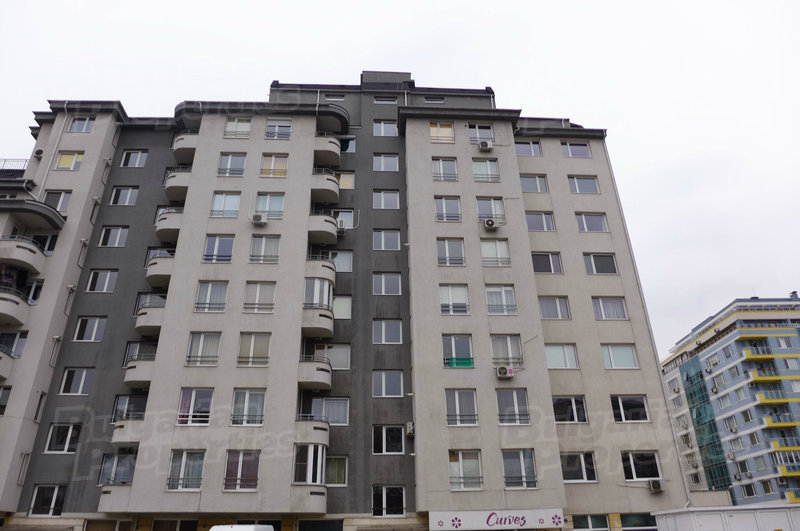 Author: Polina Stoykova MRICS, Managing Director & Head of Research
According to calculations by BULGARIAN PROPERTIES, based on the data from the National Statistics Institute about the apartments' prices in the regional cities in Bulgaria, the property prices in the capital of Sofia registered nominal annual increase of +2.9% in 2014. For the country on average the nominal increase is +0.5%. After inflation deduction, the real* increase of property prices in Sofia for 2014 is +4.5%, and +2.1% for the country on average.
The annual property prices in Bulgaria have marked an increase for the first time since the beginning of the crisis and this is fully in line with our forecasts and expectations throughout the whole of 2014 about the end of the downward trend and the beginning of a new stage of the market development.
The property market in Sofia is developing more rapidly and is recovering faster than the markets in the other big cities, as the increase in property prices in the capital city accelerated during the last quarter of 2014. In Q4 in 2014 the average apartments' prices in Sofia registered a real* annual increase (compared to Q4 of 2013) of +5%. Compared to the previous quarter, the registered increase in Sofia is +1.72%.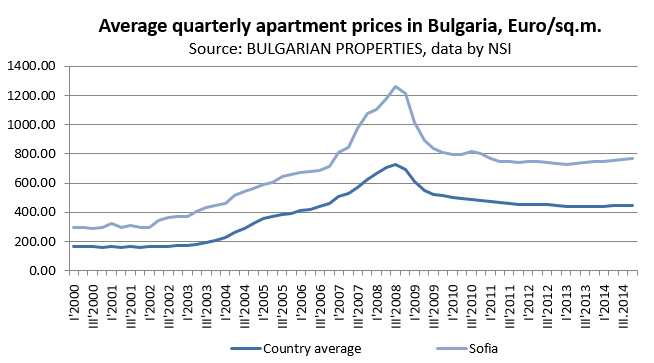 The situation is similar in Plovdiv (the second biggest city) – the property prices there during the last quarter of 2014 registered a real* increase of +4.5%, and the real* increase on for the whole 2014 is +4.3%. The property prices in Burgas registered a real* annual increase of +3.4%, and in Varna the registered increase is +0.7%, which is smaller compared to the other big cities but the market there reacted more slowly to the positive trends and we expect them to be more visible in 2015.
The information about Stara Zagora is interesting – there the property prices registered real annual increase of +4.26% which positions the city among the ones with biggest increases in property prices and puts them in one category with Sofia and Plovdiv.
The average selling prices of the apartments in the big cities in Bulgaria in 2014, according to NSI data, are as follows:
•
Sofia
– 757 Euro/sq.m.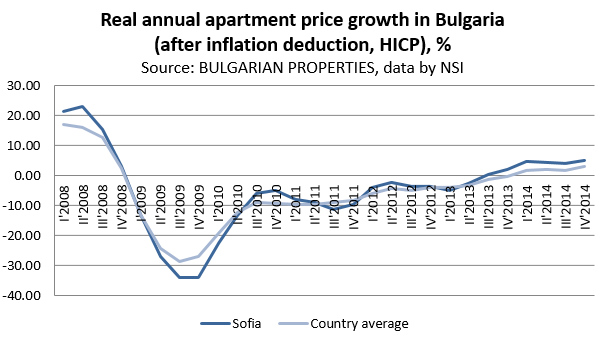 •
Plovdiv
– 487 Euro/sq.m.
•
Varna
– 704 Euro/sq.m.
•
Bourgas
– 581 Euro/sq.m.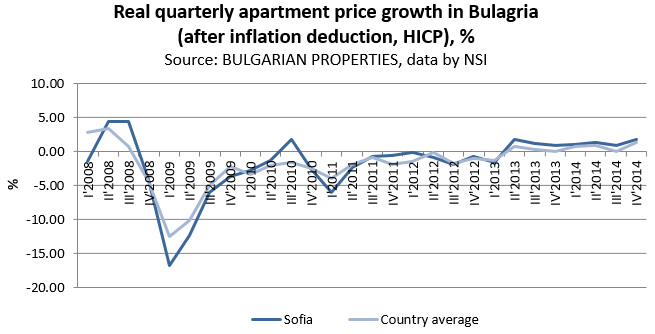 •
Stara Zagora
– 457 Euro/sq.m.
•
Veliko Тarnovo
– 373 Euro/sq.m.
* real change
- Real change is estimated after inflation deduction, calculated with the Harmonized Index of Consumer Prices (HICP). The deduction of inflation provides a more accurate estimation of the real price changes, so when using the NSI data we always make the necessary calculations to obtain a more precise market picture.