06.02.2018 The Housing Market in Sofia in 2017: A Growth in All Indicators
Polina Stoykova MRICS, Managing Director of BULGARIAN PROPERTIES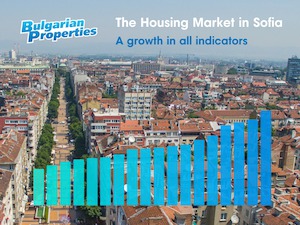 For 10 years now BULGARIAN PROPERTIES has been providing you with market reports as part of the complete service we offer to our clients! Today we have prepared a detailed analysis of the past year to summarize what happened and how it ended for the housing market in Sofia, as well as what to expect this year.

Buying or selling property in Bulgaria, we are here to help you!

---

2017 proved to be the most successful for the real estate market in Sofia for the last 10 years, with growth in all indicators - property sales, prices, new construction volume, new housing loans at historically lowest interest rates.

All this was supported by accelerating GDP and incomes growth, a record low unemployment and expectations for a stable economic development in the medium term.

At the end of the year, the supply of properties in Sofia was more limited as a result of withdrawn listings by the vendors and the depletion of stocks in the newly constructed buildings, especially the 1-bedroom apartments. This process was accompanied by a resumption of the price increas in Sofia after the balance reached in the late summer and early autumn.

Since the beginning of the new year, the market has returned to a normal rhythm and the supply is good at the moment. A lot of interesting offers have come out on the market, and this is what keeps the buyers active.

It is interesting to note that although there is a tangible increase in property prices in Sofia and they have passed the barrier of 1,000 Euro/sq.m., buyers do not seem to be in a rush to buy. There are times when they are retiring in anticipation of better offers that fit more precisely to their requirements and capabilities. A great deal of buyers are searching for a property for quite a long time, sometimes more than a year. This elasticity in demand will gradually slow the rise in prices as buyers are reluctant to buy at any price.

There is already a retreat from overvalued properties and areas, and a redirection to other areas in the capital. At the same time, supply is on the rise and more and more newly constructed buildings and secondary market properties struggle for the buyers' attention. Sellers need to be very careful when forming the listing prices in order to make their properties sellable.

Average Prices and Affordability

BULGARIAN PROPERTIES' data shows that in the 4th quarter of 2017 the price growth in Sofia was resumed and the average price of the dwellings rose to 1,095 Euro/sq.m. from 1,060 Euro/sq.m. during the 2 previous quarters. The annual price increase compared to the 4th quarter of 2016 is 14%. The average purchase price of apartments in Sofia is 98,780 Euro.

The price affordability index in Sofia (the ratio of the price per sq.m to the average salary in the capital) remains at around 1.48. There is a slight drop in the affordability of properties in the capital, but the overall rate is at levels from mid-2011 to early 2012 and is well below its previous bump when it reached nearly 3.5.

Overall, in 2017 the market in Sofia ended the year with an average price of 1,050 Euro/sq.m. and an average annual price increase of 16%. This is accelerating growth in capital prices from 2016 when we measured an increase of 14.7%.

The chart shows the annual growth of properties quarter by quarter. It can be seen that it accelerated significantly in late 2016 and early 2017 and is slowing over the last 6 months. Our expectations are that the pace of growth will be further slowed down by the increasing supply and the reaching of a market equilibrium, but it will remain within about 10% in 2018.

The more significant increase in prices in Sofia started in 2015 with a growth of 6% when the average price was 790 Euro/sq.m. A year later, in 2016, prices reached 906 Euro/sq.m. and grew by 14.7% and in 2017 passed the barrier of 1,000 EUR/sq.m. and accelerated their growth to 16%.

Sales Volumes

According to the data of the Registry Agency for the 4th quarter, 9,411 property sales were completed in Sofia, compared to 8,428 in the same period in 2016, which results in an increase of 11.7% on an annual basis.

A total of 28,175 sales were registered in the capital in 2017, compared to 26,480 in 2016, which shows an annual growth in sales in Sofia of 6.4%.

The data also shows that there is a slight decrease in the growth rate of sales of properties in Sofia (which was over 8% in 2015 and 2016), but this is probably due to the large share of new construction where the deals will be completed and registered at a later stage.

The Registry Agency data also shows that Sofia is the largest and is one of the fastest growing markets. Overall, the country marks a decline by -6.2%, while sales in regional cities also declined by -3.4%.

New Construction

New construction continues to account for over 60% of the sales in Sofia, according to BULGARIAN PROPERTIES.

National Statistics Institute (NSI) data on new building permits revealed that 262 new permits were issued in the third quarter of 2017, the highest quarterly level for nearly 10 years. With this information, for the first 9 months of the year, the building permits for residential buildings in Sofia are 626 compared to 495 for the same period in 2016, which is a growth of 26.5%.

This data shows that the supply of new construction continues to increase and this will help to meet the available demand, and to balance the market.

Check our top offers in Sofia

Preferred Neighborhoods and Property Prices

Observations of BULGARIAN PROPERTIES indicate that the highest number of purchased homes in the 4th quarter are located in the districts Krastova Vada, Studentski Grad and Vitosha with an approximately equal share of sales in them. We add to them the extremely well-presented sales of newly constructed dwellings in our exclusive Sofia North Park complex in Vrabnitsa 2 neighbourhood, which was more than 50% sold before the start of the construction.

Mladost 4 region was highly sought after, but due to the limited supply, especially of 1-bedroom flats, the deals were postponed until a better supply is available.

The average property prices in these neighborhoods are as follows:
• Krastova Vada - 1,163 Euro/sq.m.
• Studentski Grad - 977 Euro/sq.m.
• Vitosha - 1,107 Euro/sq.m.
• Vrabnitsa 2 - 920 Euro/sq.m.
• Mladost 4 - 1,064 Euro/sq.m.

The most expensive are the apartments in the city center and in Lozenets, where the average prices for the past quarter were 1,510 Euro/sq.m. in the center and 1,407 Euro/sq.m. in Lozenets. In both neighborhoods, luxury apartments with at least 2 bedrooms are preferred.

Parameters of the Purchased Homes in Q4 of 2017

At the end of the year the highest share of purchased apartments - 60% - are 1-bedroom flats and the availability of this type of flats in the newly constructed buildings runs out first. 30% of the purchased dwellings are 2-bedroom apartments, the 3-bedroom and larger apartments have the lowest share - 10% altogether.

The average area of the purchased apartments is 86.5 sq.m. - about 2.5 sq.m. greater than the area in Q3.

There has been a rise in the share of purchased homes on the first floor - it accounts for 27% of the transactions and this is mainly due to this type of stock in the buildings with advanced construction. The most purchased apartments are located on the 2nd to the 6th floor - 70% of the deals. The apartments on higher floors - from the 7th to the 10th, are only about 3% of all the deals.

Most of the houses have been bought finished according to the Bulgarian State Standard requirements (plastered walls and cement screed floors) - 63%. Only 15% of the sold dwellings are fully furnished, which is also explained by the fact that the best-selling apartments are in new developments where the most common practice is to sell at Bulgarian Standard. The majority of the dwellings were in good condition - the apartments that need major repairs are less than 2%. More than half - 60% - of the purchased dwellings are heated by central heating.

The average stay of properties on the market at the end of the year was 138 days, a little over four and a half months, and the discounts made to the offer prices amounted to an average of about 1% of the price.

Perspectives for 2018

The market equilibrium we noted in the autumn of 2017 was a short-lived phenomenon and the upward trend in prices in Sofia was resumed at the end of the year.

The favorable impact of the economic upturn and all subsequent positive trends such as income growth, low unemployment, affordable bank financing and the overall sense of greater security in both incomes and property investment continued to influence the market in Sofia in the last months of the year.

The bank loans continued to increase and ended the year with a record 38% growth. Interest rates on loans remain low, already under 4%. While there is an expectation that they will rise, the increase would be little compared to the decline in recent years and bank financing will continue to be attractive.

All this will affect demand in 2018 and we expect this year to be very similar to 2017. The rate of increase in prices will calm down to about 10%, but the overall dynamics will remain and this year the property market in Sofia will be again among the most attractive markets for investment.

Local demand will continue to be a major driver, but our expectations are for it to be matched by a slight increase in the foreign demand for investment property in Sofia.

Check our best listings in Sofia

Sell your property with us

Free instant valuation of your property in Bulgaria



TOP PUBLISHED OFFER
TOP SOLD OFFER
read more newsletters
Hello Mihail, Just a quick message to say thank you for all your efforts and help last weekend ...
We bought a property through Bulgarian Properties without having been to Bulgaria. The VT office ...
I signed the contract for the purchase of a studio apartment in Balchik last month (October 2010) ...
Terms of Use | Privacy Policy | Cookie Policy

All photos, texts, video clips, charts and banners on our website are property of our company or of our partners and are protected by the Copyright Act of the Republic of Bulgaria. Any unauthorized use of photos, texts, videos and other materials from our website by third parties will be subject to immediate claim on the part of the copyright owners. The information on our website is with information and advertising purposes. Alhtough we have made all efforts to provide accurate information, there may be some mistakes. For full and correct information is considered only the information received at the offices of Bulgarian Properties Ltd.