10.05.2013 Analysis of the Bulgarian Property Market - 1Q 2013
Polina Stoykova MRICS, Chief Operations Manager and Head of Research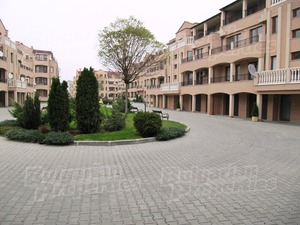 The year started in a very dynamic way with an increased number of deals in the first quarter which is confirmed by the data of the Bulgarian Registry Agency. Most of the activity was until the middle of February, when buyers were very active and there was even a shortage of quality properties for sale. In January sales almost doubled compared to January 2012 and this placed the month among the strongest months since the beginning of the crisis which is unusual for this time of year.

Since mid-February we entered into a short waiting period because market participants wanted to see how the political situation in the country will develop. After mid-March the market regained its dynamics and managed to catch up with the activities after the short pause. Currently the market is comparable to that of last year and it is developing according to our expectations of a similarity with the trends and prices from 2012.

The main difference from last year is that besides the activity in the segment of holiday properties market, we also see activity by Bulgarian buyers in the big cities especially in Sofia and Plovdiv. These are buyers who have been delaying the purchase of their first homes for a long time and now they believe the time has already come.

Sofia

The average price of apartments sold in the first quarter of 2013 was 719 EUR/sq.m. In 1Q of 2012 it was 735 EUR/sq.m. (2.2% decrease year-on-year), according to BULGARIAN PROPERTIES' data. The prices are unchanged compared to 4Q of 2012 when the average price of sold apartments was 720 EUR/sq.m.

Over the past three months the average price at which apartments in Sofia were bought was 62,300 Euro (63,500 Euro in 2012 and 61,500 Euro in 2011). It can be seen that the average prices of purchased apartments in the Bulgarian capital haven't changed a lot over the past two years. The demand for apartments up to 50,000 Euro, which has dominated the market in the last 2 years, is still valid. There is some activation of the demand for larger and more spacious apartments which has lead to a rise in demand in the price range of 70,000 to 100,000 Euro.

Plovdiv

It should be noted that Plovdiv saw the best results in terms of sales volume increase with a growth of 28% year-on-year in the first quarter of 2013 as per data by the Bulgarian Registry Agency. The average price of apartments sold in Plovdiv in the first quarter of this year was 558 EUR/sq.m. according to our data. In 1Q of 2012 the average price was 525 EUR/sq.m. Buyers are returning to the market in a search of quality properties in the second biggest city in Bulgaria.

Holiday homes

The property markets in the two biggest resorts - Sunny Beach and Bansko - have experienced quite different dynamics for more than a year now. Sunny Beach has started to see a market recovery and a sales increase, while the demand in Bansko and the other ski resorts continues to be weak. This has led to a further decline in ski property prices and a melting down of the timid signs of recovery that started to appear in autumn of last year.

The main buyers of holiday homes in beach and ski resorts in Bulgaria continue to be Russian.

Sunny Beach

Beach resorts definitely bring market optimism as currently they are the most active segment of the property market. Sunny Beach and the region are the local markets for which we can surely say that they are on the path of recovery.

The average price of apartments sold in Sunny Beach in the first quarter of 2013 according to BULGARIAN PROPERTIES's data was 512 EUR/sq.m., while in 1Q 2012 it was 440 EUR/sq.m. and in 4Q 2012 it was 505 EUR/sq.m. According to the concluded deals statistics of our company, it appears that the market bottom in Sunny Beach was in the first quarter of 2012 and since then the average prices have increased reaching the levels from the second half of 2011.

Bansko, Borovets and Pamporovo

The average price of apartments sold in Bansko in the first quarter of 2013 was 382 EUR/sq.m., which is almost the minimum value of the asking prices. This clearly shows that the buyers prefer the cheapest properties on the market.

In Borovets in Q1 2013 deals were concluded at an average price of about 600 EUR/sq.m., while in Pamporovo the average price was 450 EUR/sq.m.

In general, 2012/2013 season has ended up with 50 to 100 euros per square meter lower prices compared to the previous winter season (2011/2012).

Rural houses

We saw an interesting change in the rural property market. Although the number of concluded deals remained the same as in the last quarter of 2012 and the activity was greater than in the first quarter of 2012, the average prices of sold rural houses in 1Q of 2013 were much lower compared to these from last year. In 2012 the average prices of sold rural houses were between 17,000 and 20,000 Euro and buyers bought houses in good condition, and in Q1 of 2013 rural houses were purchased at an average price of 10,580 Euro (close to the levels of 2009).

The highest demand was for rural houses in the areas of Stara Zagora and Plovdiv. Veliko Tarnovo market became more active after a decrease in demand in 2012. Cheap houses up to 5,000 Euro were bought in the regions of Vratsa, Pleven, Montana and Vidin. There is also an interest in quality houses in villages around Borovets.

Average prices of rural houses sold in 1Q of 2013 as per region:

• Region of Plovdiv – 8,480 Euro
• Region of Stara Zagora – 8,000 Euro
• Region of Veliko Tarnovo – 15,000 Euro
• Region of Pleven – 2,500 Euro
• Region of Yambol - 10,600 Euro
• Region of Vidin – 7,000 Euro

Trends for 2013

Our expectations for this year remain the same as in our forecast from the end of last year. Demand for city properties will continue to be dominated by the Bulgarian buyers. It will depend on the economic recovery, unemployment rate, households incomes and access to bank loans. Based on these factors, we cannot expect a substantial change in the market trends this year. Prices will keep around the levels from 2012.

The interest from Russian buyers will remain and will continue to grow in 2013, which will bring market optimism. This year will again be a year of the Russian property buyers in Bulgaria.

---
Copyright: 2013 Bulgarian Properties Ltd. All rights reserved. For further information or advice please contact us on tel.: +359 2 9 11 50 or e-mail: info@bulgarianproperties.com. The use of this article by third parties is allowed only with proper quotations of the source www.BulgarianProperties.com and the Author of the article. The data in this material has been collected by the Author and Bulgarian Properties Ltd. and is presented for information purposes only. We have made every effort to ensure the accuracy of the data. However, Bulgarian Properties Ltd. and the Author cannot be held responsible for loss or damage as a result of decisions made based on the information presented in this article.
© Bulgarian Properties Ltd. 2013


TOP PUBLISHED OFFER
TOP SOLD OFFER
read more newsletters
I would like to say a thankyou to the team in burgas especialy marian minchev and his wife, we ...
Dear Alexander, George, Nevena and Christina - thanks for all your help during our recent visit. We ...
A few lines of praise for the staff at your Vidin branch: Nik, Verginiya and Stefan. I'm in the ...
Terms of Use | Privacy Policy | Cookie Policy

All photos, texts, video clips, charts and banners on our website are property of our company or of our partners and are protected by the Copyright Act of the Republic of Bulgaria. Any unauthorized use of photos, texts, videos and other materials from our website by third parties will be subject to immediate claim on the part of the copyright owners. The information on our website is with information and advertising purposes. Alhtough we have made all efforts to provide accurate information, there may be some mistakes. For full and correct information is considered only the information received at the offices of Bulgarian Properties Ltd.