NEWSLETTER
23.05.2007 BulgarianProperties on the Balkan Property Exhibition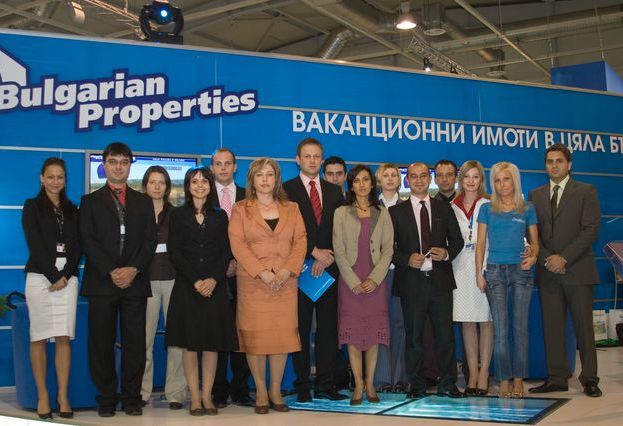 BulgarianProperties has successfully participated in the biggest exhibition for real estates in Bulgaria - Balkan Property Exhibition, which took place at the Inter Expo Centre in Sofia from 18th to 20th May. Within the framework of the event leading European real estate professionals, developers and banks, specialized in mortgage services, shared best practices and exchanged ideas.
BulgarianProperties`s stand helped for the presentation of the company as one of the biggest, best structured and most professional exhibitors, with the most impressive property portfolio. Our top-offers for off-plan and already completed developments and properties have been presented on the stand of the company. Our numerous partners and potential clients had the opportunity to meet our managing directors, the leading managers and property agents.
We are happy to say there has been a great interest towards the products and services of BulgarianProperties which resulted in many reservations and property sales on the exhibition itself. We met new potential partners from Bulgaria and abroad with whom we will start cooperations in order to provide even better services.
Our Senior Sales Manager and Corporate Clients Manager Adrian Musgrave lectured on the BalPEX conference on different topics such as the development of the holiday homes market in Bulgaria, the differences between successful and unsuccessful holiday homes projects and other interesting issues.
Here is the text of Adrian Musgrave`s lecture with excerpts:


"Rival golfers come here and if they come to play in Bulgaria, will they come back again, as opposed to Spain or Portugal? The answer really depends very much on Bulgaria. It does not only depend on the development of golf courses and the providers of the services and the development of the infrastructure. It actually depends on the total experience achieved here. That is what will develop brand loyalty.
What we have to think of when we are looking at development and golf courses is the whole package, it is not necessarily restricted to golf. All the golf courses that I am aware of in Bulgaria have additional, high quality facilities - spa facilities, fitness, equestrian centers, beach facilities etc. You also have to imagine that the golfer coming to Bulgaria is very unlikely to be an individual tourist. They will either be a family group, so other members of the family group need to have the same quality of experience.
Alternatively (and this will potentially become an enormously strong market for Bulgaria that really has not been discussed at this stage), many golf tourists coming here will been in groups of 20, or 30, or 40 people at a time, coming from a golf society in the UK or Ireland or somewhere else in Europe. That is how golf operates. They will come to Bulgaria for their week or fortnight and they will want to play on 3 or 4 or 5 different courses in the area. If they have a better experience than they have in Spain, and their partners have got the spa facilities, the equestrian facilities, the shopping, the fitness centres, and also the local cultural experience (which is something we should develop very strongly).
All of these issues make up the totality of the problem – it is not just about an exceptional golf course (and there are some exceptional golf courses being built at a professional level). It is not just about a golf course. It is about everything else that comprises the product the people will be experiencing.
I would also mention one other development that needs to take place, as we stand in Bulgaria at the moment - the courses and the property being developed are all being developed at a very high level – championship level, which is absolutely fine and you need all those courses, you need that kind of environment, you need that kind of atmosphere in Bulgaria not only to attract tourists but also to engender the development regain within Bulgaria.
As far as I remember, there are 180 registered golfers in Bulgaria. There should be, and will be at some point 30,000. None of the courses that we are talking about are actually playable yet, so this would evolve but what is also needed is the development right across the country, not just in the top resort areas, but right across the country of a network of good quality but middle of the road courses that anybody can go to, not necessarily high profile championship Jack Nikolas or Gary Player courses - they are essential, they are happening - but Bulgaria as a whole, the development strategy needs to come down on level and start putting into place a network of courses that are open and acceptable to everybody - Bulgarians and visitors.
One of the key statistics that I looked up recently is there is no golf course anywhere near Sunny Beach, which is the biggest summer resort in the country. There are many rumours, many plans, but nothing has come to fruition yet. What is needed there, what is absolutely essential is a golf course to cater to the mainstream tourist market, not necessarily professional golfers, just a good quality course that can be developed at a municipality level. That would be part of a network that I would like to see across Bulgaria. Around all of that, the rest of the tourist infrastructure will develop. You will bring in tourists, you will start to develop local cultural and local historic issues, spa facilities, green tourism, as well as properties that go along with all of that, because a golf course is not just a tourist product. It is actually an environment in its own right. You probably guess that I am speaking as quite a passionate golfer anyway, so this is not with my professional hat on.
Eventually we will get there, with the flagship courses leading the way, but I think we have a long, long way to go and an enormous amount of ground to cover, which I think would be covered quite quickly and it just needs the signals and messages and this synergy to come together. The government, the tourist authorities, the local councils, and the developers all need to be concentrated on the same overall picture of developing golf courses in Bulgaria."