NEWSLETTER
24.10.2008 Property Demand in Sofia: Residential Properties in Southern Quarters Still Most Sought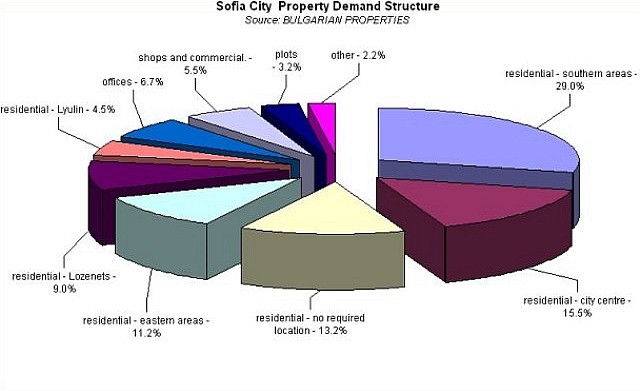 Autumn traditionally is the season in which the demand for real estate increases which is a fact even now, in the midst of a global financial crisis. What is typical at this moment is the slower conclusion of deals, the more thorough research on the part of the buyers and the higher requirements on their part regarding the quality of the property and the services offered by the real estate agents.
Here is what the data of BULGARIAN PROPERTIES show regarding the demand of real estate in the
capital Sofia
for the period 15.09 - 15.10.2008 based on actual demand by potential clients.
82.4% of the potential clients are interested in residential properties in
Sofia
and the other 17.6% are looking for offices and commercial areas as the trend is this percentage to increase in the next couple of years.
• 29% of the potential clients are looking for a
property in the southern quarters of Sofia
as most preferred are the properties located along Bulgaria Boulevard and in the quarters of Buxton, Borovo, Boyana, Dragalevtsi, Vitosha and Pavlovo.
• 15.5% are looking for
apartments in the center of the city
which is the object of high demand.
• 13.2% are looking for residential properties as they do not have any preferences regarding the location and the parameters – what is most important to them is the price which shows that people continue to see the real estate as a profitable and low-risk investment.
• 11.2 % of the potential buyers are interested in buying
apartments in the eastern quarters
like Studentski Grad, Dianabad, Izgrev, Mladost, Slatina and Reduta.
• 9% are looking for
apartments in the quarter of Lozenets
as a large part of them are looking for luxury and amenities as a reflection to their social status.
• 4.5% prefer the western quarters as the indisputable leader is the quarter of
Lyulin
.
• 6.7% of the potential buyers are looking for
offices
.
• 5.5% are looking for shops, warehouses and commercial areas.
• 3.2% are looking to buy
plots of land
.
• 2.2% want to invest in other types of properties and properties close to Sofia.
This survey was carried out by BULGARIAN PROPERTIES based on actual demand for the period 15.09-15.10.2008.
View all our offers in Sofia
View our rent offers in Sofia