NEWSLETTER
18.04.2008 Bulgarian Holiday Property Market as Presented on the Balkan Real Estate Conference (BalREC)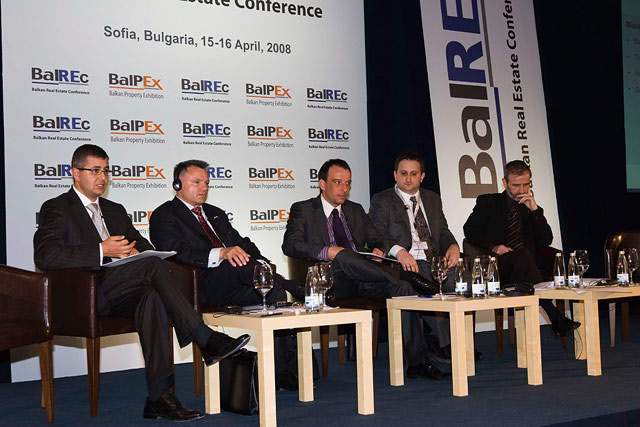 BulgarianProperties
, as a leading company on the holiday and residential property market in Bulgaria, and its CEO Mr. Mihail Chobanov participated in the Balkan Real Estate Conference – Bulgaria, Romania, Serbia (BalREC) held at the Kempinski Hotel Zografski in Sofia 15-16 April. The main points of interest at this conference were the macroeconomic frame, the residential, office and holiday property markets in Bulgaria – what the problems are, what lessons should be learnt and what the future will bring. Mr. Chobanov was a moderator and key speaker on the panel about
holiday properties
in Bulgaria.
We have summarized the current trends on the holiday property market as presented on the conference.
After 3 very successful and dynamic years for the holiday property market, the overview of its current situation is:
• calming of the market and lower interest in it since the end of 2007;
• large amount of new complexes, especially those of lower quality, are for sale making the supply exceed demand;
• no increase in prices of holiday real estate;
• a shift of the main buyers – from British and Irish to buyers from Russia and Eastern Europe.
The experts comment that what is happening on the market is actually a normal market process after the property boom. It will persuade the small, incompetent or speculative investors and builders to leave the market, the professional companies will remain and will be able to offer real quality and successful and attractive projects, best matching the interests of the end buyers and providing them with a secure investment.
The holiday property specialists participating in the conferences pointed out that the Bulgarian buyers will start to play a more and more important role in the holiday property market. Bulgarians still only account for a small number of the total buyers, being mainly young people from
Sofia
,
Varna
and other big cities. Their number will continue to grow in the coming years because of higher disposable incomes and search for better lifestyle standards. A sign for this trend is the increased tourist interest by Bulgarians to the Bulgarian resorts, which is the first step, leading to property purchases there.
The answer to the question
"what do foreign buyers seek when searching for holiday properties?"
in Bulgaria can be summarized with: "Things they don't have at home." Bulgaria has unique nature, it is easily accessible by plane from all European countries, Russia and also Turkey, its resorts are close to airports and one can be at their holiday home after a couple of hours flight followed by a short trip by car. "Bulgaria has a very good geographic location and natural resources. It just needs more careful planning and more country marketing", said Joseph Halbherr, Managing Director of ACR Hotel Experts. He also added that there are still many tourist places to uncover in Bulgaria – great historic monuments, Thracian ruins, mineral springs and many more. Bulgaria should attract tourists using its richness in nature, history and culture, the same way as the Greeks and Egyptians do very successfully.
The main features of the attractive holiday properties,
which will continue to attract buyers, will be:
• Reasonable prices;
• Quality of materials and construction;
• Excellent location of the properties;
• Property management and maintenance;
• Various facilities and amenities provided within the complexes and
• Hassle-free purchase and possession – provided only by the leading estate agencies.
The ideal holiday property
can be described as a property that serves the purpose of a holiday home and corresponds to the lifestyle one wants to achieve. It should also generate sufficient yield and if one wants to sell it, to be able to get a higher price.
Mr. Mihail Chobanov stressed that although there are major changes and shift in demand of holiday properties, this real estate sector will continue to attract investors and buyers, especially if the lessons are learned. He summarized the advantages of the Bulgarian holiday properties as:
• still lower prices than all other European countries;
• balanced and reasonable prices because of the current market processes;
• increasing quality of projects, materials and construction due to customer demand;
• Bulgaria is a secure investment destination according to economic reports;
• Bulgarian capital of
Sofia
is to develop as a city ski resort in the coming years as plans announced by the Sofia Chief Architect Mr. Petar Dikov.
Most importantly, the key elements of a successful Bulgarian holiday property market will be: quality, improving infrastructure and excellent planning control. And, of course, location.