MAJOR LOCATIONS IN BULGARIA
SINEMORETS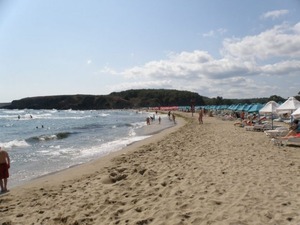 In Bulgaria Sinemorets means "place on the blue sea" - it is a village and seaside resort on the Black Sea coast of Bulgaria, located in the very southeast of the country close to the border with Turkey, where the river Veleka flows into the sea.
Sinemorets is a place nestled among virgin nature. The village is a combination of clean beaches, old oak forests, and a river, rich in fish. The sand is coarse and aureate in color and the water is crystal clear.
HISTORY
Ceramic fragments from the 5th-4th century BC have been found in the Potamya inlet south of the village, as well as anchors and metal casing of an ancient ships. The village was first mentioned in an Ottoman document in 1496; the population then consisted of only 16 Christian families, as the attacks of sea pirates had forced many to move to inland Strandzha. According to Austrian diplomat Wenzel von Bronjar who sailed near the village, in 1766 it had 17 houses and its population mainly engaged in wood export. According to another westerner, Enelholm, in 1824 it had 30 houses and was located somewhat inland, with only its pier on the coast. Again, the low population and the location is explained by the attacks of the Caucasian Laz pirates.
After the Balkan Wars, the village and the surrounding area were ceded to Bulgaria. According to the Mollov-Kafandaris Agreement of 1927, the entire Greek population of the village moved to Greece and was substituted with Bulgarian refugees from Eastern Thrace. In 1926, it had 68 households. The current name dates back to 1934; prior to that, the village was known as Galadzaki (in Greek) or Kalanca (in Turkish). The name Sinemorets is a direct translation of the Greek original. Since 1989, Sinemorets is officially a sea resort, and has developed rapidly after access to the border zone was allowed.
BEACHES
Sinemorets has five beaches. A really beautiful and clear beach is the northern one, called "The Mouth". The beach is sandy and the sea is crystal blue and often has big waves. Going south you will see beautiful rocks and virgin beaches The "Linden Trees" beach is surrounded by a thick forest, "The Leaves" beach is just 40 minutes away by foot and "Silistar" beach is the last Bulgarian beach befotre the Turkish border.
Tourists attractions are excursions by boat along the Veleka River, sea and river fishing, photo safari, biking, tracking in Strandja Forest and mushroom and herbs picking. Special outings are organized for amateur orinthologists - an observation of forest and river birds.