MAJOR LOCATIONS IN BULGARIA
AHTOPOL
BOURGAS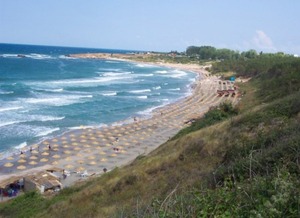 The small town Ahtopol is situated 87 kilometers south of Bourgas. The beautiful mouth of Veleka River is just 4 kilometers away of the resort. It has two long and picturesque beaches. The water tends to be warmer (around 25 °C) and more placid and the off-the-beaten-path beaches allow the opportunity for nude bathing.

HISTORY

The town occupies the place of a Thracian settlement. It was probably colonized in the 6th century BC. The Romans called it Peronticus while the Byzantine leader Agaton reconstructed the town after barbarian invasions and gave it his own name, Agatopolis. The town frequently changed hands between the Byzantine Empire and the Bulgarian state. With the arrival of the Ottoman troops at the end of the 14th century, it was called Ahtenbolu. It was burnt down and devastated by sea pirates many times with the most recent fire being in 1918 when the town was completely destroyed. Remains of the town's fortress and a fountain with a carved horseman are the only traces left from old times.

SURROUNDING AREA

Four kilometers south of Ahtopol is the magnificent mouth of Veleka River. Close to it is the small village Kosti famous for Nestinarski dances.

Varvara village is 3 kilometers north of the site. It is a favorite place for divers, because of the stone underwater cavities and reefs, formed by shells and other water species.
Tourists who want to experience unforgettable adventure holiday in a desolated site among virgin nature will be more than satisfied here.

South to the border holidaymakers can enjoy the beautiful beaches of Sinemorets, Silistar and Rezovo.

TRANSPORT

There is regular bus and minibus transport to Bourgas (passing through most of the towns and villages in the southern part of the coast) and Sinemoretz and Rezovo to the south.

Main source: www.VisitBulgaria.net

Visit our BULGARIAN PROPERTIES office in Bourgas:
10 Vazrazhdane Str., 4th floor
Bourgas, Bulgaria
tel./fax: +359 56 828 449

View our offers in/near Ahtopol


<< read more

This spring I was in a viewing trip in Bulgaria for the purchase of a real estate. Prior I searched ...

I have bought 2 plots of land at different times and places from Petya in the Sofia office (an ...

Based on my personal experience I would recommend Silvia Gocheva anyone who needs services of a ...
Terms of Use | Privacy Policy | Cookie Policy

All photos, texts, video clips, charts and banners on our website are property of our company or of our partners and are protected by the Copyright Act of the Republic of Bulgaria. Any unauthorized use of photos, texts, videos and other materials from our website by third parties will be subject to immediate claim on the part of the copyright owners. The information on our website is with information and advertising purposes. Alhtough we have made all efforts to provide accurate information, there may be some mistakes. For full and correct information is considered only the information received at the offices of Bulgarian Properties Ltd.