Property in Vetrino region for sale and rent
The village of Vetrino is located in northeastern Bulgaria in Varna Municipality, not far from the highway Sofia - Varna, the road Tervel - Aitos and the railway line Sofia - Varna. Near the village are also the port "Varna - west" and the airport. It is interesting to note that Vetrino village is 45 km from two regional centers, namely Varna and Shumen.

The area of the village is agricultural, with large areas of arable farmland. There is a dairy farm, while the region is also developing beekeeping and winemaking. In the municipality there are five dams. The area features recreation facilities, a chalet and an ethnographic complex for rural tourism. In the village of Vetrino there are also a kindergarten and a school.

Near the village of Vetrino, there is a protected area called "Big Rock" where could be seen Egyptian Vulture and Long-legged Buzzard. Among the monuments preserved in the village are several chapels and churches, including the church "St. Dimitar". On St. Dimitar's day, the village celebrates its traditional annual fair.

In the village of Vetrino there is a good selection of offers for sale of plots of land, houses and villas. In the towns near the village there is a large supply of apartments for sale and rent and there are prices to satisfy any budget. The brokers in our real estate agency can provide you with different offers for properties for sale near the village of Vetrino and to assist you if you want to sell a property here.

In Vetrino village and the region there is a selection of properties, including different offers for houses and plots of land for sale. Those who want to buy property here, and those who have property in the area of the village and want to sell it, can contact our real estate agency.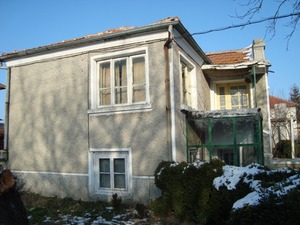 A traditional Bulgarian house in Vetrino
Vetrino , Vetrino
Two-storey house for sale in Vetrino, only 25 min. drive on the motorway from the sea coast, Varna and Shumen!
The property is situated in the very center of Vetrino - only 12km away from Provadiya, 25 minutes drive on the motorway from Varna, Varna Airport and the sea coast. Vetrino is a municipality centre and offers regular public transport to Varna, Provadiya and the villages ...read more
70.00 m2 (328€/m2)

Kalin Chernev
Regional Manager, Varna
Can't find the right property? Contact us, we will help you!