Polina Stoykova in the morning TV show 100% AWAKE on BNT: To buy or to sell?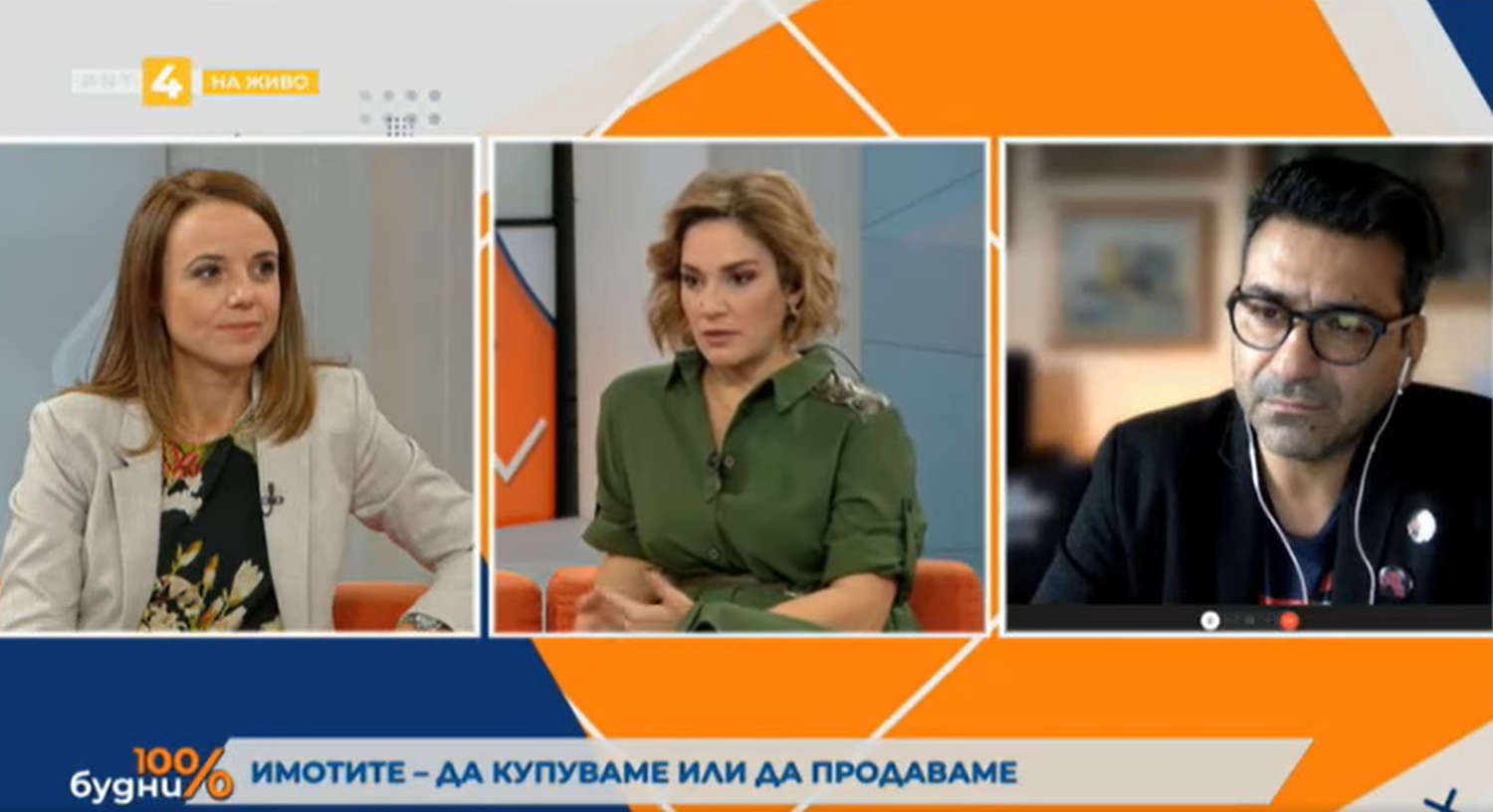 On November 2, 2021, the Managing Director of BULGARIAN PROPERTIES and real estate expert Polina Stoykova MRICS was a guest in the morning show "100% AWAKE" on the Bulgarian National Television. She was invited to comment on what is happening in the housing market in Bulgaria and whether now is the right time to buy, or sell a property.

Even if a person lives well, the apartment starts to become narrow, especially if one or two children have appeared in their life. And the time comes for a very important decision, actually several decisions - an apartment or a house, how many rooms, on which floor, in which neighborhood ... The deeper we go, the more complicated it becomes.

Polina Stoykova will now tell us what is happening on the real estate market in Bulgaria. Is it now the time to buy or sell a property? See what she shared in national air on BNT:

"The market is extremely active and many people find it is now the time to buy and make their choice. At times we even suffer from a lack of supply. There are many reasons for this demand, but the main thing is that mortgage rates are historically at their lowest level. The latest data show that they are below 2.7%. Another factor is the continuing growth of household incomes. Wages in Sofia are growing and what we measured is that in order to buy one square meter of housing area in Sofia about one monthly salary is needed. This is the best affordability ratio we have had in the last 20 years. "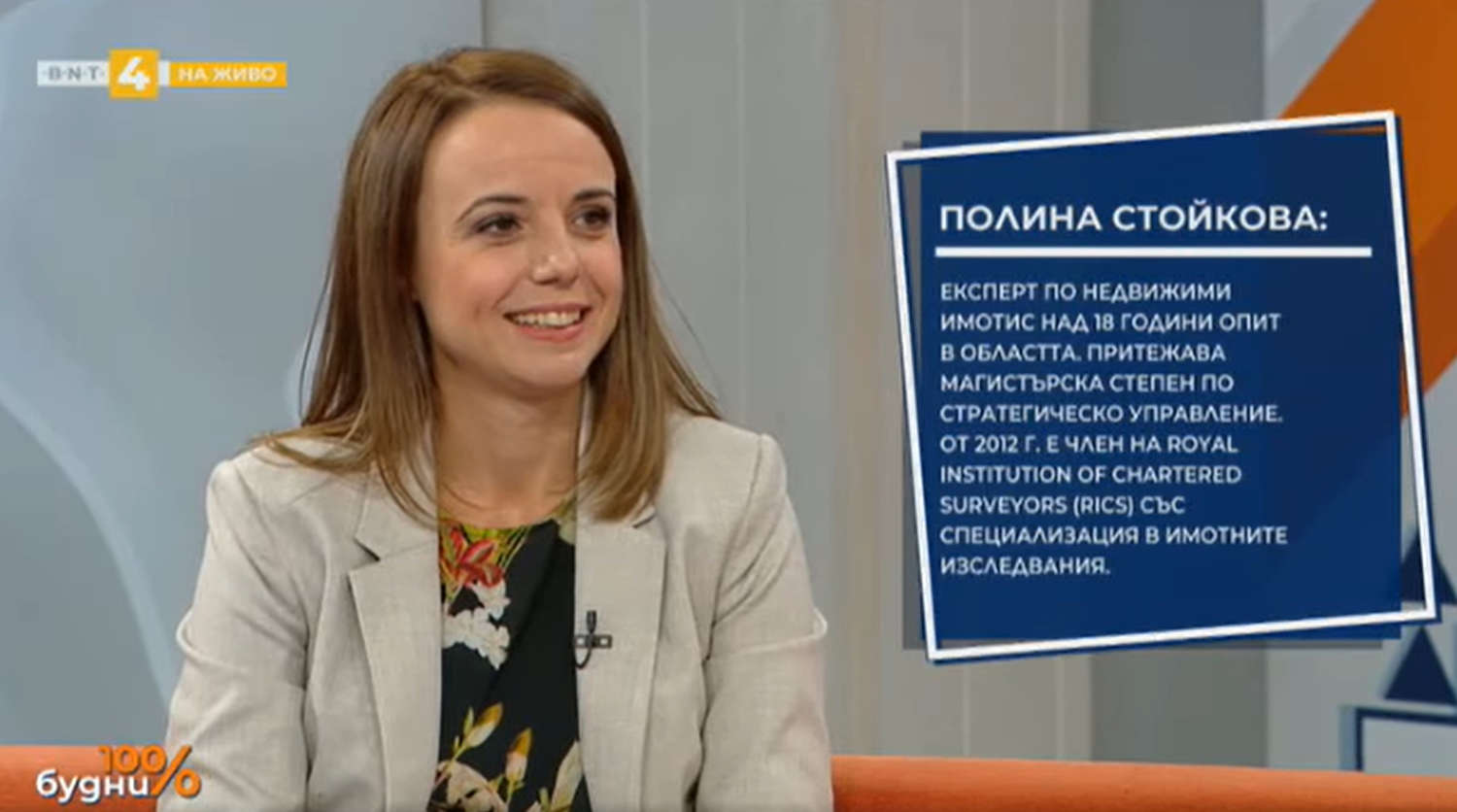 Regarding the demand for houses, she said that it continues to be high. "Immediately after the first lockdown in 2020, people rushed to buy rural houses. So much so that houses that have been on the market for years were sold and the supply is starting to become limited. This continues in 2021, as the volume of house sales is 50-60% higher than last year, and compared to the year before the pandemic," said Stoykova.

Polina stressed that after the pandemic hit, the Bulgarians actually chose Bulgaria and this was visible most quickly on the real estate market. Many people returned to Bulgaria, chose to relocate to the countryside, and began buying homes. "And this year, inflation and other processes in the economy and politics, which bring uncertainty, make people invest in real estate. That is, real estate satisfies not only housing needs, but also investment needs," she added.

Demand is high and it leads to higher prices. The average price in Sofia in the 3rd quarter reached 1,200 euros / sq.m. These are already the levels from the peak in 2008. The volume of newly granted housing loans this year increased by 40%. This is a record growth and it has already exceeded the levels of 2008. A combination of factors have a positive impact on the market.

"Those who are looking for housing for their own needs are already looking for two-bedroom and three-bedroom apartments. We always need one more room as we study and work from home. The share of 3-bedroom apartments has risen to 10% of purchased homes, previously much smaller. One-bedroom apartments remain attractive because they are the most liquid ones and need a lower budget to buy. One-bedroom apartment is a living room with kitchen and a separate bedroom," summarized Stoykova the demand trends.

View our properties in Sofia

Check out our rural houses

List your property for sale with us!



Read more news