21.11.2012 New market niche - property in spa resort
Trud Daily, 11.20.12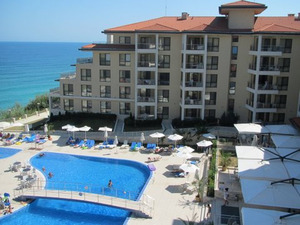 An apartment or studio in a spa resort - for own use or rent out. This is one of the niches on the real estate market in Bulgaria, which starts to attract interest of buyers and estate agents hope it will be developing. This become known after Trud Daily has inquired real estate agencies if there is a movement on spa properties market, since Bulgaria is trying to promote opportunities for year-round and spa tourism.

According to Irena Perfanova, president of FIABCI-Bulgaria (The International Real Estate Federation), the holiday properties in Bulgaria is a business, which has to be managed long-term and particularly the properties in spa resorts are very promising.

"The holiday property market is largely a function of the tourist image of a country. The experience shows that 15-20% of tourists are also potential buyers", Perfanova has said recently at a forum in Sofia.

Currently Bulgarian spa resorts are not so popular in Europe and the world as seaside and mountain resorts, estate agents said to Trud Daily. Therefore, the holiday property market in destinations - Sandanski, Hisarya, Devin, Sapareva Banya is less developed. Bulgarian spa resorts have to be promoted worldwide, because this market niche has a great potential, property agents said.

Balneology and spa tourism are all-season operating business, which is a prerequisite for better return on investments. One of the main factors which buyers take into consideration when buying a holiday home in a spa resort is the infrastructure and whether the flat is a part of a development offering a variety of amenities and services.

According to Polina Stoykova, the Chief Operations Manager of BULGARIAN PROPERTIES: "Russians are searching for properties in spa resorts in Bulgaria, but deals are rarely concluded, because on the one hand the supply is not large and on the other hand - the prices of similar properties are higher than prices of the popular holiday homes in beach and ski resorts."

Spa properties generally involve higher class clients, but on this front Bulgaria is struggling for investments with countries such as Turkey, Spain, Montenegro and Croatia.

This year Kyustendil hosted Balkan Spa Awards and Hisarya was named "Spa destination on the Balkans". This will increase interest in properties in these areas, agents hope. Hisarya has won the race in competition with the town of Loutraki in Greece, Macedonian Berovo, Serbian Vranyachka Banya, Romanian Mangalia and Turkish Terek.

The average prices of properties in Bulgarian spa resorts are from 520 EUR/sq.m. to 1,200 EUR/sq.m., according to the data of BULGARIAN PROPERTIES. The price depends on whether the apartment is available for sale unfinished or it is ready to move in and set in an apartment hotel with a lot of facilities such as a swimming pool, etc.

Currently the spa resort of Velingrad offers two types of apartments. One of them is newly-built unfinished apartments from developer sold at prices from 520 EUR/sq.m. to 600 EUR/sq.m. Another type of apartments located in hotels - fully furnished and ready to move in or rent out. Their prices are around 800-1000 EUR/sq.m.

There are available also offers at prices from 1,200 EUR/sq.m. for properties in hotels that are managed and rented out on a hotel basis.

In general, prices of apartments in Velingrad have fallen by about 20% compared to the peak levels before the crisis, according to the data of the agency. The houses there are either luxurious or poor quality, but listed at unrealistically high prices, which leads to less interest. For around 70,000 euro you can buy a nice house, ready to move in, for example, in Tsigov chark.

In Hisarya the prices have fallen by 30% from the beginning of the crisis. And there rural houses are offered for sale.

The properties located near Pazardzhik towards Velingrad are also attractive for buyers. In villages in this area you can find good properties at bargain prices and this region seems the most active. In this case these are rather rural houses than spa properties, Polina Stoykova said. Overall opinion of agents is that spa resorts have failed to take full advantage of the booming real estate market in 2008 in terms of services and supply. And this market is generally oriented towards a narrow circle of people with better opportunities as balneological tourism generally is not affordable to mass-market customer.

Bulgaria ranks the second in the world in terms of mineral water resources after Iceland. Bulgaria has more than 600 mineral water springs with a flow over 5,000 liters per second. The healing qualities of Bulgarian mineral waters have been known from ancient times, some of the most famous balneotherapy sanatoriums date back to Roman times. The mineral waters in Bulgaria are known for their varied chemical composition and temperature.

In the Northern Bulgaria there are mostly cold mineral water springs (up to 37 degrees Celsius) and in the Southern Bulgaria - warm springs (from 37 to 60 degrees Celsius) and hot springs (over 60 degrees Celsius). The warm and hot mineral water springs are located mainly in the valley of the Struma river and Mesta river and the northern foot of the Western Rhodopes Mountain. The hottest mineral spring in the country is set in Sapareva Banya (101.4 degrees Celsius).

The combination of mineral water and healing mud is favourable for year-round recreation, treatment and rest. The best known spa resorts in Bulgaria are Velingrad, Sandanski, Banya, Hisarya, Devin, Sapareva Banya, Tuzlata, Pavel Banya, Kyustendil and Pomorie. Great opportunities for spa tourism in Bulgaria are a part of the promotion of the country that the Ministry of Economy and Tourism is trying to impose on the international tourist market in recent years.

According to agents the real estate market can be revived by development of tourism in spa complexes and golf courses where there are opportunities for year-round use of properties or longer season.

View all our properties in spa resort for sale and rent

Read more news

LATEST REGIONAL NEWS

The First "Bile Fest" - Herbs Dedicated Festival Will Be Held on the St. Anastasia Island in Bourgas

12/June/2019
https://www.novinite.com

The island of Saint Anastasia will welcome guests with folk rituals for health and fertility in the first edition of the "Bile Fest", a heraldic festival, announced Burgas Municipality.

More than 50 participants will take part in the event with herbs and healthy foods, curative extracts and ointments, and will show the authentic ways of preparing them.

The accompanyin... read more

We would like to say a big thank you to Rali for answering all of our e.mails and helping us buy our ...

I would like to say that I am very satisfied with Mr Pelovski and Bugarian Properties advice. I am ...

This is my second buy with Bulgarian Properties. This time we used services of Varna office. ...
Terms of Use | Privacy Policy | Cookie Policy

All photos, texts, video clips, charts and banners on our website are property of our company or of our partners and are protected by the Copyright Act of the Republic of Bulgaria. Any unauthorized use of photos, texts, videos and other materials from our website by third parties will be subject to immediate claim on the part of the copyright owners. The information on our website is with information and advertising purposes. Alhtough we have made all efforts to provide accurate information, there may be some mistakes. For full and correct information is considered only the information received at the offices of Bulgarian Properties Ltd.