20.10.2011 460 Euro.sq/m. for a ski apartment in Bulgaria
Polina Stoykova, Chief Operations Manager of BULGARIAN PROPERTIES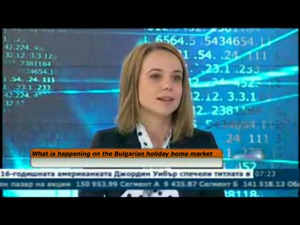 Polina Stoykova – Chief Operations Manager of BULGARIAN PROPERTIES, talks about the real estate market in Bulgaria's ski resorts on the morning show of Bulgaria On Air TV on 14.10.2011.

Prices of holiday homes

In the last 6 months the average price of furnished apartments in functioning holiday developments in Bansko – properties that are ready to use and rent out – is 460 Euro/sq.m. This price is calculated on the basis of actually concluded deals by BULGARIAN PROEPRTIES, comments Ms Stoykova. This price is 50 percent less compared to the years before the crisis when prices topped 1,000 Euro/sq.m. Since this spring prices of apartments for sale in Bansko fell by about 10% compared to previous months, as this is yet another price drop registered in the last few years.

Regretfully, most of the owners of ski apartments in the biggest winter resort in Bulgaria – Bansko, saw their business plans for making profits from resale and renting the properties fail. Moreover, many of them are now selling at a loss which can be as high as 50% of the price which they paid a few years ago.

Demand at the moment

This summer saw a dynamic property market in Bansko because of the lower prices, which caused a stir among the buyers. This shows that in order to have deals the asking prices must be close to the market prices, otherwise the parties do not get to the bargain stage. Buyers are most interested in furnished apartments in functioning quality developments offering property management and renting out services.

If property owners can afford to wait for better times on the market they do, but most owners cannot afford to do that any longer as they have been waiting for 2-3 years already. These owners don't see any other way but to decrease the price of their properties drastically in order to sell them.

Renting out holiday properties

The most standard and desired scheme for holiday homes is the owners to use them for a certain period of time every year and then rent them out to tourists the rest of the time in order to generate an income. In the last few years the property management service developed well in Bulgaria, especially when it comes to holiday homes, office and trading areas.

However, many of the developments were not designed to offer good quality property management services – for example they do not have a reception area, a restaurant, utility rooms, etc. That is why as much as they want the owners of such developments cannot offer a quality property management service. This service is successful only in developments which were planned to be managed as hotels, to be rented out and to have extras that would satisfy the needs of the tourists.

Bargain deals with holiday homes around Bulgaria

Property prices in the biggest summer resort in Bulgaria – Sunny Beach are similar to those in Bansko – about 500 Euro/sq.m. and now is a good time to buy a beach holiday home as well. What is interesting is that in the last couple of years there is no clear seasonal cycle and there are quite a few deals with seaside holiday homes concluded outside the high season as well.

At present there are many attractive holiday home offers – for example the price of a furnished studio in a working development in Bansko starts from only 18,000 Euro. Another example of a bargain deal in Bansko is a two-bedroom apartment in a functioning development close to the list whose price has been slashed by 50%. Property prices in Bansko start from 350 Euro/sq.m. and reach 800-900 Euro/sq.m. as there is a wide choice to suit every taste and budget.

---
Copyright: 2011 Bulgarian Properties Ltd. All rights reserved. For further information or advice please contact us on tel.: +359 2 9 11 50 or e-mail: info@bulgarianproperties.com. The use of this article by third parties is allowed only with proper quotations of the source www.BulgarianProperties.com and the Author of the article. The data in this material has been collected by the Author and Bulgarian Properties Ltd. and is presented for information purposes only. We have made every effort to ensure the accuracy of the data. However, Bulgarian Properties Ltd. cannot be held responsible for loss or damage as a result of decisions made based on the information presented in this article.
© Bulgarian Properties Ltd. 2011.

Read more news

LATEST REGIONAL NEWS

The First "Bile Fest" - Herbs Dedicated Festival Will Be Held on the St. Anastasia Island in Bourgas

12/June/2019
https://www.novinite.com

The island of Saint Anastasia will welcome guests with folk rituals for health and fertility in the first edition of the "Bile Fest", a heraldic festival, announced Burgas Municipality.

More than 50 participants will take part in the event with herbs and healthy foods, curative extracts and ointments, and will show the authentic ways of preparing them.

The accompanyin... read more

I had tried to sell my Bansko apartment with a few companies over the years,even at a reduced ...

I am a Scottish solicitor and recently had to arrange for the transfer of the ownership of an ...

We returned from our trip to Bulgaria last week and felt as though we owed it to Victor and his ...
Terms of Use | Privacy Policy | Cookie Policy

All photos, texts, video clips, charts and banners on our website are property of our company or of our partners and are protected by the Copyright Act of the Republic of Bulgaria. Any unauthorized use of photos, texts, videos and other materials from our website by third parties will be subject to immediate claim on the part of the copyright owners. The information on our website is with information and advertising purposes. Alhtough we have made all efforts to provide accurate information, there may be some mistakes. For full and correct information is considered only the information received at the offices of Bulgarian Properties Ltd.