Do you have a property for sale in Gorsko Kosovo? Sell it with us!
Properties and real estate in Gorsko Kosovo for sale and rent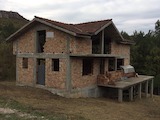 House near Gorsko Kosovo
WATER
FRONT

€ 38,000€ 35,000
area: 200 m2 garden: 1000 m2
For sale - house
Gorsko Kosovo Type of listing: For sale Type of property: Houses, Villas
We offer you this house with a total area of 200 m2. The property is connected to electricity, communal water supply and septic tank. Some of the other available facilities that you will certainly consider important include: a basement and a bathroom with toilet. From the inside ...read more
Can't find the right property? Contact us, we will help you!
Bulgarian Properties sold two apartments for me. I have to say the communication was excellent and ...
I recently bought a house in Bansko to spent my winter vacation in this Magnificent Place. Although ...
Dear Polina, Thank you very much for all your help with the arrangements for our recent visit to ...