25.07.2017 Sofia housing market in Q2 2017: The price growth continues
Polina Stoykova MRICS, Managing Director & Head of Research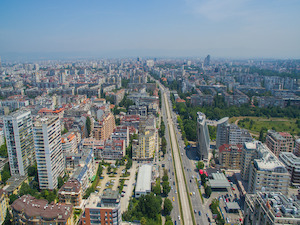 2017 is set to be the best year for the Bulgarian property market in all its segments for the whole decade up till present. This applies in particular for the capital of Sofia where we witnessed a very dynamic and strong first half of the year.

BULGARIAN PROPERTIES data shows that in the second quarter the average property price surpassed the threshold of 1000 Euro/sq.m. and reached 1060 Euro/sq.m. These are levels from the end of 2007 which shows that 10 years later the housing market in Sofia has almost reached its levels from before the crisis. What makes it different is that currently the market operates in much better economic conditions and the trends are to be more sustainable than 10 years ago.

While the expectations were that the price growth would slow down, there is no such trend yet and this is a consequence of many positive market factors.

Over the past four years bank lending has grown by about 20 percent annually, and it is the main factor that contributes for property price growth. This year's growth in lending is even accelerating with interest rates which are already below 4%, which shows that we cannot expect the price trend to reverse soon.

This time the upward cycle is mainly driven by domestic demand and market-friendly macro factors. With the current combination of low unemployment, accelerating GDP growth, higher incomes, almost zero interest rates on deposits, and record low interest rates on loans, it is natural that we see growth in property prices and sales volumes. People have returned back to housing as a form of investment.

Additional support comes from the rental market, which generates a yield of 5-6% annually, which can hardly be achieved through another asset. More and more people are looking for a rental purchase, including by buying a property with a mortgage.

Average prices

BULGARIAN PROPERTIES data shows that for the second quarter of 2017, the average property price in Sofia reached 1060 Euro/sq.m. compared to 985 Euro/sq.m. in the beginning of the year. Thus, quarter-on-quarter price growth becomes 7.6%, while annual growth remains the same as in the first quarter, marking a growth of 18%. The average purchase price is 91,000 Euro.

Currently, property prices in Sofia are at levels similar to those at the end of 2007. The peak values from the third quarter of 2008 have not yet been reached in the pre-crisis boom when the average house price in Sofia was 1260 Euro/sq.m.

The accelerated rate of increase in prices in Sofia started in the second quarter of 2016 and since then, for one year, increases have been between 15 and 18%.

Sales volumes

Over the past four years, according to data of the Registry Agency, the volume of property sales in Sofia is constantly increasing. The biggest increase was recorded in 2014 when the market started recovering from the crisis and the prices began to rise.

Over the past 3 years sales in Sofia have grown steadily by around 8% per year. The growth registered by the Registry Agency has been slowing down in the past months, but this is largely due to the significant share of sales of new build property that is still under construction and the entry of transactions will take place at a later stage.

The number of sales in Sofia is about 25,000 annually which is still far from the boom levels when it reached 45,000 deals a year. This implies a much more balanced market and is another indication that we cannot talk about overheating of the housing market in Sofia.

In general, sales volume data shows steady and moderately rising demand, which provides a very good basis for continued growth of the housing market in Sofia.

New construction and parameters of the purchased dwellings

New construction already accounts for about 65% of the sales in Sofia, according to BULGARIAN PROPERTIES.

Half of the purchased apartments are 1-bedroom apartments, 30% are 2-beds, the larger ones account for about 10%, as well as the studios. The shares of the different types of apartments are similar to those in the first quarter. 1-bedroom apartments are more demanded due to the more affordable final prices and because they are more liquid for sale and rent.

The average area of the purchased dwellings is 86 sq.m. Most often, the purchased apartments are located on the 2nd to the 6th floor, with an increase in purchases on the first and the ground floor. This is explained by the availability of apartments in the new buildings which is often limited only on the low floors, especially when the development is in an advanced stage of construction.

Demand by neighborhoods

The main interest continues to beto the Southern and Eastern districts of Sofia. At the same time, the emergence of more new developments in all areas of Sofia contributes to an increasing demand in different neighborhoods throughout the city, attracting and activating different groups of buyers which creates a more even distribution of demand by neighborhoods.

The highest demand is for housing in Mladost and Lyulin, which are the biggest neighbourhoods in Sofia. After that, the largest number of inquiries is for Studentski grad and Vitosha. They have become interesting for the buyers because of the conveniences, good prices, easy access to the central parts of the city as well as the proximity to the city exit roads. The possibility to rent out the properties in these areas adds to the list of benefits.

The new trend during this period is the growing interest in the region of Nadezhda and Vrabnitsa. The combination of underground access and the fully renovated North Park gives good potential for development of the area.

The central part continues to strengthen its position, especially among customers seeking investment.

Krastova vada and the areas around the South Park enjoy great interest, along with the other southern districts such as Manastirski livadi, Borovo, Buxton, Gotse Delchev, Strelbishte.

The most expensive quarters are the center, Lozenets and Iztok with prices from 1500 to 2000 Euro/sq.m, while the cheapest ones are Lyulin, Banishora, Ovcha Kupel, where new construction can be bought at prices between 650 and 800 Euro/sq.m.

Economic trends and perspectives

In 2017 we have a set of positive factors for the Bulgarian property market and for the first time in 10 years, all market segments are developing well and are giving positive indications.

GDP growth is accelerating, incomes continue to rise, unemployment remains low. The housing affordability measured by us as a ratio of the price per sq.m. in Sofia and the average salary for the city, remains around 1.4, marking a slight increase compared to last year. This means that affordability is slightly decreasing, but overall the ratio has remained between 1.3 and 1.4 since 2014 and is over 2 times lower than during the peak years 2007-2008.

According to the Bulgarian National Bank interest rates on housing loans fell below 4%, which is historically their lowest level. This stimulates mortgage demand. Concurrently, bank lending continues to grow, with granted loans in Q2 being at record high for the past years. This is one of the key drivers of the housing market. Despite the high levels of lending, it should be noted that the volume of loans is still half of what it used to be in the boom, which once again confirms the more stable base on which the market is now stepping.

From the presented data, it can be seen that the housing market in Sofia is firmly on the rise and this trend is expected to last as it is based on well-balanced fundamental economic factors. Although the price increase in Sofia is close to 20%, we cannot talk about overheating, but rather about catching up for the years of stagnation. All indicators that affect the market are at levels about 50% lower than their peak levels back in 2007-2008, indicating that the housing market in Sofia is sustainable.

View our top new build properties in Sofia



TOP PUBLISHED OFFER
TOP SOLD OFFER
read more newsletters
Many thanks from Northern Ireland , Krasi ! You have played a blinder and we are certainly elected ...
Nic is great & very patience too without his help I would never purchased my new home in Vidin. ...
Could not find a more professional set up than Bulgarian properties! From Sergey in the Sofia ...
Terms of Use | Privacy Policy | Cookie Policy

All photos, texts, video clips, charts and banners on our website are property of our company or of our partners and are protected by the Copyright Act of the Republic of Bulgaria. Any unauthorized use of photos, texts, videos and other materials from our website by third parties will be subject to immediate claim on the part of the copyright owners. The information on our website is with information and advertising purposes. Alhtough we have made all efforts to provide accurate information, there may be some mistakes. For full and correct information is considered only the information received at the offices of Bulgarian Properties Ltd.