15.03.2012 Holiday homes in Bulgaria 2012
Polina Stoykova, Chief Operations Manager of BULGARIAN PROPERTIES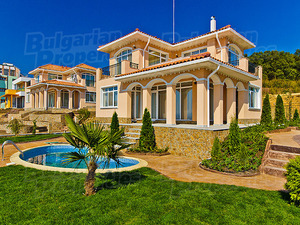 Holiday homes in beach and ski resorts in Bulgaria were hit by the crisis earliest and probably the hardest. As a result they lost about 50% of their value compared to their peak value in 2008. At present the markets in Sunny Beach and Bansko are similar in terms of supply and prices, but for now Bansko lags behind in terms of interest from Russian buyers, who are the main players on the Bulgarian holiday home market.
With BULGARIAN PROPERTIES index value for Sunny Beach and Bansko of 100 in November 2008, in February 2012 the index values were 56 and 43 respectively.

Bansko, Borovets and Pamporovo
2011 was not a very successful year for holiday homes in the ski resorts. Property prices there fell considerably and since the beginning of 2012 the segment has been more dynamic and there has been more interest in buying properties.

According to BULGARIAN PROPERTIES' data the average asking price of apartments in Bansko in February 2012 was 550 EUR/sq.m. as prices there start from about 350 EUR/sq.m. This is sure to attract the interest of potential buyers on the background of the high winter season. In 2012 the deals in Bansko are concluded at around 450 EUR/sq.m.

There is also more interest in the winter resort of Borovets where asking prices dropped by 18% in 2011 and now average asking prices of apartments are about 750-850 EUR/sq.m. However, deals are concluded at an average price of 600 EUR/sq.m.

The average asking price in the third largest ski resort on Bulgaria – Pamporovo – is 750 EUR/sq.m.

Sunny Beach
This year, like in the beginning of 2011, the beach property segment is quite dynamic and more deals are concluded there than in the ski resorts. This is due to the strong interest of Russian buyers in the Bulgarian beach resorts. According to BULGARIAN PROPERTIES' data the average asking price of apartments in Sunny Beach in February 2012 was 667 EUR/sq.m. compared to 853 EUR/sq.m. in February 2011, which is much closer to the price at which deals are actually concluded (about 500 EUR/sq.m.).

Since 2010 the southern Black Sea coast, and the area of Sunny Beach in particular, has taken the lead in terms of number of deals in beach resorts. The deals in Sunny Beach in 2011 increased by about 20% compared to 2010 and prices dropped by about 6%. The average price of the Sunny Beach apartments bought in 2011 is 29,200 Euro compared to 36,500 in 2010. The average price of the concluded deals is 480 EUR/sq.m. compared to 510 EUR/sq.m. a year earlier.

---
Copyright: 2012 Bulgarian Properties Ltd. All rights reserved. For further information or advice please contact us on tel.: +359 2 9 11 50 or e-mail: info@bulgarianproperties.com. The use of this article by third parties is allowed only with proper quotations of the source www.BulgarianProperties.com and the Author of the article. The data in this material has been collected by the Author and Bulgarian Properties Ltd. and is presented for information purposes only. We have made every effort to ensure the accuracy of the data. However, Bulgarian Properties Ltd. cannot be held responsible for loss or damage as a result of decisions made based on the information presented in this article.
© Bulgarian Properties Ltd. 2012


TOP PUBLISHED OFFER
TOP SOLD OFFER
read more newsletters
Andy has been very helpful during the whole process of my property purchase in Bansko. Not just ...
Hi Everyone, Just got back from signing for my purchase of a property near Karlova in a small and ...
I would just like to say a massive thanks to Maria and Orlin for there help and understanding. They ...
Terms of Use | Privacy Policy | Cookie Policy

All photos, texts, video clips, charts and banners on our website are property of our company or of our partners and are protected by the Copyright Act of the Republic of Bulgaria. Any unauthorized use of photos, texts, videos and other materials from our website by third parties will be subject to immediate claim on the part of the copyright owners. The information on our website is with information and advertising purposes. Alhtough we have made all efforts to provide accurate information, there may be some mistakes. For full and correct information is considered only the information received at the offices of Bulgarian Properties Ltd.