NEWSLETTER
13.11.2012 Analysis of the Bulgarian Property Market - 3Q 2012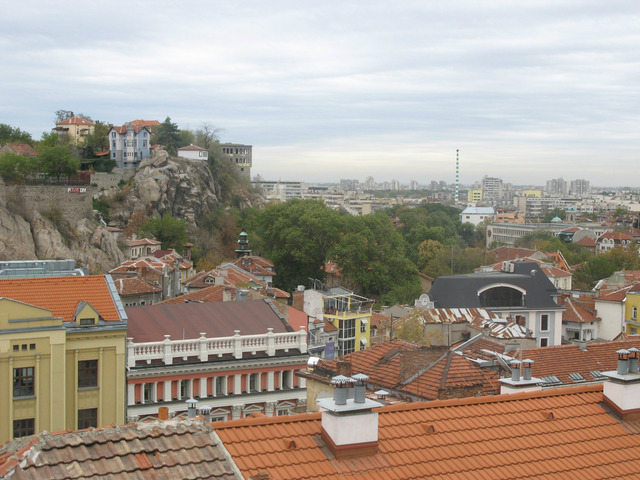 For the first time in four years during the last few months the data coming from the Bulgarian property market has been predominantly positive. It can be summarized as follows:
• Price stabilization and first timid attempts for increase, which indicate finding an equilibrium point and beginning of market recovery from the crisis.
• Increase in deals with
beach properties
of about 30% - this trend was recorded in July and was additionally enhanced and confirmed in the following months.
• Rise in foreign demand, which has happened for the first time in such a tangible scale since the beginning of the crisis.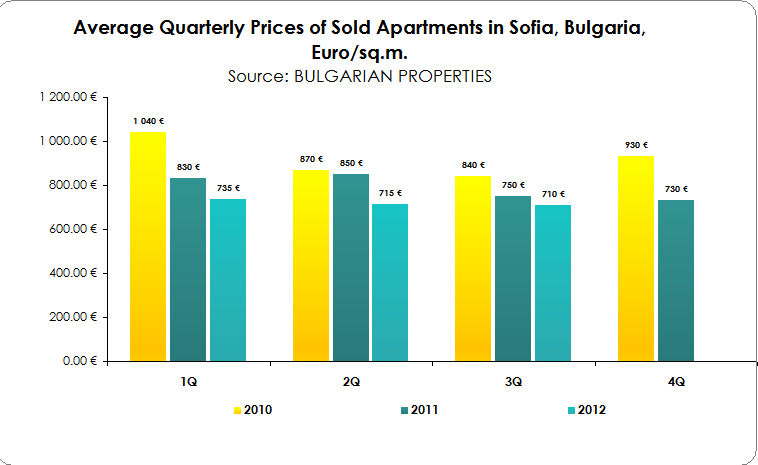 • Deals mainly with inexpensive (budget)
apartments in Sofia
- the average price of apartments sold during the third quarter was 48,400 Euro.
• Increase in deals with
rural houses
by 40% in the third quarter year-on-year making them the best-selling property on the market in the past few months.
• High interest in
ski resorts
and expectation for a successful winter season for property sales in
Bansko
, but also in
Pamporovo
and
Borovets
, where prices are already competitive.
Sofia
In Sofia the demand for cheap (budget) apartments in a price range of up to 50,000 Euro is still dominating. This trend started in the middle of last year and our expectations are that it will keep in the next year as well. Budget apartments are quality homes in a good condition which offer a modern way of life, but at the same time are at low prices.
During past months, our data shows retention of the number of deals in Sofia at the same levels as in 2011, while interest in
rural properties
and
holiday properties
is growing.
Sofia
seems to be falling behind in terms of market optimism, as this market is driven mainly by Bulgarian buyers, and the starting recovery in the segments of vacation and rural properties is still difficult to be felt in the capital. Bulgarian buyers are still concerned with the crisis and the uncertainty in their incomes. This concern can also be seen from the Bulgarian National Bank's data regarding the number of newly granted mortgages - their volume in 2012 continues declining, even though that Bulgarian banks are now offering the lowest mortgage interest rates since the beginnig of the crisis.
According to BULGARIAN PROPERTIES, the average price of apartments sold in the third quarter was 710 EUR/sq.m., which is a slight decrease compared to the previous quarter (715 EUR/sq.m.). For the past nine months of 2012 the average price of sold apartments in Sofia is 720 EUR/sq.m., and the average listing price is 895 EUR/sq.m. Both prices are the lowest since 2006, and the gap between listing prices and actual prices of deals continues to be a fact. It is a result not so much of high listing prices and unrealistic expectations of sellers, or a drop in property prices, but of demand for cheaper properties and deals mainly in the lowest price bracket.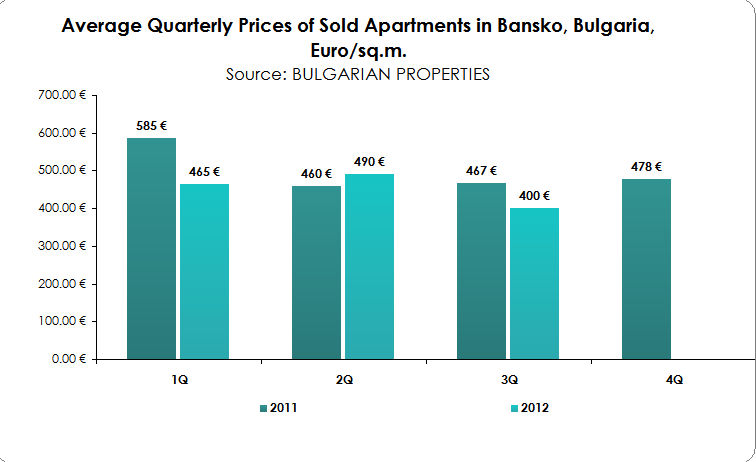 Beach resorts
We can call 2012 - "The year of the Bulgarian beach properties". 'This segment of the market has started to recover driven by interest from Russian buyers to purchase their own holiday apartment in a warm and sunny place like Bulgaria. The number of apartments sold in the third quarter increased by about 30% year-on-year, while the interest was focused mainly along the Southern Black Sea coast, not only in
Sunny Beach
but also in
Pomorie
, and also in
Ahtopol
,
Sozopol
,
Lozenets
and other resorts.
Deals in Sunny Beach were concluded at an average price of 490 EUR/sq.m. (compared to 475 EUR/sq.m. in the second quarter of 2012) - these are mainly apartments located in the Western part of the resort. The apartments with prestigious locations close to the beach are sold at prices from 750 EUR/sq.m. to 850 EUR/sq.m., while the lowest prices starting from 250 EUR/sq.m. for furnished apartments near Sunny Beach.
Ski resorts
Winter resorts are not yet able to fully experience the excitement that is ongoing at the sea as Russian buyers prefer much more beach properties to ski properties. However, there is a trend of increased interest to the ski resorts, which now offer more attractive prices.
Bansko
is definately the leader in low prices - at the moment it is the cheapest holiday market in Bulgaria and throughout Europe. Prices start from 300 EUR/sq.m. and the cheapest sold apartment in the third quarter was a fully furnished studio with an area of 30 sq.m for 11,800 Euro.
The average price of sold apartments in Bansko was 400 EUR/sq.m. in the third quarter. Deals at a prices of over 30,000 Euro are almost absent, and the buyers are not only foreigners, but also Bulgarians who are fans of winter sports.
Pamporovo
competes Bansko among Russian buyers. Prices in the two resorts are almost equal - the average price of sold apartments in Pamporovo for the third quarter was 430 EUR/sq.m. The properties in
Borovets
are traditionally more expensive, but the prices there are also becoming more attractive - the average price of concluded deals in 2012 has been about 630 EUR/sq.m.
Rural houses
The average price of rural houses in 3Q 2012 was 22,000 Euro. The main news in this segment comes from the growth in the number of property deals, which indicates increased interest. During the last summer the largest number of sales were rural houses located near
Burgas
and they accounted for about one third of the total number of rural houses sold during the past quarter. These houses are mostly in very good condition for between 20,000 Euro and 40,000 Euro. Other regions, that attracted interest and that trend also continued in October, are the regions of
Plovdiv
,
Stara Zagora
,
Yambol
and
Elhovo
, where houses are cheaper than those near the sea. There are quality and refurbished properties at very attractive prices of around 15,000 Euro.
Average prices of
Rural houses
sold in 3Q as per region:
• Region of Burgas – 28,100 Euro
• Region of Varna and Dobrich – 18,000 Euro
• Region of Plovdiv – 15,200 Euro
• Region of Stara Zagora – 15,400 Euro
• Region of Yambol – 14,300 Euro
Trends
Our expectations for active 3Q for beach resorts have come true and the dynamics in this segment even exceeded our forecasts. The first data from October shows retaining of dynamics and it seems that 2012 will end with market optimism for the vacation markets and an increased popularity of Bulgaria among Russian buyers.
Unfortunately, the situation in the city market segment is not so optimistic. City property market is driven mainly by domestic demand, which in turn is highly dependent on the economic recovery, as well as fundamental factors such as income, unemployment, bank credits, which currently, although with minor positive notes, are still in a negative direction and are holding the recovery of this market segment.
Our forecast from early 2012 for retention or minimal decrease in property prices have justified. We have not seen big changes on the Bulgarian property market this year. The price decreases are gradually fading away and we have seen some first signs of recovery.
Adequate pricing of properties based on their characteristics will continue to be leading for the successful and fast sale, and buyers will continue searching for quality properties at bargain prices in 2013.
---
Copyright: 2012 Bulgarian Properties Ltd. All rights reserved. For further information or advice please contact us on tel.: +359 2 9 11 50 or e-mail: info@bulgarianproperties.com. The use of this article by third parties is allowed only with proper quotations of the source www.BulgarianProperties.com and the Author of the article. The data in this material has been collected by the Author and Bulgarian Properties Ltd. and is presented for information purposes only. We have made every effort to ensure the accuracy of the data. However, Bulgarian Properties Ltd. and the Author cannot be held responsible for loss or damage as a result of decisions made based on the information presented in this article.
© Bulgarian Properties Ltd. 2012.