NEWSLETTER
15.09.2011 Apartments in Bulgaria's Biggest Ski Resort – Bansko – 50% Cheaper Compared to 2008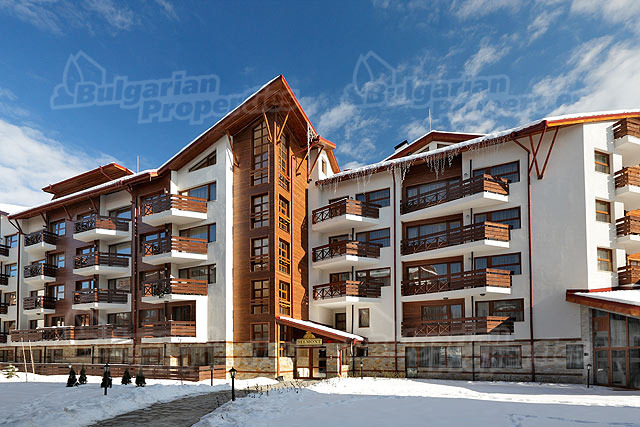 With the ending of the summer season the focus of property buyers is now turning to the
ski resorts in Bulgaria
. However, it is not only the upcoming winter season that increases the interest in Bulgaria's winter resorts and in
Bansko
in particular but also the extremely attractive prices of properties there.
BULGARIAN PROPERTIES' index of listing prices of apartments in Bulgaria's biggest ski resort –
Bansko
– shows that at present prices of apartments there are 50% lower compared to their peak values in 2008. According to the data which BULGARIAN PROPERTIES announced a month ago the situation in Bulgaria's largest beach resort –
Sunny Beach
– is similar.
With index value for
Bansko
of 100 in November 2008 in August 2011 it is already 51.31 which shows an almost 50% decrease in the listing prices compared to their highest value in 2008. The drop in
Bansko
property prices based on actually concluded deals is similar – 53%.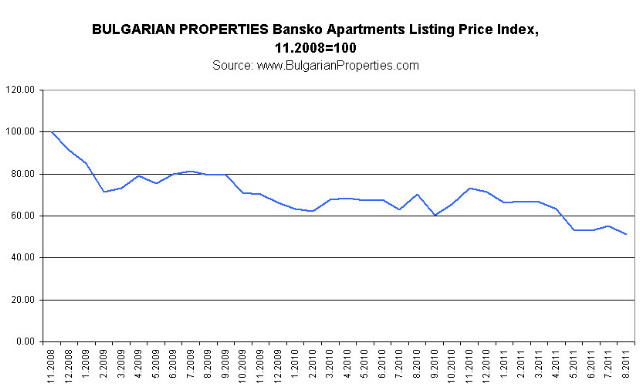 After the 2010/2011 winter season, which was not so dynamic for property deals, in May 2011 listing prices of
apartments for sale in Bansko
dropped by about 10% compared to the previous months. After the ending of the season listing prices of offered apartments underwent some changes which led to an increased interest in ski resorts in the summer months and to more deals than during the ski season.
In the first 8 months of 2011
apartments in Bansko
were sold at an average price of 760 Euro/sq.m. or at an average of 45,500 Euro. For comparison, based on concluded deals, apartment prices in
Bansko
were 520 Euro/sq.m. or 31,000 Euro for an apartment. This shows that there is still a difference in the listing prices and the prices at which deals are concluded but it also shows – like with the deals with
apartments in Sunny Beach
– that in
Bansko
buyers are also mainly interested in cheaper properties.
The graphs show that the listing prices and the prices at which deals are concluded were similar in 2008, before the credit crunch. In 2009 listing prices in the ski resort dropped by about 12% (with a 40% drop based on concluded deals), an additional drop of 12% in the listing prices was registered in 2010 (with the same prices of concluded deals as in 2009) and in 2011 listing prices registered a further 10% drop compared to the previous year.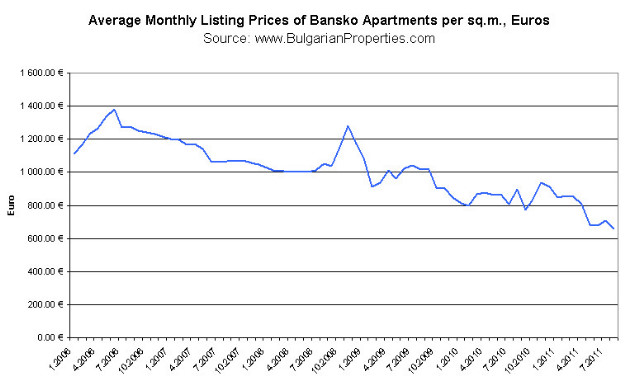 The other two big ski resorts in Bulgaria –
Borovets
and
Pamporovo
– offer less apartments for sale and in
Borovets property
prices are considerably higher than in Bansko. In August 2011
apartments in Borovets
were offered at an average of 900 Euro/sq.m. and those in
Pamporovo
– at an average of 740 Euro/sq.m. Prices in
Pamporovo
are similar to those in
Bansko
but the supply there is more limited. Listing prices of
Borovets apartments
fell only by 22% compared to their peak value (in 2009) while prices of
Pamporovo apartments
fell by 38% in the last 3 years.
When analyzing and comparing property prices in the beach and ski resorts in Bulgaria the data shows that prices of holiday homes in Bulgaria's largest winter and seaside resorts are about 50% lower compared to their value before the crisis. Although there were some differences in property prices in the ski and beach resorts in the last 3 years (prices in Sunny Beach fell faster than those in Bansko) at present prices of apartments in
Sunny Beach
and
Bansko
– the two biggest beach and ski resorts in Bulgaria respectively – are similar. Those looking to buy a holiday home can buy an apartment for about 500 Euro/sq.m. as most properties offered at that price are finished and furnished apartments in functioning developments.
Book a viewing trip in Bansko or call us on +359 886 033 033
---
Copyright: 2011 Bulgarian Properties Ltd. All rights reserved. For further information or advice please contact us on tel.: +359 2 9 11 50 or e-mail: info@bulgarianproperties.com. The use of this article by third parties is allowed only with proper quotations of the source www.BulgarianProperties.com and the Author of the article. The data in this material has been collected by the Author and Bulgarian Properties Ltd. and is presented for information purposes only. We have made every effort to ensure the accuracy of the data. However, Bulgarian Properties Ltd. cannot be held responsible for loss or damage as a result of decisions made based on the information presented in this article.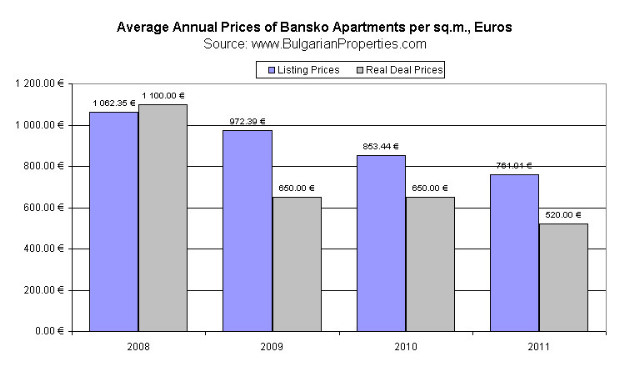 © Bulgarian Properties Ltd. 2011.