29.07.2008 The Best Kept Secret: SPA Tourism in Bulgaria (Part II)
Velimira Dimitrova, BULGARIAN PROPERTIES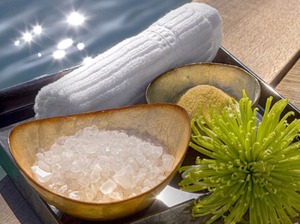 Bulgaria has all types of mineral waters known on our planet. The over 600 hydro-mineral sources have a capacity of 270 million liters per day as most of them are hot or cold, springing from a great depth which guarantees their pureness.

Bulgaria is a yet undiscovered SPA gem. Whether traveling around northern or southern Bulgaria, along the Black Sea coast or in the inner part of the country you will be sure to find an amazingly big number of spa nooks. We will go around Bulgaria in search of some of those SPA spots as this time we will take you somewhat off the beaten track to places that are yet to be conquered by the globe-trotters.

Let's start with a small town located in the heart of Bulgaria called Banya, also known as Karlovski Mineral Baths. It is set in the foot of Sredna Gora Mountain and is famed for its healing mineral springs. There are more than 10 mineral springs in the town the biggest one being the so-called Tsarskata Banya (The King's Bath) which is located in the former estate of Tsar Boris III. The balneological center also boasts three well-kept outdoor mineral-water pools, a mineral water bath and a healing mud site.

If we travel to the east for about an hour or so we will get to the city of straight streets, linden trees, and poets - Stara Zagora. The city is one of the oldest settlements in Europe, being at least eight thousand years old. The Starozagorski Mineral Baths resort is located about 12 km from the city itself as there one can not only relax in a peaceful atmosphere but can also go round the interesting sights left to us by the Thracians and the Romans – pools from transparent marble, baths and sacrificial altars. You should also not miss to go to the area called Virgin Mary's step (Bogorodichna stupka) – a rock formation which bears resemblance to a woman's footprint which legend says was left by Virgin Mary herself.

Bankya is a health resort located about 17 km west of the capital Sofia. Bankya is set on the green hills of Lyulin Mountain and it is surrounded by picturesque parks and gardens to the south and to the west. Bankya offers excellent sanatorium and resort accommodation, cozy hotels and private lodgings, as well as the famous Bankya Beach – modern swimming pools with mineral water for everyone to enjoy.

Take a long walk in the lush green woods and take deep breaths; or lie beside the mineral water pool enjoying the sun and the calmness of the area; or go sightseeing – the area is rich in Roman findings, as well as in monasteries and churches. And all this a stone's throw away from Sofia.

Zigzagging around we go south to the border with Greece and we stop at the lovely village of Ognyanovo, nestling about 12 km to the northeast of the town of Gotse Delchev, in the magnificent Rhodopi Mountains. There are 24 thermal springs in the area as the average temperature of the water is 39-40° С. The region is characterized with a unique microclimate which is a result of the flowering of the acacias and of the local air currents along the valley of the Kanina River.

Besides enjoying nature's gift in the form of mineral springs you can also travel around the area this being one of the most beautiful places in the country. You can visit the ruins of the Roman city Nikopolis Ad Nestum located just a short drive from Ognyanovo and don't forget to go to the village of Kovachevitsa which preserves the specific Rhodopi architecture and atmosphere from the time of the Bulgarian Revival period.

Now let us draw a line of about 200 km to the northeast across the grandest mountain range in Bulgaria - Stara Planina and we will get to a village called Shipkovo and more specifically to the Shipkovski Mineral Baths. Shipkovo is located on the northern slopes of Sredna Stara Planina (the mid section of Stara Planina), 20 km to the west of the town of Troyan. The village got its name from its first settlers as legends tell that the village was surrounded by dog-roses (shipka means dog-rose).

In the last few years the resort is becoming more and more popular, there are already quite a few holiday homes, villas and hotels, as well as mineral water pools and a nice beach surrounded by wonderful nature. The untouched nature, the crisp mountain air, the mild winters and the cool summers create perfect possibilities for complete relaxation and SPA treatment.

If we go across Stara Planina we will get to a small village called Merichleri, set about 60 km east of the city of Plovdiv. Close to the village there is a mineral spring whose water ranks third in the world and the second in Europe as per contents of minerals and chemical elements. Another attraction in the area is the Solentsi (salty) mineral pool which is full of healing water. The name of the pool has not been changed for many years not because of its temperature of 34° С but because it is, in fact, salty.
In this stunning hideaway one can relax in a nice atmosphere and indulge in the healing waters.

Almost all of the mineral springs scattered around Bulgaria have been known for thousands of years and settlements have mushroomed around them only to be destroyed and later to be replaced by other. The magic powers of the mineral waters in the country are becoming more and more popular as Bulgaria is turning into a sought tourist destination worldwide. It is a matter of years for more and more people to start appreciating the treasures this beautiful country offers both to its inhabitants and to its guests.

View our offers in/near SPA resort

Read The Best Kept Secret: SPA Tourism in Bulgaria (Part I)

TOP PUBLISHED OFFER
TOP SOLD OFFER
read more newsletters
Hi to all our friends in the Elhovo region and to Bulgarian Properties. We have just returned from ...
We cannot thank-you enought for the splended service you have all rendered to us with the purchase ...
We sold our property the sale was today through Bulgarian Properties. Dimitar the local Sozopol ...
Terms of Use | Privacy Policy | Cookie Policy

All photos, texts, video clips, charts and banners on our website are property of our company or of our partners and are protected by the Copyright Act of the Republic of Bulgaria. Any unauthorized use of photos, texts, videos and other materials from our website by third parties will be subject to immediate claim on the part of the copyright owners. The information on our website is with information and advertising purposes. Alhtough we have made all efforts to provide accurate information, there may be some mistakes. For full and correct information is considered only the information received at the offices of Bulgarian Properties Ltd.