16.12.2008 ON FOCUS: VARNA – a Modern European City with Reasonable Real Estate Prices
Polina Stoykova, BULGARIAN PROPERTIES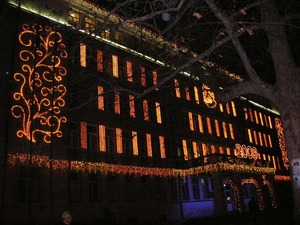 Once again Bulgaria's Sea Capital – Varna – brings joy to its citizens and guests with the marvelous Christmas decorations, cheerful mood and modern European atmosphere. It is not by accident that Varna has once again been announced the Best City to Live In in Bulgaria offering the best standard and quality of living in the country. Apart from the town's many advantages of economic, social and cultural nature Varna also combines in itself the rhythm of the big city with the pleasant emotions and ambiance of the holiday resort making it an excellent place for investing in residential property which is at the same time a holiday getaway.

What is the situation on Varna's real estate market?

Generally speaking, the market is now dictated by the taste and preferences of the buyer and there are plenty of lucrative offers for purchase and rent. If a year ago the prices increased almost on a daily basis and the buyers did not have a lot to choose from now there are many interesting offers and the buyers are more and more exacting and careful when choosing a property. This, of course, is the right approach to finding one's dream property!

Never before have the conditions for the buyers been more favorable. What we from BULGARIAN PROPERTIES advise the buyers is to tell us their requirements and we will offer them as wide a choice as possible as well as professional advice. As for the sellers - BULGARIAN PROPERTIES experts advise them to think well at what price they want to sell their properties in view of the time period in which they want to realize the deal as they can always count on us for an appraisal and a piece of advice during the selling process.

What are the prices of Varna properties?

This is a very interesting and important question - the prices of the various property types must be followed very carefully as there is already price differentiation depending on the property's location, quality of construction and other characteristics.

At the moment the property market offers excellent possibilities to investors with capital who are ready to reserve a lucrative offer immediately. There are also cases when property owners, pressed by the financial crisis, decrease the property price by 20-30% counting on a fast deal. In case you want to buy a property at a lucrative/reduced price you can tell us your search criteria and our real estate agents will keep in touch with you informing you about all the offers matching your criteria.

Average prices of Varna residential properties per sq.m. as per 15.12.2008 for finished and off-plan properties:

Center - 1400 – 1900 Еuros
Wide center - 1100 – 1500 Еuros
Further away from the city center - 700 – 1000 Еuros

Those of you who prefer the tranquility of the smaller settlements set close to the big city can browse our rural properties offers around Varna as their prices vary a lot depending on the specific property and its characteristics.

Read more about the city of Varna

BULGARIAN PROPERTIES Varna Office wish everyone Happy Holidays and a Successful New Year!

Bulgaria, Varna
112 Vladimir Varnenchik Blvd, 2nd floor
Telephone: +359 52 695 454
Fax: +359 52 695 455


View our offers in/near Varna


TOP PUBLISHED OFFER
TOP SOLD OFFER
read more newsletters
We have just placed a deposit on a property in Knyajevo. We would just like to inform you of the ...
Hearty Wishes on your Birthday!!!.All Best Wishes for continued growth and wider services!! ...
The deal has been organised brilliantly. The company's staff is polite, honest and competent. The ...
Terms of Use | Privacy Policy | Cookie Policy

All photos, texts, video clips, charts and banners on our website are property of our company or of our partners and are protected by the Copyright Act of the Republic of Bulgaria. Any unauthorized use of photos, texts, videos and other materials from our website by third parties will be subject to immediate claim on the part of the copyright owners. The information on our website is with information and advertising purposes. Alhtough we have made all efforts to provide accurate information, there may be some mistakes. For full and correct information is considered only the information received at the offices of Bulgarian Properties Ltd.